Ruth Bader Ginsburg Workout Plan and Exercise Regimen
Ruth Bader Ginsburg Is 84, Can Probably Do More Push-Ups Than You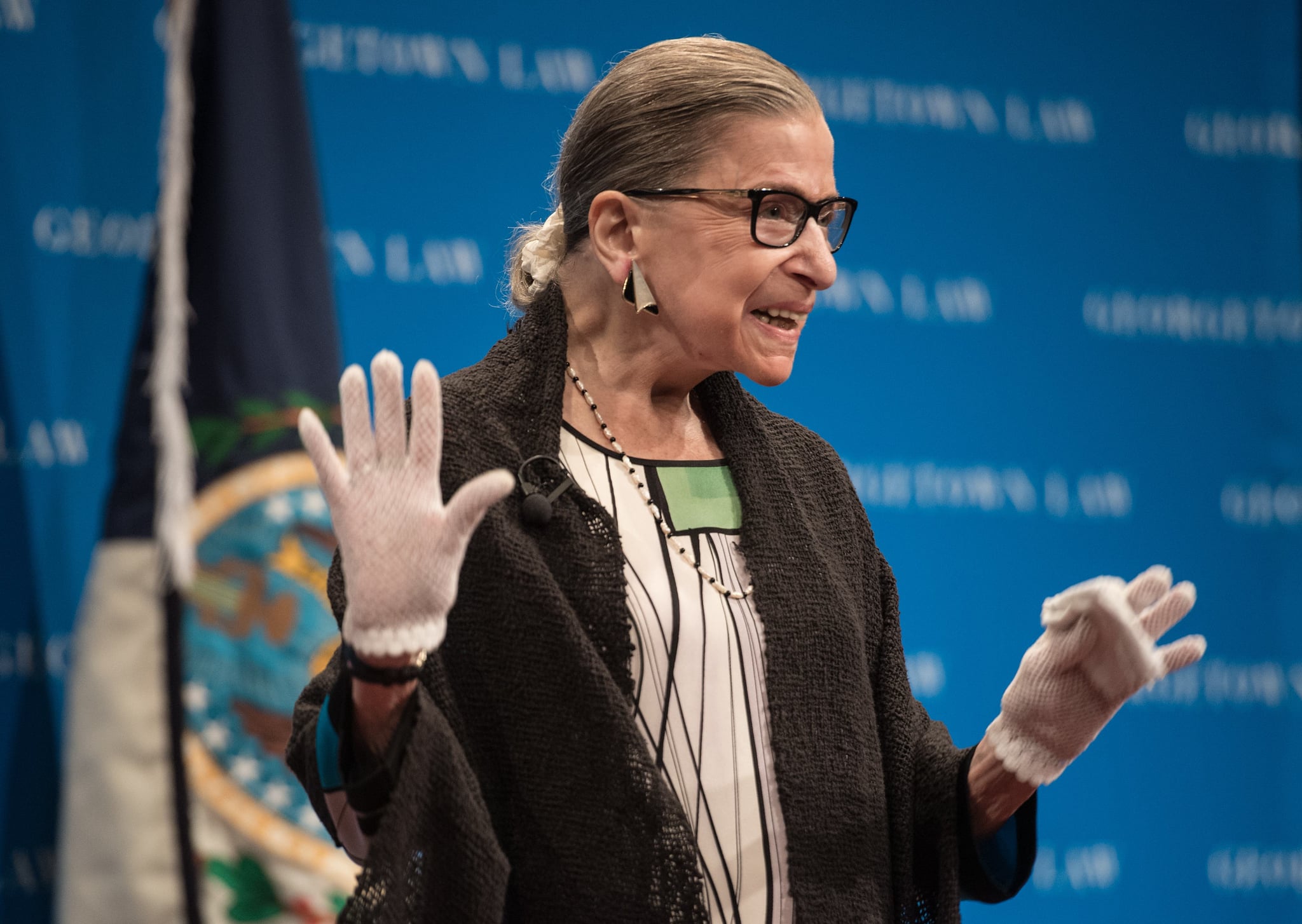 At 84 years old, Ruth Bader Ginsburg is still going strong . . . in more ways than one. The Supreme Court justice stopped by Georgetown Law Center in Washington DC on Sept. 20 to discuss women's rights, some of the high-profile cases the highest court in the land will preside over in 2018, and, yes, her impressive exercise regimen.
After looking back on her career as a "flaming feminist litigator" and weighing in on how Neil Gorsuch may impact the balance of the Court — apparently not much, in her view, given his similar stances to the late Justice Antonin Scalia's — the school's dean, Bill Treanor, shifted gears. Treanor told Ginsburg he wasn't about to let her get away without asking her about her trainer of some 18 years, Bryant Johnson. His new book The RBG Workout: How She Stays Strong . . . and You Can, Too! is out on Oct. 17, and Ginsburg shared a little sneak peek at her exercise routine during the conversation.
Takeaway number one? Ginsburg can bust out 20 push-ups, and she does not do a modified version, thank you very much.
"So I understand that you can do 20 push-ups," Treanor commented, "and that you don't use your knees. Is that correct?"
Ginsburg seemed downright offended by the suggestion that she might not be able to do a full push-up. "No," she said, sounding astonished and drawing delighted laughs from the audience. "We started just standing up pushing against a door. Then, we did the knee thing. But for many years we have been doing regular push-ups." (You can watch the full clip on C-SPAN.)
Ginsburg says she started working out with Johnson at a time when her health was pretty precarious. "Bryant has been my trainer since 1999. It was the year of my bout with colorectal cancer, with a nine-hour surgery, nine months of chemotherapy, six weeks of daily radiation," she said. "When we came to the end of that stressful time, my husband said, 'You look like a concentration camp survivor. You've got to do something to build yourself up.'"
Wondering how Ginsburg juggles gym time alongside one of the most important and influential jobs in American society? "I can be exhausted at the end of the day when I meet Bryan and spend an hour with him and come back feeling refreshed," she said. We'll keep that in mind next time we're tempted to blow off our after-work jog.
The Supreme Court is gearing up for a momentous year when it comes to many of the civil rights Ginsburg has built her judicial career on protecting. Among the cases they'll hear in 2018 is that of a Colorado baker who argues he can refuse to make wedding cakes for same-sex couples despite the state's anti-LGBTQ+ discrimination laws, citing his freedom of speech and religion. So keep on planking, Justice Ginsburg. We need you in fighting shape.