Spicer Compares Healthcare Acts With Stacks of Paper
Sean Spicer's Bizarre Presser About Obamacare's Replacement Is Destined For an SNL Skit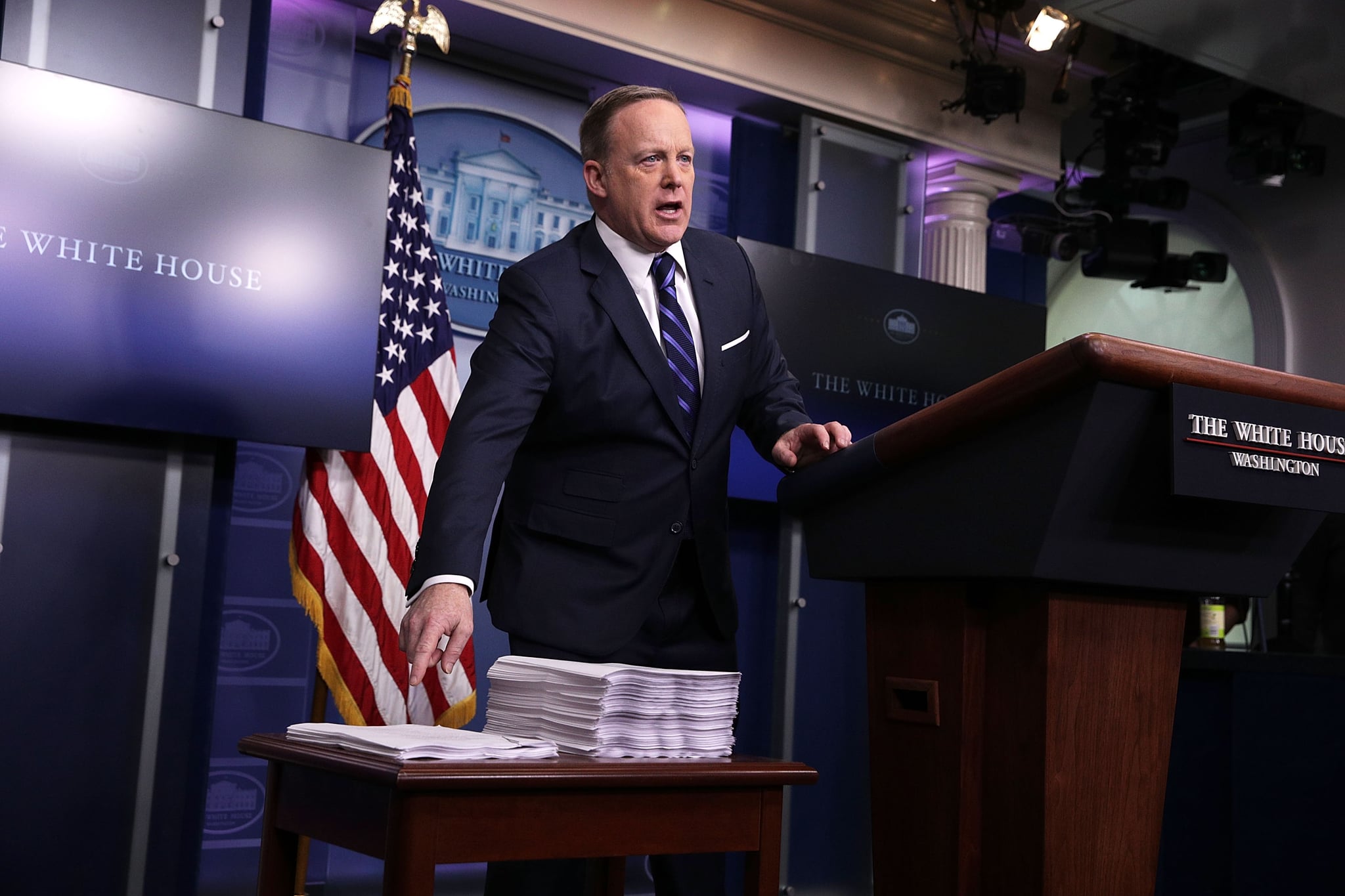 Republicans and Democrats have already sharply criticized the House GOP's replacement plan for the Affordable Care Act. But no criticism of the proposed law has gone quite as viral as the idea that two stacks of paper on which both laws are written prove that one is more effective than the other.
On March 7, White House Press Secretary Sean Spicer held a press conference in which he discussed the replacement plan; during the briefing, Spicer asked journalists to compare the size of the stacks of paper to determine the laws' efficacy.
I just can't get over this argument.

"Look at the size. This is the Democrats. This is us." pic.twitter.com/0lPfRxFvMf

— Kyle Griffin (@kylegriffin1) March 7, 2017
"For all the people who have concerns about this, especially on the right, look at the size!" Spicer said. He then added, "This is the Democrats," while pointing to the larger stack of paper on the right. "This is us," he said about the shorter stack on the left. "You can't get any clearer in terms of 'This is government,'" he said again, pointing to the Democrats' side, and "This is not!" when pointing to the GOP side. According to the White House, if a law is literally comprised of fewer pieces of paper, then it proves the government is less involved in citizens' lives.
At least one reporter from The Washington Examiner, Sarah Westwood, had a hilarious on-camera reaction to Spicer's comparison. Spicer was answering Westwood's question about whether President Donald Trump could say he "fully repealed Obamacare."
This was @sarahcwestwood's face when Spicer — defending the Obamacare repeal bill — said, "Look at the size!" #hero #keepingittogether pic.twitter.com/4Yp7Veii43

— Eric Geller (@ericgeller) March 7, 2017
Chelsea Clinton, who has been on a roll recently with Twitter takedowns, also commented on Spicer's bizarre use of props that in reality prove nothing.
So when he's looking at insurance plans, does he think, "I want the less complicated one that covers less (& costs more)?" Who does that?! https://t.co/up8Ms8h2aR

— Chelsea Clinton (@ChelseaClinton) March 7, 2017
Clinton is essentially calling out Spicer for encouraging people — including those who might lose health insurance under the GOP plan — to back legislation simply because it seems less complicated. What Spicer's argument boils down to is an appeal for citizens to judge a book by its cover, and we all know how misleading that can be.