Tamika Mallory on Linda Sarsour Jihad Controversy
Women's March Cofounder Tamika Mallory Speaks Out on Linda Sarsour's Jihad Comments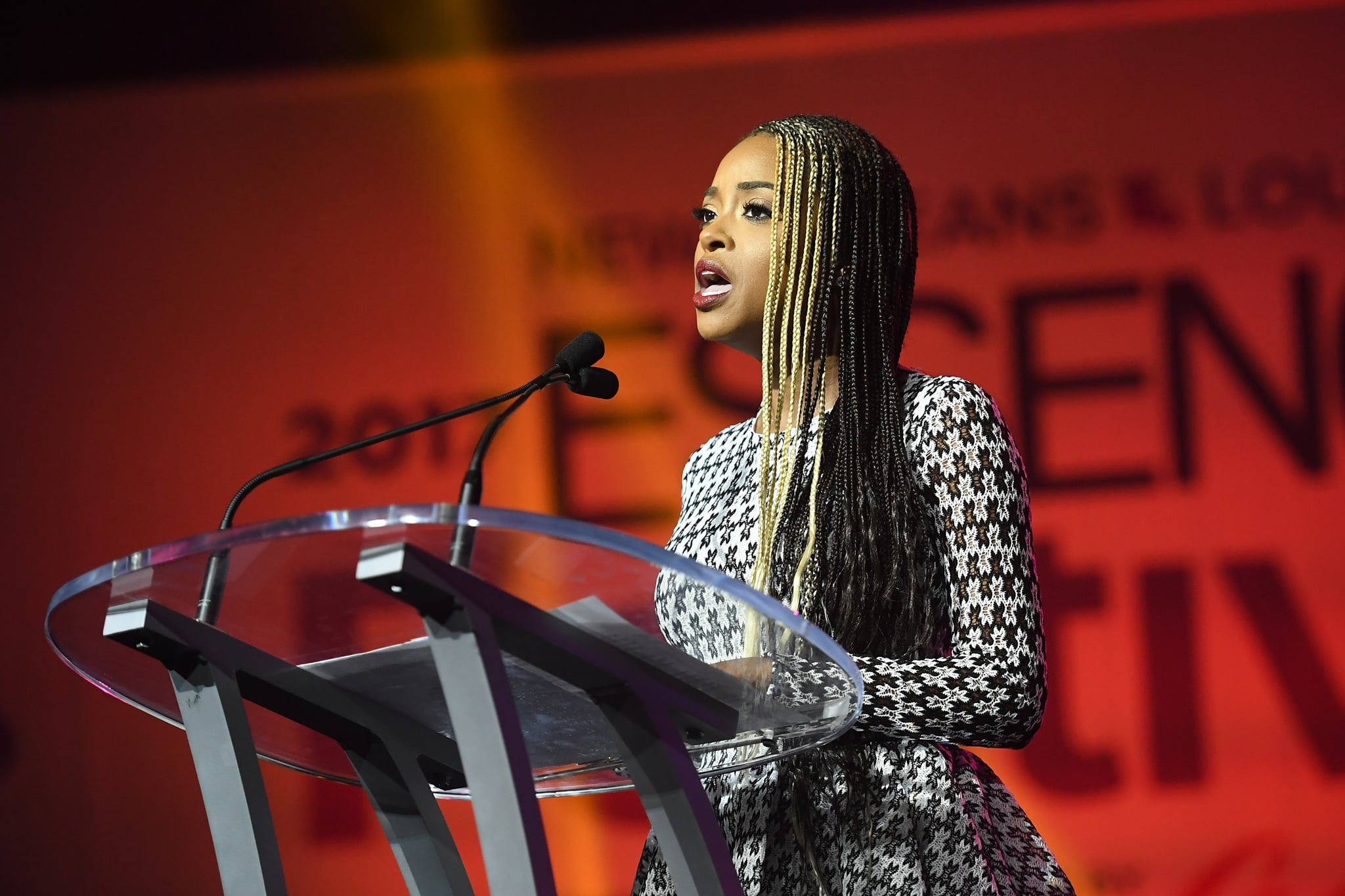 Image Source: Getty / Paras Griffin
Linda Sarsour, one of the country's foremost Muslim activists and cofounder of the Women's March, found herself at the center of a media frenzy this week after a Facebook Live video surfaced from a July 1 event in which she likened the struggle for Muslims in Donald Trump's America to jihad. In an interview with POPSUGAR on July 7, Tamika Mallory — one of Sarsour's Women's March cofounders — spoke out in her defense.
In Sarsour's keynote speech at the Islamic Society of North America's Community Service Recognition Luncheon, she recounted the story of a man who asked Muhammad, "What is the best form of jihad, or struggle?" to which Muhammad responded, "A word of truth in front of a tyrant ruler or leader, that is the best form of jihad." Sarsour used the quote to advocate speaking truth to power, saying, "I hope that when we stand up to those who oppress our communities, that Allah accepts from us that as a form of jihad, that we are struggling against tyrants and rulers not only abroad in the Middle East or on the other side of the world, but here in these United States of America, where you have fascists and white supremacists and Islamophobes reigning in the White House."
Despite the fact that Sarsour was using the word jihad in its most conventional sense — in Arabic, it's used to describe a struggle or striving toward something — the word is laden with negative contemporary connotations, and conservative outlets and online commentators were quick to jump on the soundbite as a call for violence. Sarsour took to Twitter to combat the onslaught of negativity, explaining that she would never advocate for any sort of violent behavior and that her activism was rooted in "Kingian non-violence."
Mallory, who is organizing next week's NRA2DOJ protest in Washington, strongly pushed back against any accusations that Sarsour did or would promote violence. "The only thing I have to say is that if anyone listens to the full speech and reads everything that she said, they would know that there was nothing in her speech, that she said, that calls for violence or harm, physical harm, to be done to anyone," she told POPSUGAR. "And that's just the truth."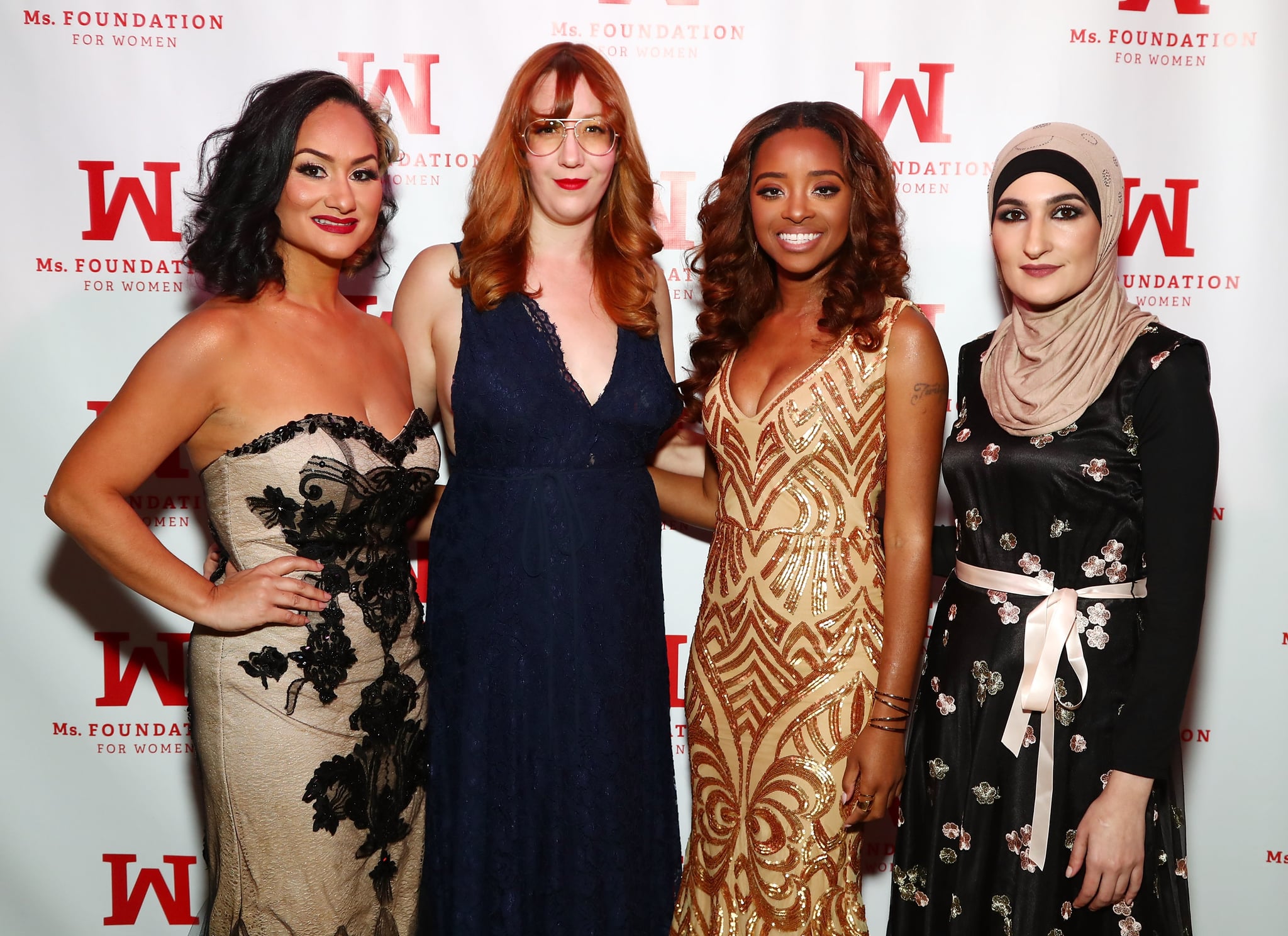 Women's March cochairs Carmen Perez, Bob Bland, Tamika Mallory, and Linda Sarsour.
Image Source: Getty / Astrid Stawiarz
"I think that some people want to say that her words are being taken out of context," Mallory continued. "I wouldn't say that her words are being taken out of context. I would say that she is purposely being demonized. It was happening before the Women's March, but it really started after the Women's March, that people have been trying their best to use her words against her," Mallory added.
Mallory points to Sarsour's long-held pacifist views in contrast to the threats that she and her Women's March colleagues are now facing as a result of the media backlash. "I've never seen Linda Sarsour write an email to someone telling them that she would kill them. But yet, those are the types of emails that she has been receiving all day. I received an email today where somebody wanted to get the email to her, through me, that told me that they will do to her something that she won't be able to see, or feel, and they won't know where it's coming from. But we're the violent ones?"
Our full interview with Tamika Mallory, in which she discusses the NRA2DOJ effort, her history with activism, and why gun control is a vital issue for feminists, will be published on July 11 on POPSUGAR News.