Tax Bill Passes Senate and Returns to House December 2017
The Tax Bill Is Becoming a Reality — and as Far as We Can Tell, Very Few Are Pleased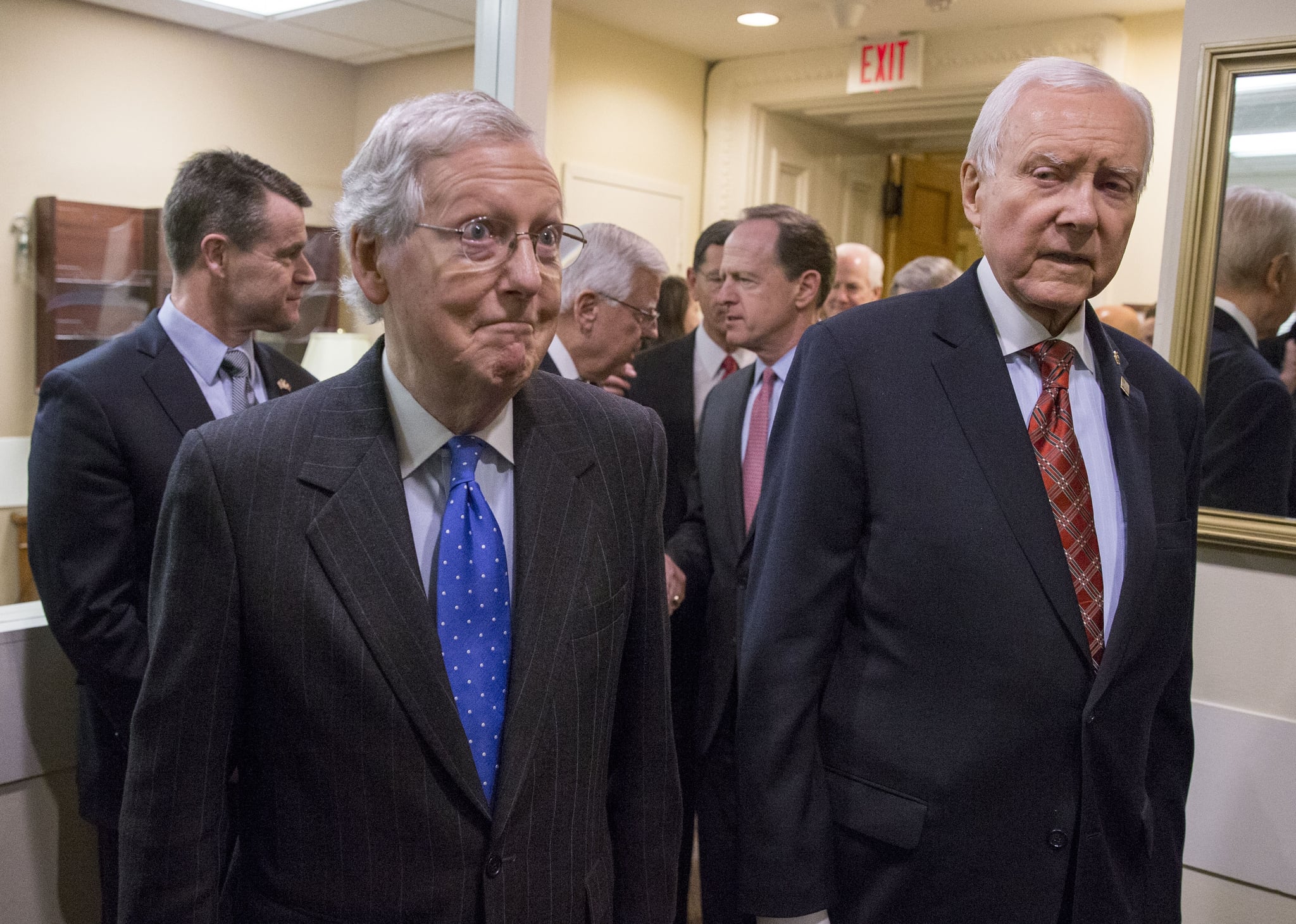 The GOP's highly hyped, deeply flawed tax bill is surprisingly — and unsurprisingly — poised to pass today. The bill proposes to cut tax rates for the rich, benefiting those in industries like real estate and big retail along with millionaires and private-school parents, while targeting health insurance consumers, Medicare recipients, low-income families, and businesses in Puerto Rico, among many other industries and people.

The bill passed through the Senate early on Dec. 20 with a 51-48 vote (split down party lines, naturally) and will return to the House for a revote after an initial voting earlier was docked by Democrats via the Byrd Rule. As the final hurdle has yet to been cleared, simultaneous victory laps and war cries are clashing, online and off.
To celebrate the occasion, President Donald Trump will be holding a "bill passage event" at 3 p.m. ET with select members of the House and Senate. In his own words in advance of the occasion, Trump tweeted that the bill will offer tax cuts that are "so large and so meaningful" but that the "Fake News" cycle has stifled its meaning. And what is said meaning? "Jobs, Jobs, Jobs!" (For reference, the unemployment rate in America is at a 17-year low.)
The Tax Cuts are so large and so meaningful, and yet the Fake News is working overtime to follow the lead of their friends, the defeated Dems, and only demean. This is truly a case where the results will speak for themselves, starting very soon. Jobs, Jobs, Jobs!

— Donald J. Trump (@realDonaldTrump) December 20, 2017
Not many people appear to agree with Trump's "meaningful" claim. As Today anchor Savannah Guthrie asked House Speaker Paul Ryan early in the day, "Are you living in a fantasy world?" Guthrie then asked Ryan how a bill that would cost $1.6 trillion could possibly cover the current deficit. His reply? "Nobody knows the answer to that question." Ryan went on to Good Morning America to shrug off similar deficit questions and concerns that the bill would affect Medicare, summarizing that "We're focused on getting people from welfare to work."
"Are you living in a fantasy world?" - @SavannahGuthrie asks House Speaker Paul Ryan the morning after the Senate passed the GOP tax bill. pic.twitter.com/uu8frcPNdC

— NBC News (@NBCNews) December 20, 2017
The celebrations and assertions of oncoming success are undercut by percolating chaos across the country as accountants and taxpayers alike try to figure out how the new plan will affect them. This discomfort isn't happening silently, either, as protesters took to the House floor before voting, chanting, "Kill the bill! Don't kill us!" Throughout much of the day's start, #GOPTaxBillScam was a top trend on Twitter, and figures like Rosie O'Donnell even tried to give senators millions to shift their votes, to which some scoffed before noting bribery laws.
Chants of "kill the bill, don't kill us!" break out in the House of Representatives ahead of the tax bill vote. pic.twitter.com/744Z33mv99

— Kyle Griffin (@kylegriffin1) December 19, 2017
On the Democratic side, members of Congress are fuming: all party members in the Senate voted against the measure and are expected to repeat their vote similarly in the House. Representative David Cicilline of Rhode Island read from the floor a fitting allegory of the tax bill titled "How the Grinch stole middle-class tax cuts." Representative Steny Hoyer of Maryland bluntly stated that the bill is bad for the country before summing it up as "perverse." Puerto Rico Governor Ricardo Rosselló believes the bill will stymie the recovery of the island and hopes constituents will respond by voting. No Democrat appears to be happy with what is transpiring.
This point of view doesn't appear to be petty partyism, either: a CNN poll released Dec. 19 found only 33 percent of Americans approve of the tax measures. This poll echoes a similarly timed NBC News and Wall Street Journal polling that found only 24 percent of Americans approve the measure. Both Politico and Monmouth University polls found some public favoritism in the measures but, like the rest of the polls, found a 20 percent and 26 percent respective approval rating.
Unsurprisingly, Trump's approval rating is running a nonvictory lap as he's coming in at a 35 percent approval rating. While the tax bill might be the Christmas gift most Americans do not want, Trump is likely to hear about this — and see in votes — how people really feel about the measure.