What Is Diwali?
The Meaning of Diwali and How I Do It My Own Way
As an Indian-American who grew up celebrating Diwali every year, I've never quite been able to explain it in a sentence. I've described it to non-Indian friends as "the Christmas of India," in that it's the largest and most widely recognized national holiday. I've also called it "the Festival of Lights," since many celebrate light diyas, or clay lamps, to welcome Lakshmi, the Goddess of Wealth, into their homes to be blessed with wealth and prosperity.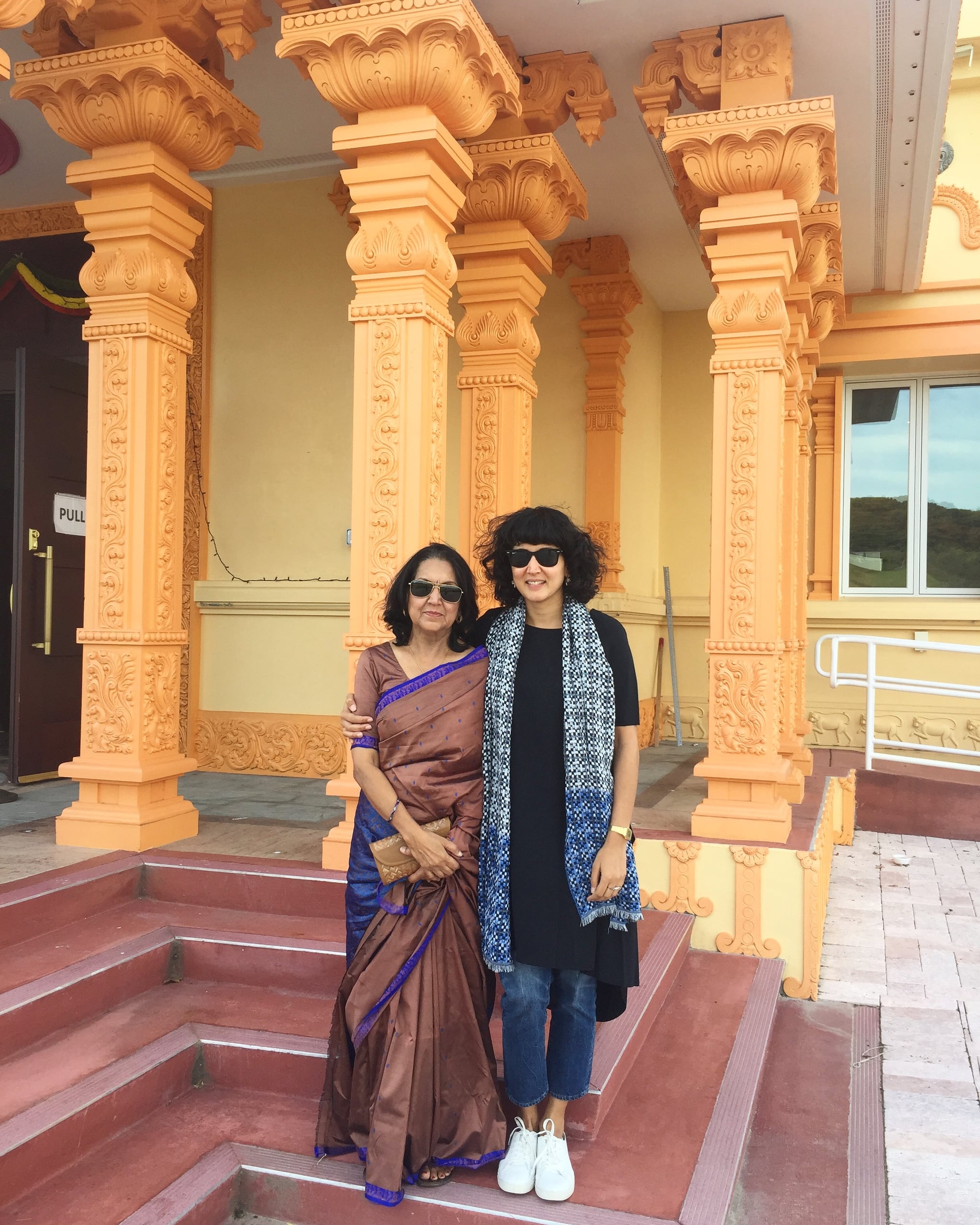 The author and her mother celebrating Diwali 2016 at Sri Bhaktha Anjaneya Temple in Frederick, MD.
But the truth is, unlike Christmas or Hanukkah — both widely celebrated across the US during this season — Diwali is a shape-shifting holiday. There are hundreds of holidays on the Hindu calendar, and Diwali is the biggest. Different people from different places of origin or religion celebrate it on different days, in different ways. Sometimes it's a four-day festival, sometimes five.
Diwali is a shape-shifting holiday. Different people from different places of origin or religion celebrate it on different days, in different ways.
According to National Geographic, Hindus interpret the Diwali story based on where they live. In Northern India, they mark the story of King Rama's return to Ayodhya after he defeated Ravana by lighting rows of clay lamps — part of the mythological story told in the famous work The Ramayana. In Southern India, people celebrate it as the day Lord Krishna defeated the demon Narakasura (also based on mythology). Meanwhile, in Jainism, another religion, Diwali marks the nirvana or spiritual awakening of Lord Mahavira. And for Sikhs, it celebrates the day a major guru was freed from imprisonment.
Here in the US in 2006, Kelly Kapoor (played by Mindy Kaling) hilariously celebrated Diwali on The Office with her coworkers. This writer explains why she thinks this episode works as a good starter representation of Indian culture in Hollywood (and I agree). But after watching "Diwali," we still don't know what it really means to more than a billion people who celebrate it in India and around the world. And perhaps that's a lofty place to start, but why not?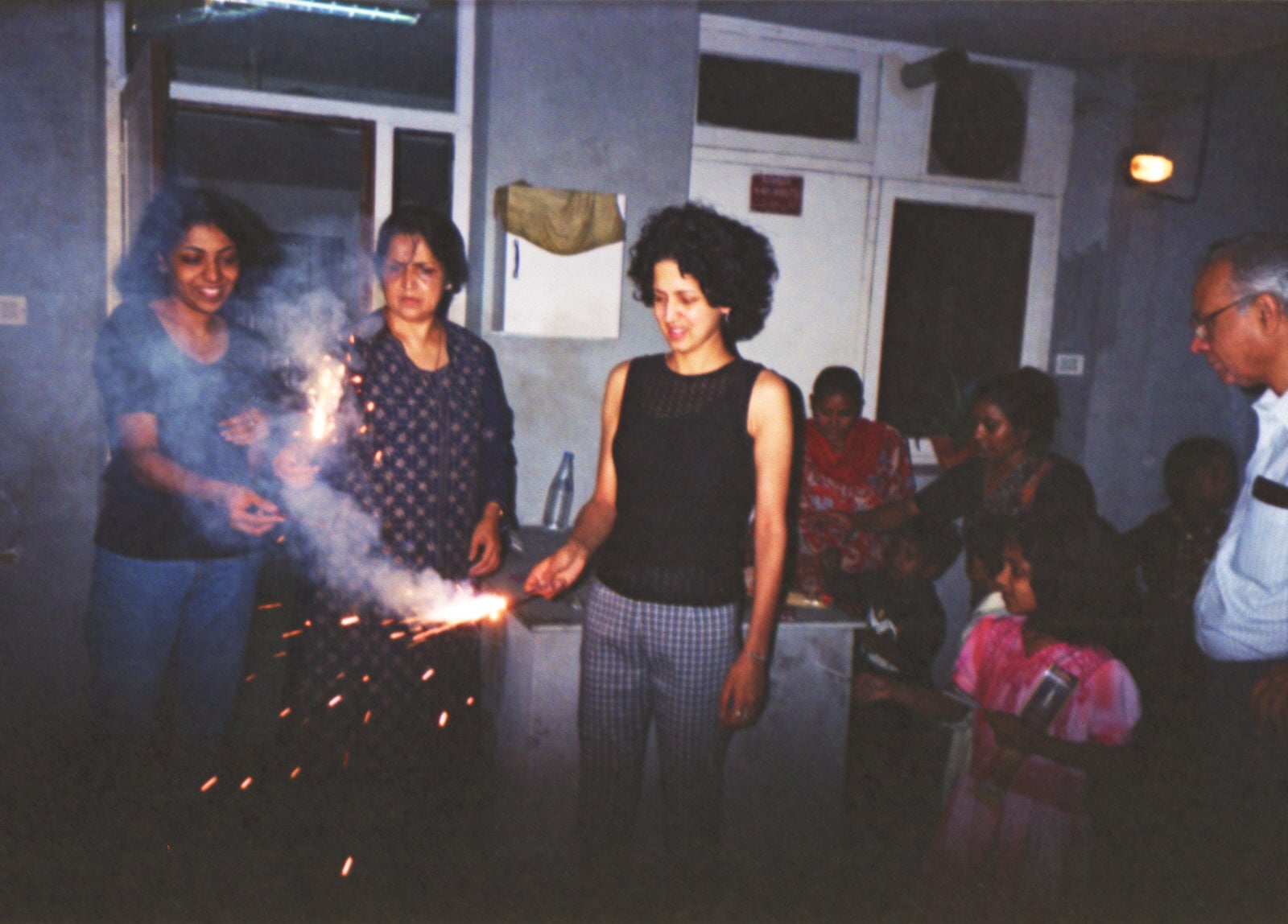 The author in New Delhi, India, circa 2000, celebrating Diwali with family and neighbors.
When a tradition with such diverse and complex origins is transported by a generation of Indian people to places like the United States — where an intersection of cultures, experiences, and influences flourishes — Diwali gets deconstructed, DIYd, mashed up, and remixed. Some universal markers of Diwali are setting off fireworks and sparklers, meant to express joy on earth to the gods in the heavens; the exchange and sharing of sweets, because why not; and the painting of a beautiful rangoli on the front doorstep to welcome Lakshmi and good fortune. It's a time for religious and spiritual reflection, for sharing and celebration. It is a colorful and festive start to a new year. Increasingly, it is very commercial. But like many, I borrow what is meaningful to me about the holiday I grew up with and create my own metaphors for each of these acts.
Diwali gets deconstructed, DIYd, mashed up, and remixed.
To me, the taste of Diwali is sweet and savory: homemade masala dosas, laddus (a popular Indian sweet), and a variety of other sweets and snacks, eaten all together for breakfast. The tradition in South India, where my family is from, is to wear something new for Diwali. My mom will collect and place these clothing items inside a small altar at home to be "blessed" by Lakshmi before we put them on. She will have a puja, or ceremony, to receive those blessings. The house would be lit with oil lamps, the front doorstep painted in colorful powder, and we would play classical Indian music performed on a nadhaswaram, a traditional Indian reed instrument. All of this would happen before I headed off to school, since I didn't take a day off for the holiday. In the Indian community where I grew up in Maryland, many people were from Northern India, and my family was from the South. This meant that even within the Indian community, the way my family celebrated Diwali was different. (I also loved how my mom was willing to break the law for Diwali by setting off "pattas," or fireworks, in my suburban Maryland neighborhood!)
Today, if I can't celebrate with my family, I try to approximate Diwali with a dinner out with friends in New York. My sister and I will travel to Jackson Heights, Queens — a melting pot of a neighborhood with a large Indian population — to buy fun Diwali tchotchkes (think clay lamps, small shiny statues of Ganesh and Lakshmi, and boxes of sweets) to share with our non-Indian friends who join us, in hopes of unlocking the mysteries of the holiday for themselves. There's no puja or religious aspect, but there is a feeling of renewal and connection.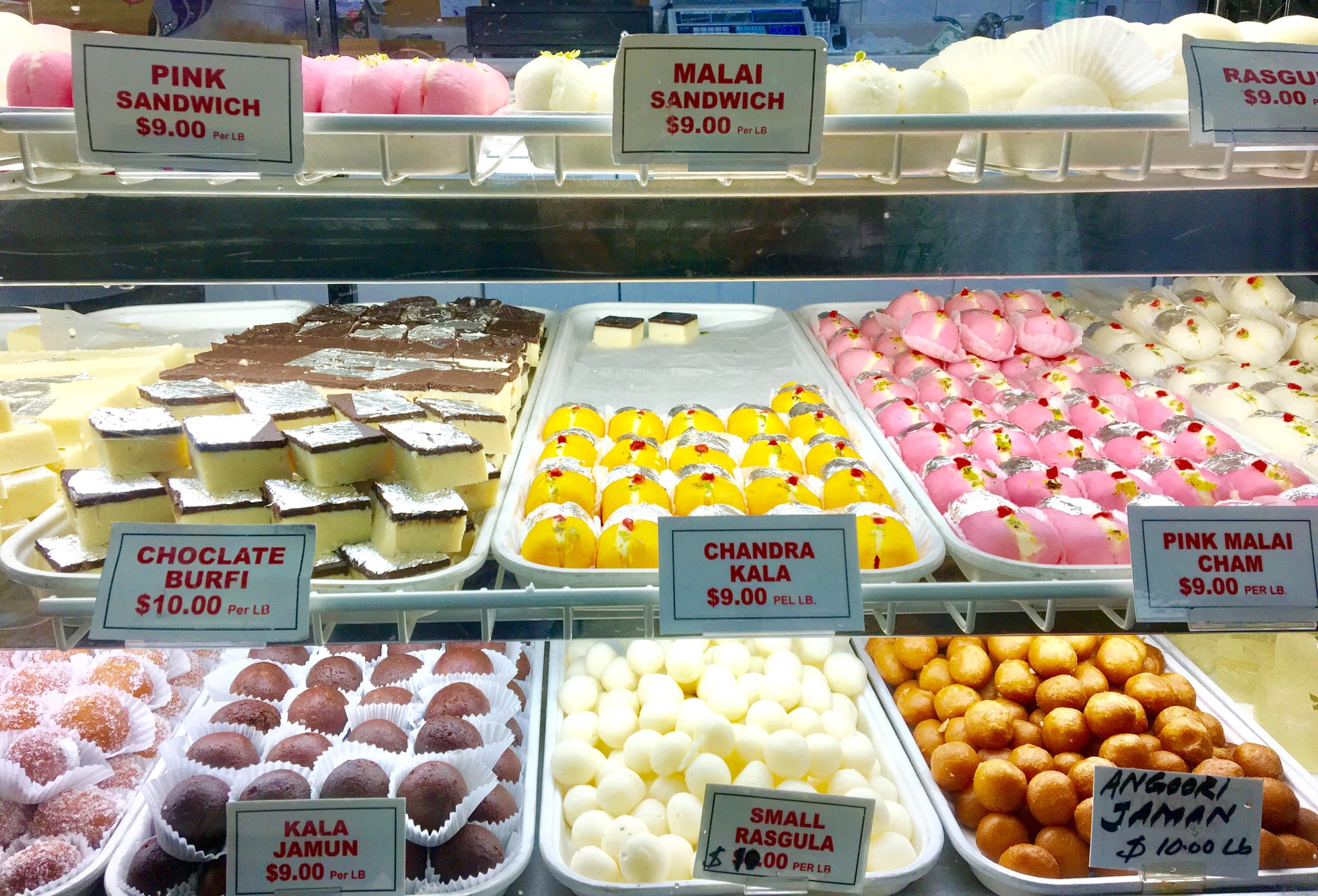 A sweets shop in Jackson Heights, Queens, New York.
I've never had access to a hard and fast explanation of what Diwali is, and perhaps that's a function of holidays themselves. As future generations become more diverse, multifaceted, multiracial, and multilayered — and our identities find their origins from across oceans, cultures, religions, and stories — we will continue to build our own ways of celebrating these rich traditions. Right now, in America, it feels like a vital time to remember our roots in the ways that are most meaningful — and fun — to us.
Image Source: Ranjani Gopalarathinam