Women Who Could Run For President 2016
Hillary Clinton Shouldn't Be the Only Woman Running For the Democratic Nomination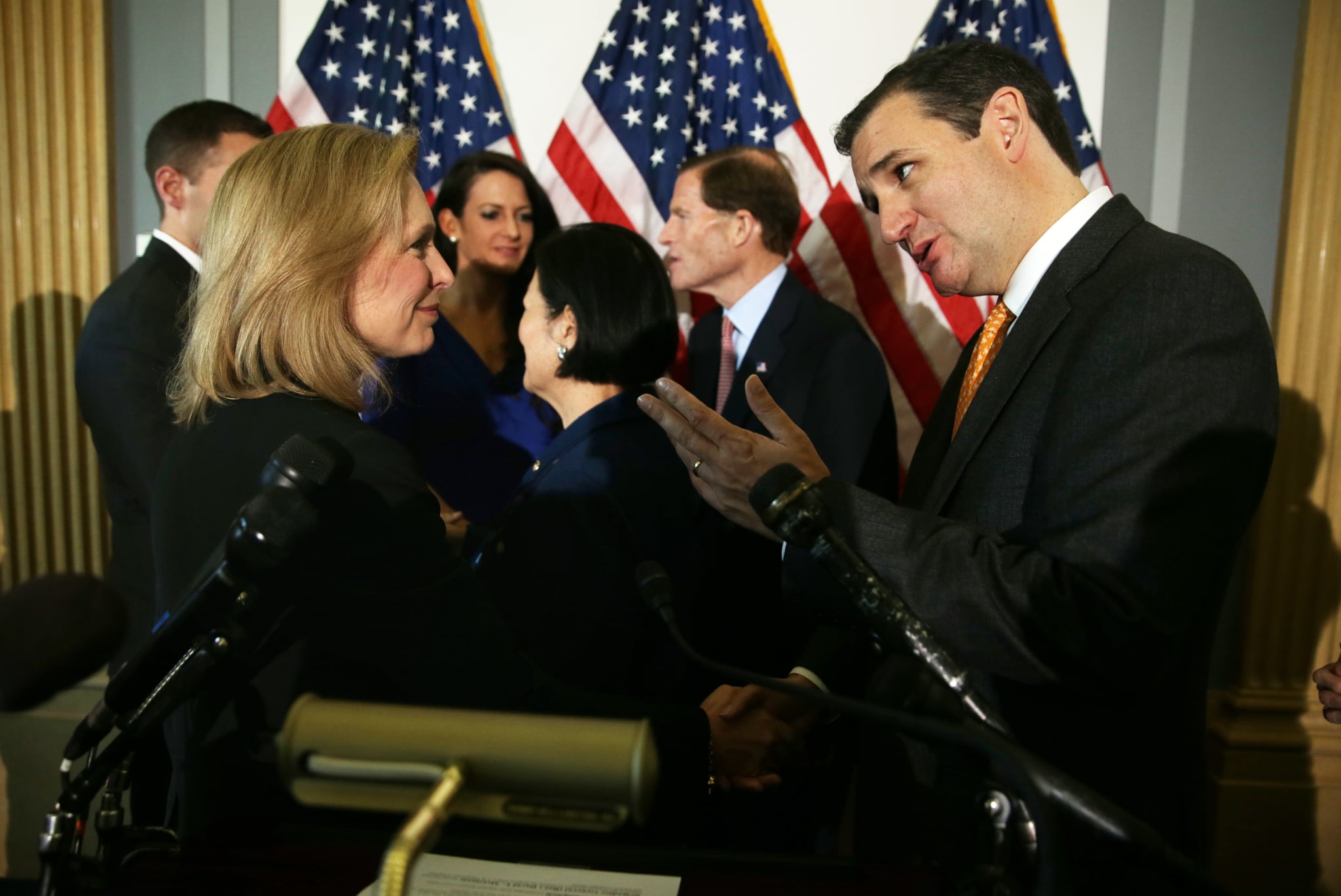 Check out this photo above. It's a picture of two sitting senators. One is 49 years old and has been in the Senate since 2009. The other is 45 and has been in the Senate since 2013. Only one of them is running for president. That would be the 45-year-old Texan and relative newbie, Ted Cruz, not the more seasoned New York Senator Kirsten Gillibrand.
Despite the fact that there are 14 Democratic women in the US Senate, none are running for president in 2016. Compare that to the Republican side, where four (male) senators threw their hats in the ring: Ted Cruz, Marco Rubio, Rand Paul, and Lindsey Graham. Democrats do have Senator Bernie Sanders in the race, but where are the women? Here's one explanation: Hillary Clinton's inevitable candidacy has made less room for newcomers, even subtly discouraging other women from considering a rival run for the presidency.
In November 2015, a full year before the presidential election happens, all but one Democratic woman in the Senate pledged public support to Hillary Clinton. (Elizabeth Warren, who many progressives hoped would run, was the exception.) In fact, way back in 2013, all including Warren signed a letter asking Hillary Clinton to run. The support of the undoubtedly accomplished former first lady, senator, and secretary of state is a powerful sign of solidarity among powerful women. But it also may have boxed out potential opponents and could cause a generation of rising female political talent to miss out on the spotlight during their prime.
Gillibrand isn't the only woman in the Senate who could have raised her profile this presidential election season, even if she did not ultimately win the nomination. There is also Senator Heidi Heitkamp of North Dakota, a moderate who took on tobacco companies as North Dakota's attorney general and was elected to the Senate in 2012. And left-leaning Tammy Baldwin of Wisconsin, who served as the first openly gay woman elected to the US House of Representatives beginning in 1999, before becoming a senator in 2013. Or Minnesota Senator Amy Klobuchar, who has been a consistent supporter of abortion rights and critic of the Iraq war. And Senator Jeanne Shaheen has executive experience as well, serving as governor of New Hampshire before becoming a senator for the state in 2009.
Hillary Clinton has dominated Democratic national politics for decades. With extensive experience, she has helped make a female president something people can imagine and dare to hope for. But whether or not she wins this year, there's no doubt that the post-Clinton era will create space for a new set of progressive women.