Centennial Women's Suffrage
Marking the Messy and Extraordinary History of the Suffrage Movement, 100 Years Later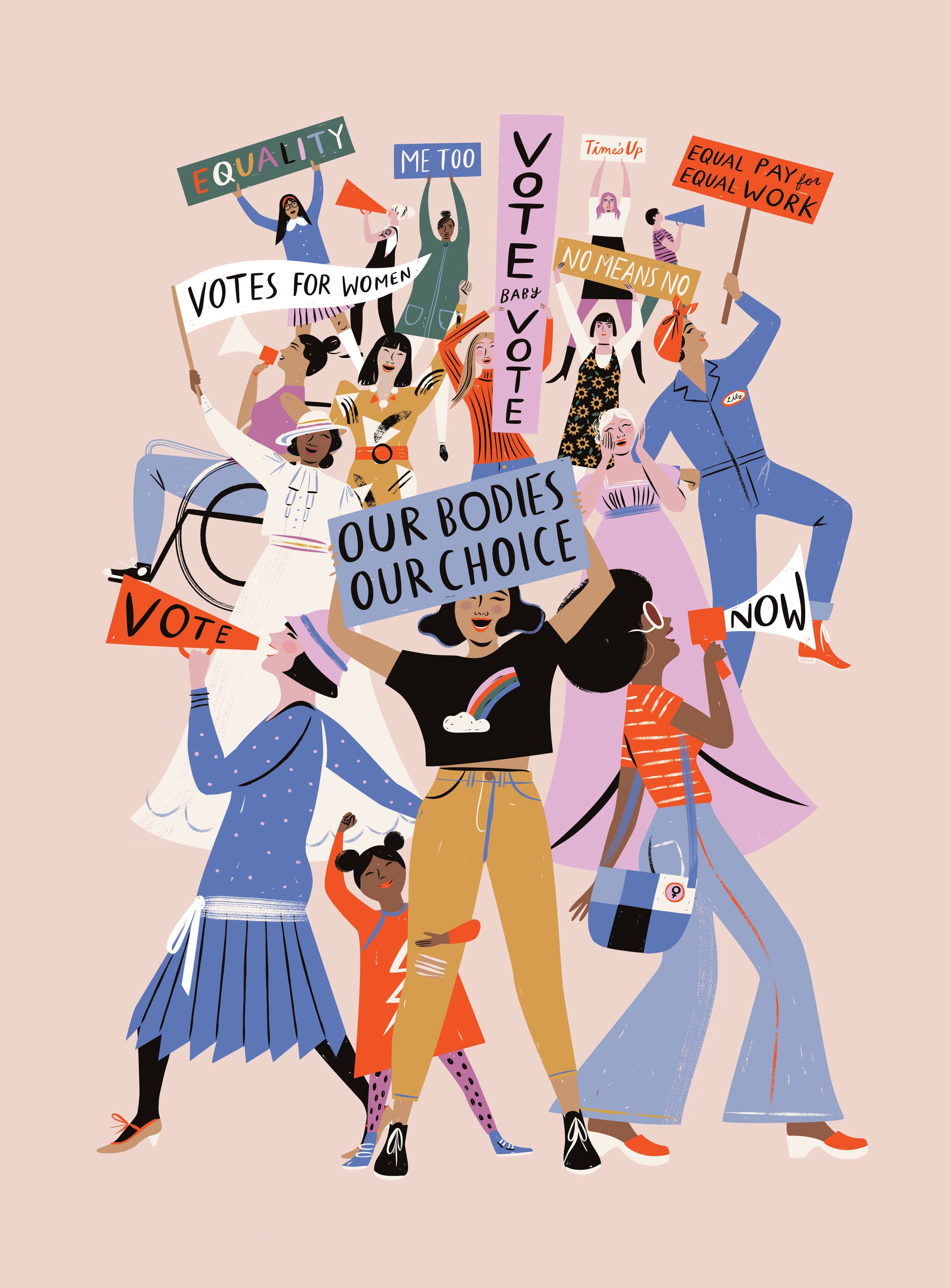 Art by Libby VanderPloeg, featured in She Votes: How US Women Won Suffrage, and What Happened Next by Bridget Quinn, published by Chronicle Books 2020.
After decades of struggle by American women — organizing countless marches, hosting raucous picket lines, and sustaining violent arrests — the 19th amendment was officially ratified on Aug. 18, 1920. At last, it was put in writing that women could not be prevented from voting due to their sex — an important step toward a fairer democracy, but one that still left behind the countless Black and minority suffragists who had risked their lives for the movement.
As the centennial anniversary of this complicated milestone approached, National Geographic writer and author of the magazine's August suffrage feature Rachel Hartigan explained the historical context around the suffragists' era. In the late 19th century, wealthy white women were largely kept "out of the public square," she said, often blocked from entering restaurants unaccompanied, barred from public speaking, and relegated to the background of society. To demand equal access to the voting booth under such extreme limitations was asking for a seismic shift in American culture.
"I don't think you can celebrate the suffrage movement without recognizing how complicated our racial history is."
Like much of American history, the battle for suffrage often gets whitewashed and oversimplified for easy consumption. Despite their major contributions to the movement, Black and other minority suffragists were excluded from the enjoying the same rights as white women even after 1920. Bridget Quinn, author of the thoroughly entertaining and informative She Votes: How US Women Won Suffrage, and What Happened Next, said that when she first started work on her book several years ago, conversation around the suffrage movement generally illustrated suffragists as "demure white ladies in white dresses." In truth, this era in American history is much more nuanced.
The suffrage movement succeeded in large part due to "a really rich fabric of people," Hartigan said, with credit due to more than just household-name white women like Susan B. Anthony and Elizabeth Cady Stanton. In truth, the fabric of the suffrage movement was woven together by many Black women, labor activists, and even those who had to wait years after the ratification of the 19th amendment to finally attain citizenship, like Native American suffragist Gertrude Simmons Bonnin.
In her own research, Hartigan told POPSUGAR that she came across many lesser-known stories of remarkable bravery showcased by suffragists. Mary McLeod Bethune, for example, a teacher and Black suffragist Hartigan described as a total "badass," led efforts to register Black women to vote. Those efforts soon caught the attention and ire of the Ku Klux Klan, Hartigan recounted, and the white supremacist group "rode up in their white suits and their torches" to burn McLeod Bethune's Florida school for girls to the ground. Not one to cower easily, McLeod Bethune stood the KKK down, organizing a vigil on the night of their planned attack that successfully protected her school. It's just one example, Hartigan explained, of how minority women's fight for the right to vote placed an enormous target on their backs. "It wasn't just,'I am going to go put a piece of paper in a box,'" Hartigan explained. Voting was a matter of life or death.
Quinn pointed to Ida B. Wells as another Black suffragist and educator who was often forced to carry a heavier burden than her white counterparts to move suffrage forward. Her insistence on "inveighing against segregation" in public caused Wells to lose her teaching job in Tennessee, Quinn said. But despite the many sacrifices she made for the movement, She Votes details several occasions where white suffrage leaders attempted to bar Wells and other Black women from fully joining their efforts as equals. When white suffragists attempted to lead a segregated march in the suffrage parade of 1913, Wells refused to accept suffragists' notion that the cause would be better off ignoring the role racial discrimination played in achieving suffrage. In true maverick fashion, she broke the parade's rules to join white marchers at the front.
"[Be] willing to struggle and sacrifice for something we might not gain in our generation, but trusting that our work can bear fruit for those to come."
Today, both Hartigan and Quinn agree that the best way to honor the centennial of the 19th amendment is to acknowledge the many messy nuances of the suffrage era and its leaders. "I don't think you can celebrate the suffrage movement without recognizing how complicated our racial history is," Hartigan said. It's important to remember, she added, that many of our most lauded leaders throughout history are just people — and "people can do partially the right thing, but not 'all' of the right thing." To celebrate the ratification of the 19th amendment, one has to be willing to celebrate a hero while leaving room to talk about their imperfections, too. "You have to see that these were flawed people who did a tremendous amount," Hartigan said, "but [they] also made choices that we're still living with."
Despite the fractured history of the suffrage movement, there's still much we can take away from what this remarkable group achieved, Quinn said. After years spent researching and writing about suffragists, she took away a profound appreciation for sticking with the sustained fight. It's worth the "struggle and sacrifice" to fight for rights we might not live to see, Quinn said, "trusting that our work can bear fruit for those to come."