Who Won the Vice Presidential Debate?
It's Hard to Pick Kamala Harris's Best VP Debate Moments, but Here Are Some of Our Favorites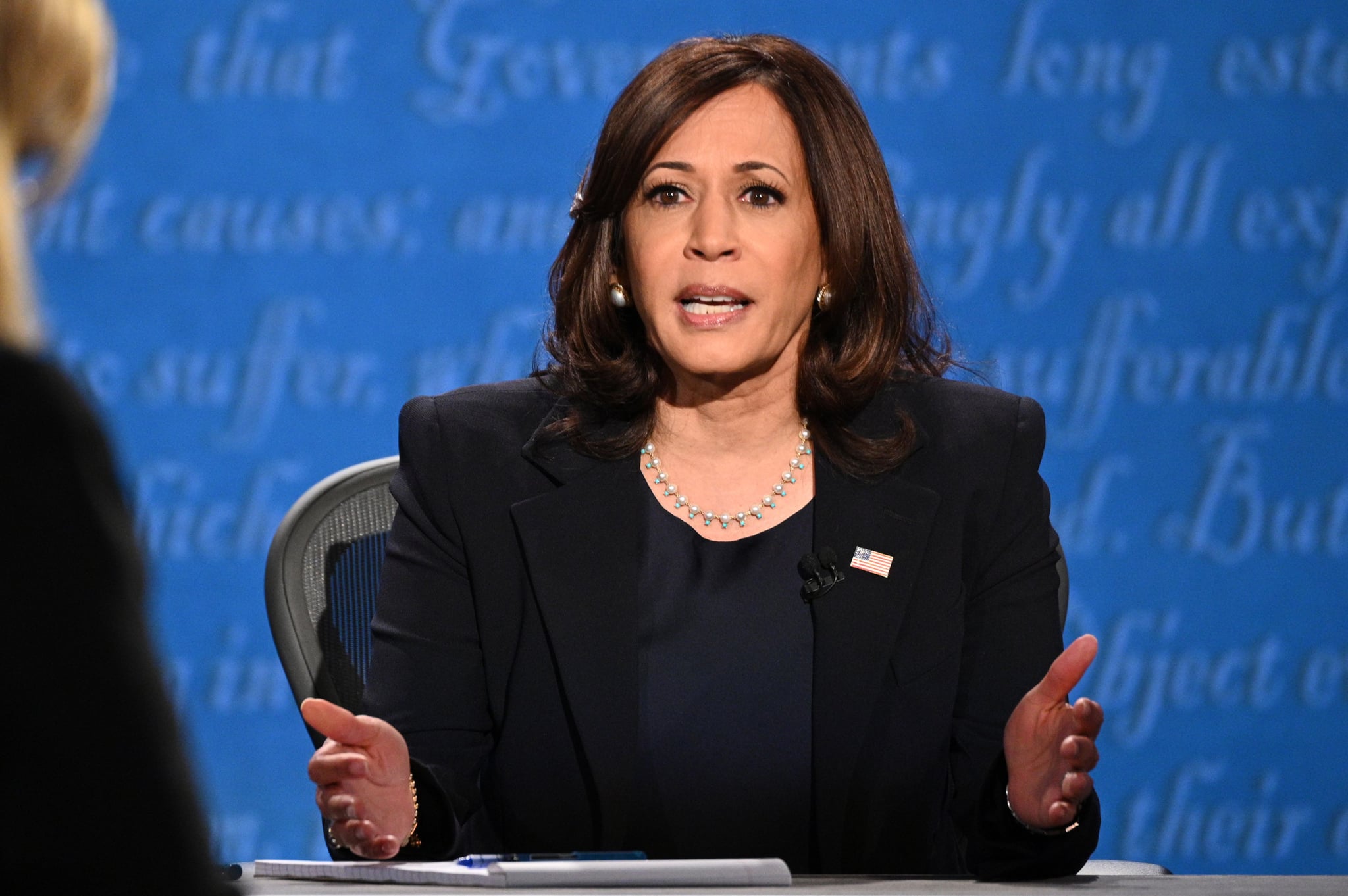 Vice President Mike Pence and Sen. Kamala Harris went head-to-head for the first and only vice presidential debate of 2020 on Oct. 7. Seated 12 feet apart at Kingsbury Hall in Salt Lake City, the nominees discussed the nation's current response to the coronavirus, Trump's Supreme Court nomination of Judge Amy Coney Barrett, and criminal justice reform, among a range of other topics. During the 90-minute debate, Harris delivered strong responses and quotable moments — ahead, here are some of her best:
Her refusal to be lectured by Pence
"I will not sit here and be lectured by the vice president on what it means to enforce the laws of our country," said Harris, who built a name for herself as a district attorney and attorney general, in arguably one of the most powerful moments of the debate. Harris's response came after Pence criticized her record on policing and criminal justice. The senator went on to explain that she had "personally prosecuted everything from child sexual assault to homicide," and was the only one on stage who had prosecuted the big banks and for-profit colleges.
And at every point in which Pence interrupted the senator throughout the debate, Harris simply cut him off with two words: "I'm speaking." She shut down Pence's interruptions with impressive restraint and moved forward with her own responses, refusing to give into Pence's attempts to speak over her.
Her passionate response regarding Breonna Taylor's case
When asked by moderator Susan Page whether she believed justice was served in Breonna Taylor's case, Harris firmly said Taylor's life was taken "unjustifiably, tragically, and violently." She also discussed the power of the peaceful protests that she participated in, in order to fight "to finally achieve that ideal of equal justice under law."
The senator also reiterated a clear breakdown of her and Biden's stance on police reform, which includes banning chokeholds and requiring a national registry for police officers who break the law, as well as getting rid of private prisons and cash bail. Pence, on the other hand, dismissed the idea that America is systemically racist, and claimed that suggesting law enforcement officials were implicitly biased against minorities was "a great insult." (As many viewers noticed, this was also the very moment a fly landed — and stayed perched — on Pence's head.)
Her points on the Trump administration's lack of transparency
Pence and Harris began the debate by discussing the current administration's response to COVID-19, during which Harris condemned the administration for both failing to enforce effective mandates and downplaying the severity of the virus. "The difference here is President Trump and I trust the American people to make choices in the best interest for their health," said Pence, who's the head of the White House's coronavirus task force. In a strong comeback, Harris said, "You respect the American people when you tell them the truth."
She also pointed out Trump's lack of transparency when it comes to his taxes and debt, referring to the recent New York Times report revealing the president had paid only $750 in federal income taxes in 2017. "It would be really good to know who the president of the United States, the commander in chief, owes money to," Harris said. "Because the American people have a right to know what is influencing the president's decisions." In contrast, Harris said Biden has always been honest and forthright over many years. "The one thing we all know about Joe, he puts it all out there . . . But Donald Trump has been about covering up everything."
Her criticism of the attempt to repeal the Affordable Care Act
On the topic of replacing the late Justice Ruth Bader Ginsburg with Judge Amy Coney Barrett, Harris attacked the Trump administration for working to strike down the Affordable Care Act, which would cease health coverage for as many as 23 million Americans, as well as protections for those with preexisting conditions.
"They are coming for you," Harris said, staring straight into the camera and speaking to the American people. "If you have a preexisting condition — heart disease, diabetes, breast cancer — they're coming for you. If you love someone who has a preexisting condition, they're coming for you. If you are under the age of 26 on your parents' coverage, they're coming for you." While Pence claimed that he and Trump have a plan to improve healthcare and protect Americans, he failed to provide any specific details.