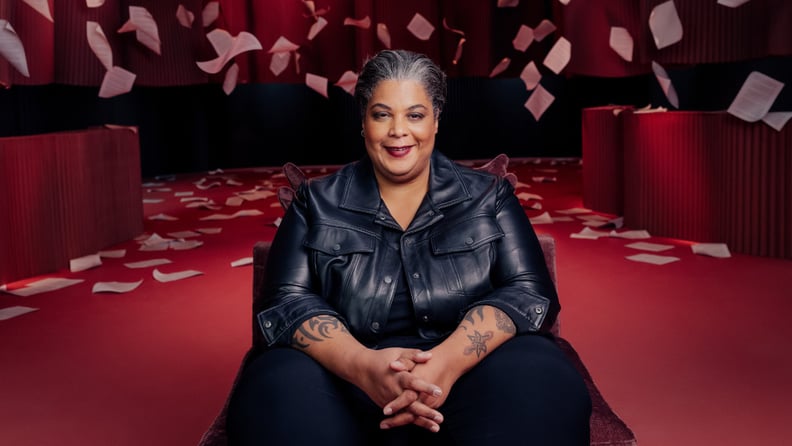 Photo courtesy Masterclass
Photo courtesy Masterclass
If you've been paying any attention to the literary world — or Twitter — in recent years, you'll know that writer and cultural critic Roxane Gay is leading some of the most provocative, paradigm-shifting, and entertaining conversations of our time. Now, the Hunger and Bad Feminist author is bringing her inimitable talents to the masses with a class writers — aspiring and practiced alike — can take online.
"Publishing tends to encourage the cannibalizing of self for women, for queer people, for trans people, for Black people, for people of color more broadly."
Gay has joined forces with the learning platform MasterClass to offer a course on writing for social change, which features practical advice on common struggles like writer's block and advice on what it takes to write courageously. (All of the lessons, of course, are delivered with Gay's signature dry charm.) We caught up with Gay as her MasterClass debuted to talk about the young writers she admires right now and the work of elevating underrepresented voices. And we couldn't help but spend a minute talking about what life's been like since she and her wife adopted their puppy, Max.
PS: You've taught a course on writing about trauma at Yale, but in the trailer for the MasterClass, you also say writing about social change does not have to equal writing about personal trauma. Why was that important to you to say right out of the gate?
RG: Because underrepresented writers in particular tend to be expected to write about one thing, and that's their subject position and the ways in which they have suffered, as if we have nothing more to offer to the world. Now, certainly there's plenty there to say, and if that is something you're interested in writing about, by all means [do it]. But it is not the only thing that we can write about. We don't have to write about it at all. And so sometimes people need to hear that, particularly because publishing tends to encourage the cannibalizing of self for women, for queer people, for trans people, for Black people, for people of color more broadly.
POPSUGAR: In the class, you talk about showing that "expertise comes in a lot of different packages." Why is it important to use your platform to break those old ideas of who's "allowed" to be an expert?
Roxane Gay: Well, traditionally when we look to experts — culturally — we're looking to heterosexual, middle-class white men. And they are deemed the authority on pretty much everything, including the lives of people of color. And when people of color create art, we are rarely given credit for the craft behind our work. It's assumed that we're simply writing from a place of passion and a place of identity and that there's no skill to it. And so the more that we see underrepresented writers teaching classes like this and demonstrating their expertise as more than just a gut feeling, the more we get to legitimize different kinds of cultural production.
PS: In your new essay "Writing Into the Wound" you also talk about how it can be hard to know where to begin in addressing the moment that we're in. I'm sure for a lot of people, this idea of writing for social change could sound really daunting, or like this outsized responsibility. How did you work to break it down and make it accessible and less intimidating for people?
RG: Well, I hope that I conveyed that writing for social change does not mean that the revolution begins tomorrow or that we have to change everything all at once. It means that we simply have to start. We have to address something that needs to be improved upon or changed or fixed, and do our research, and figure out what is it that I have to say about this topic, and how do I reach people who may not be inclined to agree with me? And I think if you do those things, you're going to definitely have a good start. I can't guarantee the outcome, but I do think that when you do those things, you set yourself up for success.
PS: Was there a pivotal moment for you when you realized, "Oh, my writing actually is holding power to change minds, to change policies, to change people"?
RG: I think that's an ongoing project. I have good days and bad days, like most writers, but certainly when people started to read my nonfiction and share it and engage with it, I started to realize that I can make a small difference. And that certainly was a good feeling in that I tend to write for myself, but it's always gratifying to know that I'm not writing into a vacuum and that there are people who do want to engage with my thoughts, whether they agree or disagree.
PS: In the series, you speak to some of the writers who really informed your own work on social change, including Audre Lorde. Do you remember when in your life you first encountered her work, maybe how it struck you then, or how it changed you as a person and a writer?
RG: Yes. I first encountered Audre Lorde writing in my 20s when I was getting a master's degree at the University of Nebraska-Lincoln. And I was taking theory class, postcolonial theory. And it was very profound to me because I had not until that time known that I might find a Black lesbian writer and feminist who would say things that resonated so strongly with me and who would challenge my thinking on feminism and progress and what it can look like on the uses of anger. It just really completely expanded my imagination and I'm grateful for it until this day.
PS: Who are some of the writers contributing to conversations around social change right now who really move you, or even who you wish were getting more reach and attention for their work?
RG: I think Soraya Nadia McDonald is doing some really great work. She does cultural criticism, but she does it in an incredibly thoughtful way. And I always feel challenged and entertained when I read her work. And I think she certainly has an audience, but I would love to see her have a far bigger audience because I think what she has to say is incredibly important.
PS: She's also a great Twitter follow as well.
RG: Yes, she is. And then the other writer is Kaitlyn Greenidge, who also has a following of her own, but she's incredibly talented. She writes with such clarity and such strength. And I really aspire to write the way she does.
PS: One takeaway in this course that I truly loved was your choice to call first drafts "extravagant" instead of terrible. Can you explain to people what you mean by that and how, as a writer, you give yourself grace with those extravagant first drafts?
RG: Well, I think that we tend to worship at the altar of revision too much — and the rhetoric of "your first draft is always terrible." Maybe it isn't. One of the things I love about first drafts is that people tend to go for it in that first draft. And because we know we can revise, we say whatever, and we say exactly what we want, in the way we want. And sometimes it's excessive, it's extravagant, and I think that's OK. I think it's something to be celebrated because when you create an extravagant first draft, you then have a lot to work with as you reshape it through revision.
PS: Had you taken any MasterClasses when they approached you, or have you since then?
RG: I have used MasterClass before they approached me. I watched a Shonda Rhimes MasterClass, and then, even though he's trash, Aaron Sorkin, who is a good writer. He is. And he's particularly good at dialogue and my dialogue needs work. And so I watched it and I plan on watching some of the chef MasterClasses in the future because they look really good. And now that I know what the production value of these MasterClasses is, I'm excited to see a few more.
PS: You've also been writing the "Work Friend" column for The New York Times during what is a particularly interesting moment to be writing about work culture and etiquette. Is there a concern or question you'd say has really been a theme in your submissions?
RG: The primary theme, if there is one, is that people want permission to leave their jobs despite the challenging economy that we're in. A lot of people are in really terrible and untenable work situations. And it's so unfortunate to see. I mean . . . we live in a country where health insurance is tied to employment. And so a great many people are in very terrible jobs because they need health insurance. And it's truly unfortunate that we don't get to choose the jobs we want sometimes because we need the benefits and the stability and the paycheck. And there are a lot of really unhappy people in their jobs. And I've been unhappy in a job before, so I get it. I just wish that that wasn't the norm.
PS: You wrote a really beautiful blog post about what your puppy, Max, has brought to your life. What has being a dog parent sort of changed in you or brought to the surface, or how has it just made your pandemic stay-at-home experience better?
RG: You know, I'm not a dog person. I never was. I never thought I would be, but it has very much shown me that I have a capacity for gentleness. I mean, I'm a gentle person anyway, but I have a capacity for gentleness and patience that I did not realize. And I just love seeing how happy he makes my wife. And he makes me happy too. He's brought a lot of joy into an already joyful house. And he's so interesting and he has a lot of personality and he's very cute. He's like a little friend.