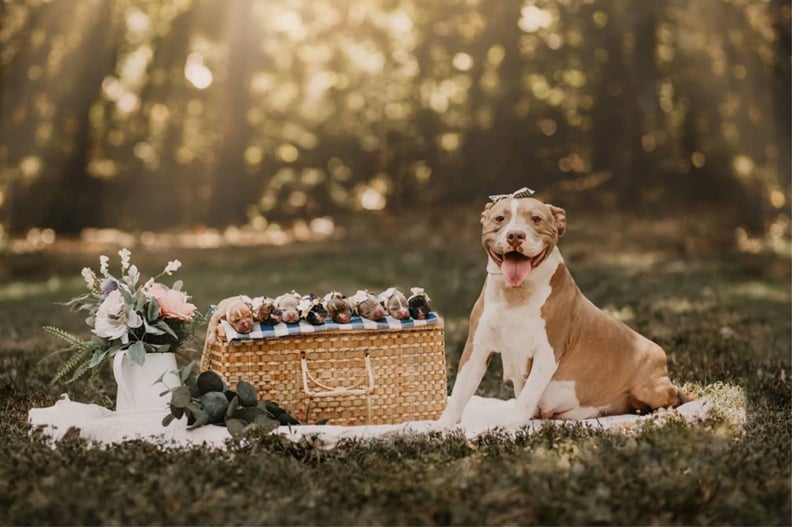 Enchanted Hills Photography
As someone who loves all types of dogs, I'm always an advocate for getting pups spayed or neutered once they're old enough. And while many dogs come from different walks of life and aren't always given that chance, sometimes something beautiful can come from it. For proof, please direct your attention to this absolutely stunning maternity shoot captured by Enchanted Hills Photography featuring Mama Pickles — a Pit Bull who recently welcomed eight adorable puppies and is currently residing at Pits and Giggles Rescue in Fort Mill, SC.
"She was found as a stray and brought to a rural shelter," Amanda Forsythe, the founder and CEO of Pits and Giggles, told POPSUGAR. "When the opportunity came to save her, we were thrilled. We love each of our mamas, and Pickles is no exception. Just a few short days after her maternity shoot, Pickles began active labor. When this happens, most of our mama dogs want space and privacy — not so with Pickles! This mama needed people with her before she was comfortable bringing her babies in to the world."
"She spent the night with her head or body in our laps, needing affection and comfort as she struggled through labor pains."
Without skipping a beat, the volunteers at Pits and Giggles helped Mama Pickles in any way they could. "She spent the night with her head or body in our laps, needing affection and comfort as she struggled through labor pains. She doesn't know it yet, but this litter will be her very last," explained Amanda. "Mama Pickles, like all our moms, will need special care postpartum."
And the fact that Mama Pickles needs extra care is unfortunately not an unusual situation for the rescue's employees. "Many of the dogs that come to us have been bred repeatedly, and it takes a toll on their bodies. They're often heartworm positive and carrying a luggage rack of other medical issues," she said. "We work as an organization to provide our mama dogs with the care they need, we ensure they and their babies are spayed or neutered and adopted to homes where they will be loved for life!"
As the founder and CEO, Amanda wants to take the time to remind pet parents about the best safety practices, and staging a photo shoot was the easiest way to do so. "Our rescue exists to educate the public on the importance of responsible spay-neuter practices, and we work with local shelters and rescue organizations to provide community spays," she explained. "We spay a community dog in need in honor of every mama dog we save, and nearly 10 percent of our proceeds annually go toward spay neuter services for dogs in our community."
Read ahead to get a look at this simply gorgeous photo shoot of an especially proud mom and her adorable brood.