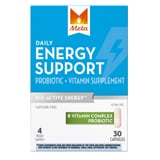 Everyone's family dynamic is unique and special, creating a bond that impacts everyone involved. That's why we partnered with Meta Daily Energy Support for this post.

I've been so lucky for the last couple of years to have a job that allowed me to work from home and hit the office when needed. It was a work-life balance that fit with our dual-income family, allowing me to happily walk my daughter to school and also be there at the end of her day. My husband commuted to his work, and when I needed to go in, he'd make arrangements to work from home. It was a comfortable mix of taking turns but, as we all know, life changes.

When I was offered the opportunity to change my work direction, which meant being in the office more, we had a bit of a hiccup. This would mean my husband would have to stay home all the time or we'd need to look into full-time child care. He was ready for new challenges, so we decided to go for it and switch our routines. It was a big and scary decision, but (lots of nail biting later) a good one.

There really wasn't any sort of adjustment period. One week I was mostly at home, and the next I was full time behind a desk. There were moments filled with mommy guilt — missing out on school activities, rushing out in the morning — but we all figured things out. I quickly realized that starting the day with a big boost of energy support gets me going and helps me maximize my time so I'm efficient in the office. I was relieved that my entire family adjusted to the new dynamic, and everyone stepped up and took care of whatever bubbled up.

The biggest takeaway for me was learning how to shut down work once I got home. It's so tempting to take care of those few final emails of the day, but I knew my daughter was looking forward to mommy time. Playing board games is now my main priority from 6-8 p.m. Then, once our daughter is happily tucked away in bed, instead of grabbing my laptop and catching up, I plug everything into their helpful chargers for the night and chill out with my husband. And, yes, there are days where nothing goes as planned. That's life.

I have found that I don't get caught up in the little dramas of everyday house life anymore. My husband and I now appreciate each other in different ways and do little selfless things to help make the day run smoother that we'd normally get on each other about, like emptying the dishwasher. My daughter is also learning that doing those dreaded chores really does make the entire family's life easier. We're calmer, more organized, and definitely happier.

More from Meta Daily Energy Support



Watch the video above to find out how Meta Daily Energy Support works!