With the help of
TROPICANA
, we're giving you the tools you need to create gorgeous cocktails that will be the centerpiece of all your Summer soirees.
We're calling it: sunset shades are the new millennial pink. Summer skies provide the perfect backdrop for all your seasonal parties — embrace the warm, ethereal palette with cocktails that will have all your friends sippin' and posting pics all night long. It's so much easier than you might think to craft gorgeous, subtly colorblocked mixed drinks that look like a million bucks in person and on screen. Just grab a few basic ingredients, one of the delicious TROPICANA Premium Drinks, and a few friends, and you're ready to party the night away. Cheers!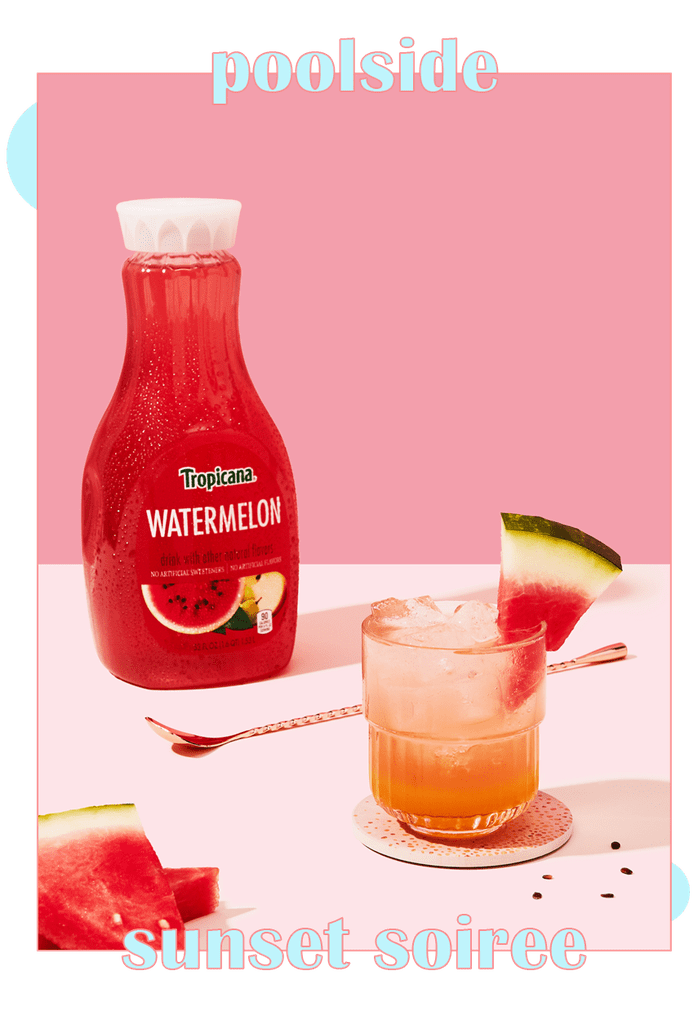 Spending the day chillin' by the pool? Squeeze a pitcher of fresh nectarine juice in advance so you're ready to mix up a bunch of these babies all at once. There's nothing better than fresh juice alongside a picturesque sunset, and the seltzer adds just enough sparkle to keep you groovin' all evening long.
Watermelon Gin Fizz
2 oz. fresh-squeezed nectarine juice
1.25 oz. gin
1 tbsp. simple syrup
4 oz. TROPICANA® Watermelon drink
Seltzer
Watermelon slice for garnish
In a glass, pour nectarine juice over ice. Combine gin, simple syrup, and TROPICANA® Watermelon drink; slowly pour over nectarine juice. Top with seltzer. Garnish with a watermelon slice.
This bold cocktail is perfect for pairing with BBQ meats, grilled veggies, and a stunning sunset. No matter which brand of aperitivo liqueur you opt for, the balance between bitter and sweet is all you need on a balmy Summer eve.
Tangerine Pomegranate Aperitivo
4 oz. TROPICANA® Tangerine Lemonade drink
2 oz. fresh-squeezed pomegranate juice
1 oz. simple syrup
1 oz. aperitivo liqueur
Tangerine slice for garnish
Fill a tall glass with ice. Add a tangerine slice to the side of the glass. Pour TROPICANA® Tangerine Lemonade drink over ice; set aside. Add the pomegranate juice, simple syrup, and aperitivo into a cocktail shaker, and shake until combined. Pour pomegranate and aperitivo mixture on top.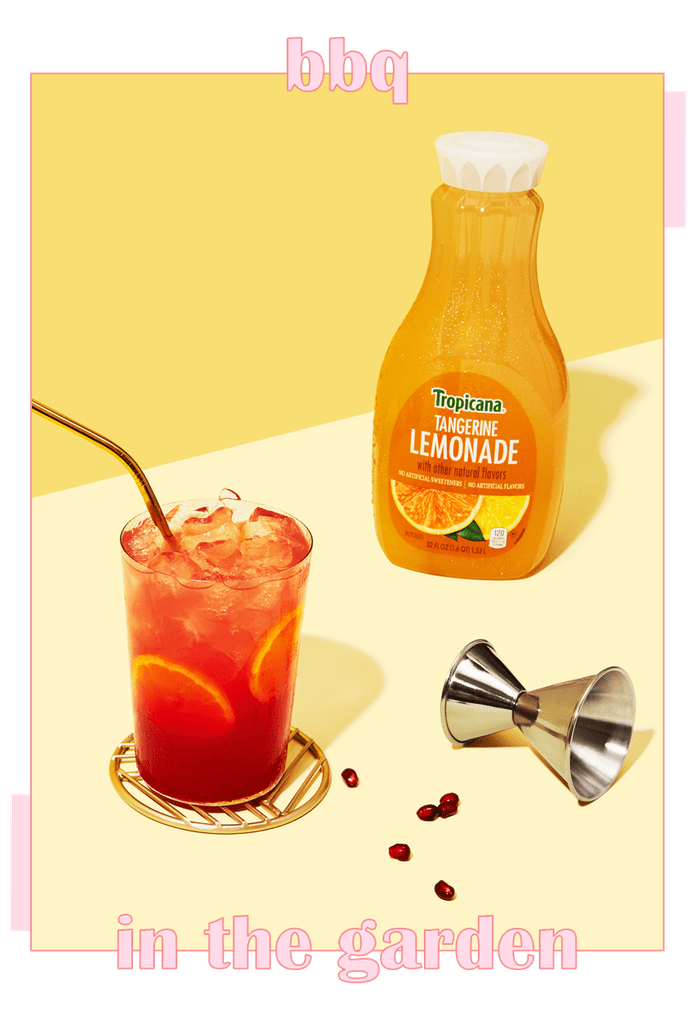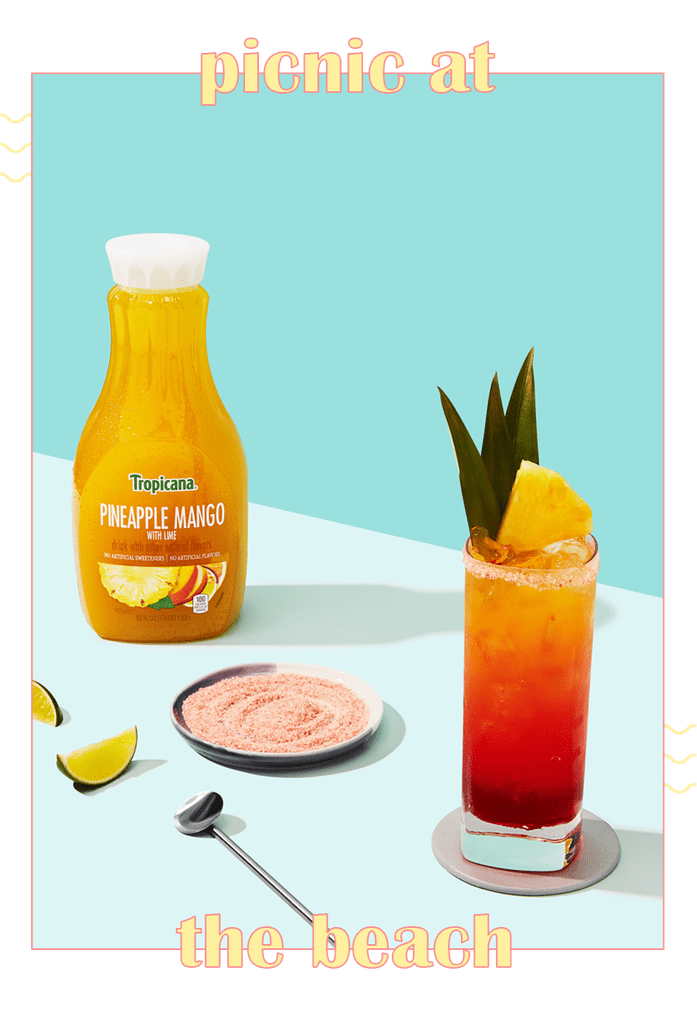 If you're lucky enough to live in a place with a coastline, make sure to take full advantage of all the wonders the beach has to offer. Pack a blanket and basket full of snacks (or even a DIY dinner) and all your cocktail fixins, and head out to the sand to watch the sun go down behind the water. It'll be the perfect photo op!
Island Sunrise
3 oz. TROPICANA® Pineapple Mango with Lime drink
1.5 oz. blanco tequila
1 oz. grenadine
Pineapple slice and leaves for garnish
Pink salt for rim
Rim a chilled Collins glass with pink salt. Add the tequila and TROPICANA® Pineapple Mango with Lime drink over ice. Float the grenadine on top. Garnish with a pineapple slice and pineapple leaves.
* Please drink responsibly.
Credits: Photography: Matthew Zach; Art Direction: Samara Grossman; Food Styling: Julia Choi; Prop Styling: Aja Coon; Production: Cassie Doyle; Design: Kelly Millington