Source: POPSUGAR Photography
Don't get lazy with your cleanup! We partnered with OxiClean to tell you how to get it done fast, so you can get back to lounging.
Cleaning is not at the top of my must-do list. I much prefer lounging on the couch to washing dishes, but there comes a time when it's unavoidable — especially when having guests over. Find yourself in the same predicament? Before procrastinating by binge-watching whatever's available, here's how to clean up without going crazy.
Plan Ahead
Investing in a few cute storage containers lets you stash your stuff in plain sight, which is a big help in a pinch. Along with being a smart purchase, you can often find containers that work double duty as a side table or ottoman. And it might sound funny, but pick a show you watch weekly and designate commercials as quick cleanup times. You can pick up those empty water bottles and toss them in the recycling in under two minutes for sure.
Get Rid of Your Stuff
Yes, you love your stuff, but after you've read that magazine, it's time to let it go. Same goes for anything else you're hoarding in your corners. Take a few minutes each week and cleanse yourself of stuff that's taking up precious space in your home. It saves you from extra cleaning in the future. And you can even make some cash by selling items, like clothes you aren't wearing or that empty bookshelf collecting dust.
Open the Windows
Fresh air naturally cleans any space by whipping up dust and whisking away bad scents. So put that breeze to good use, and let it flow through your space before guests arrive. And invest in a few house plants that add a pop of green to your space or a vase of fresh flowers that naturally freshen air. Just remember to water them.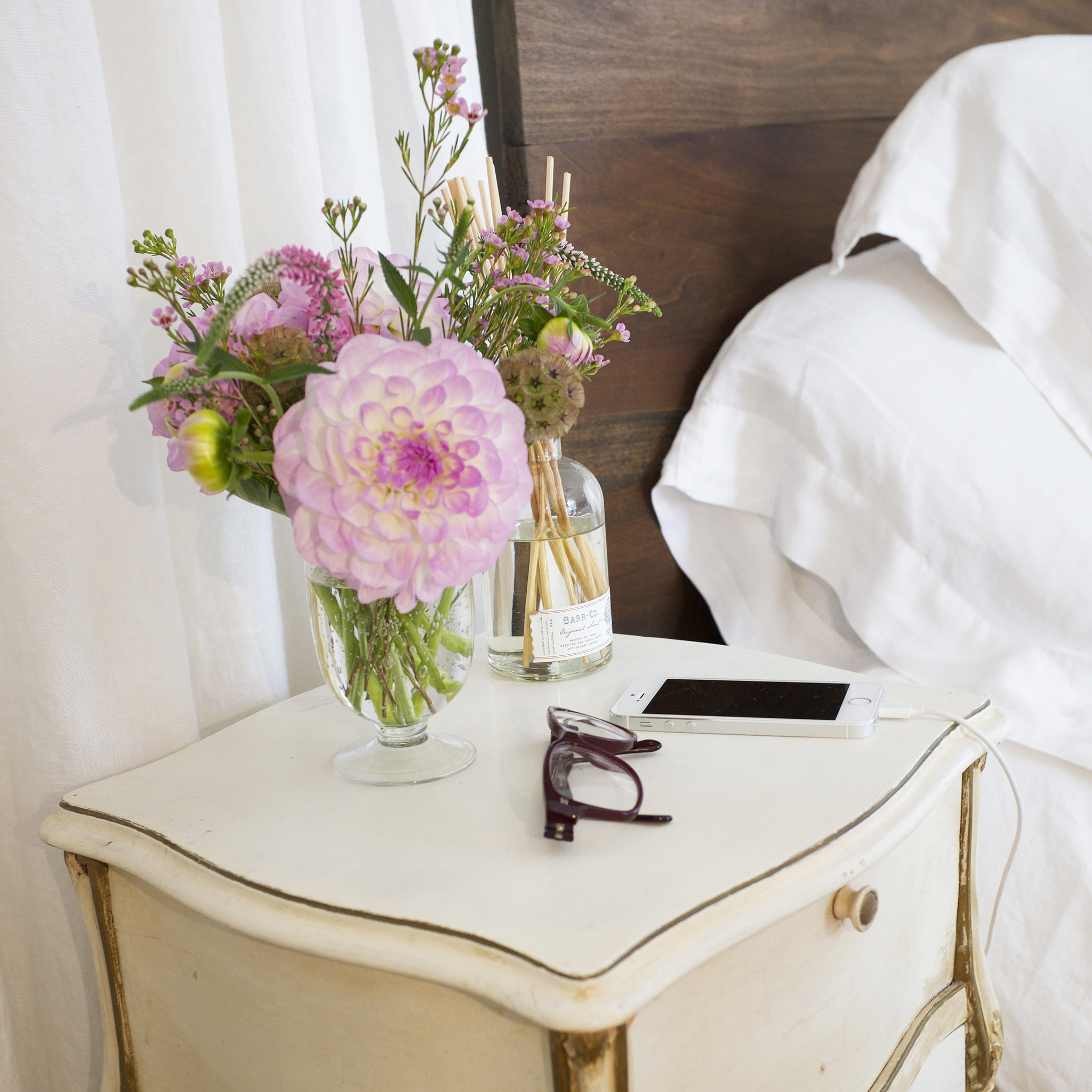 Source: POPSUGAR Photography
Keep Cleaning Supplies Close
Instead of storing everything you need for cleaning in a closet, break up those items and stash where they're needed, like under the bathroom sink. And keep up with cleaning products so you always have something on hand for tackling messes. Cleaning wipes are also a big help along with versatile cleaners, like OxiClean that tackle stains on everything in your home — from your favorite shirt to your shag rug.
No Need For Scrubbing
Most cleaning supplies need a few minutes to fully work, so spritzing your bathroom top to bottom with cleaner then walking away for a few lets it do its job. Come back later, and wipe with a paper towel. Done. Same goes with your tub, toilet, and kitchen sink. And if you give these items a quick cleaning weekly, you'll be safe from working up a sweat in the future due to built-up grime.
Hit Your Main Areas
If you know your guests probably aren't going to go through your kitchen cabinets, then why clean them? Focus on your main messy areas that are exposed to visitors and tackle those first. The bathroom is a biggie, so check out this cleaning checklist for making the chore even easier. Vacuum your main living area, do a bit of light dusting, and make your bed. Really, no one will be inspecting your window frames for dust.
No Time? Misrepresent
A quick way to change the ambience of your space — and hide any residual mess — is to dim the lights. You can set the mood with a few scented candles that also mask any lingering scents. Along with seriously solving messy problems fast, low lighting and a signature smell welcome guests into your space. And any available closet space holds your dirty clothes.
But, Really. DO Clean
You can spend months procrastinating, but you do need to set a date and make deep cleaning and decluttering happen. Pick a day and set a timer for one hour to give your space a deep scouring. Scrub the tub, vacuum the floors, wash all the dishes, and wash and fold (and put away!) your clothes. Sure, it's a pain, but after awhile it will become part of your regular monthly cleaning routine, saving you time and money.