The Germiest Places in Your Home
The 26 Grossest Places You Need to Clean Now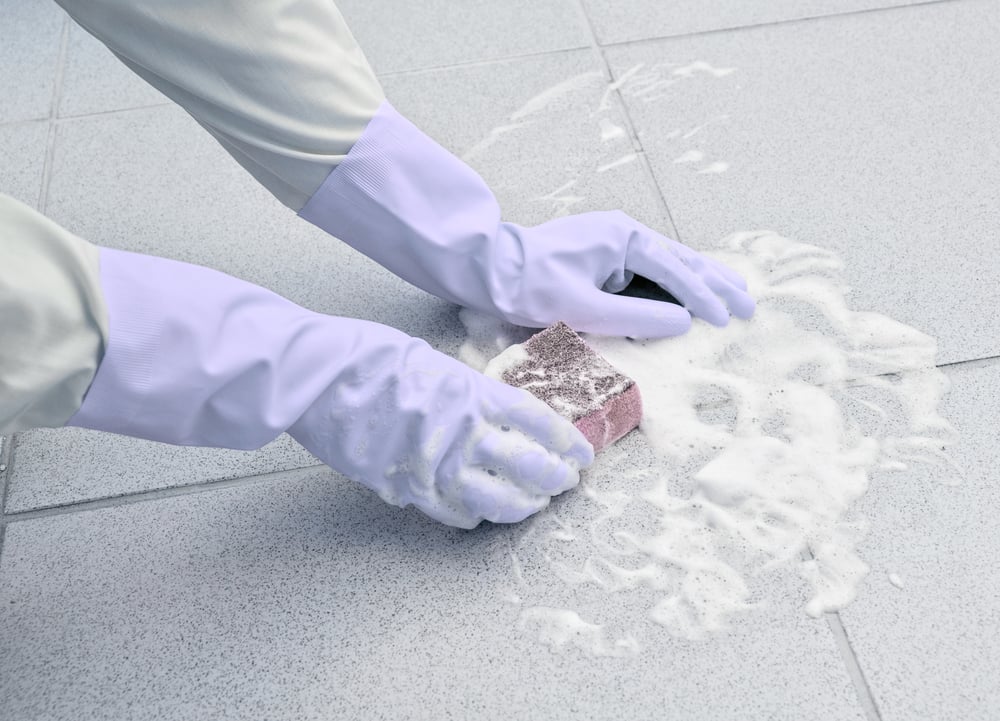 Let's be honest — there are some pretty seriously germy spots that might get forgotten during your regular cleanings. And some of these places might surprise you! Here are 26 items that you might want to go clean right now.
Kitchen sponges: Sure, you use sponges for washing your dishes and wiping countertops, but a quick rinse doesn't get rid of lingering bacteria. Toss your sponges in your dishwasher, or heat them on high in the microwave to give them a serious clean.
Toothbrushes: Along with cleaning your teeth, your toothbrush is holding all the ick from your mouth. It's a good idea to run your brushes through the dishwasher for a thorough clean.
Knobs: Think about it — you open cabinets and doors after touching tons of things, making them seriously germy. Make sure to give them a disinfecting often. DIY an eco-friendly cleaner for a natural solution.
Cutting boards: Used for cutting just about anything, your cutting board deserves a good cleaning. And make sure to lift boards from countertops to stop any mold from growing.
Coffeemaker: Because your coffeemaker is a warm, dark, damp spot, it can be a mold and mildew brewer. Make sure to clean your coffee machine monthly to keep it nice and clean.
Water bottles and thermoses: Even a little bit of liquid in the bottom of a thermos or water bottle can turn into a big moldy mess. Make sure sure to completely rinse and dry bottles and thermoses after using.
Pillows: While you're sleeping, your pillows absorb sweat, skin cells, and, yes, drool. Here's how to wash and whiten for wonderfully clean pillows that will make your skin happy.
Bath mat: While standing on your bath mat waiting for hot water, your dirty feet are leaving a germy mess that's waiting for your clean toes after showering. Toss it in the wash weekly.
Makeup brushes and sponges: Along with applying your makeup perfectly, your makeup brushes collect oils, skin cells, and bacteria from your face. Keep them clean by tossing them the dishwasher. Once dry, they're good as new.
Towels: Along with drying you off after a shower, that towel is absorbing natural oils, dead skin cells, and bacteria from your body, which makes it not the cleanest thing the next time you're fresh from the shower. Wash towels regularly so everything is wonderfully fresh.
Contact lens cases: Meant for cleaning your contacts, not giving the case a good cleaning can lead to potential eye infections. Soak cases in hydrogen peroxide, and then wipe clean.
Headphones: Sure, those little ear buds deliver your favorite tunes, but they also collect ear wax. Here's how to properly clean them to prevent ear infections.
Keys: After being handled and shoved in your bag, your keys are covered in icky stuff. Give them a cleaning regularly with an antibacterial wipe.
Handbag straps: Another spot you might not think is harboring bacteria, but you're holding your bag after touching doorknobs, petting dogs, shaking hands, and eating. Spray with disinfectant or wipe clean daily.
Phone: Held right next to your ear, your phone is touched by your face, hair, and hands. Here's how to clean your phone to prevent bacteria growth.
Yoga mat: Along with being sweat on, your yoga mat is a cozy cushion for your hands, feet, and even your tush. DIY this spray, which keeps it nice and clean.
Gym bag: Your shoes, your yoga mat, your dirty towel, your water bottle — all these items make for a bacteria-filled spot. Toss your gym bag in the laundry to wash often.
Shoes: Shoes are homes to our feet, which sweat and slough off dead skin cells, harboring bacteria that can lead to fungal infections (ick). Sprinkle the inside of shoes with baking soda, or toss them in the wash to help keep clean.
Remotes: Used for watching your favorite things, remotes collect oils, dead skin cells, dust, and even bits of food. Clean with antibacterial wipes regularly.
Kitchen sink: Your dirty dishes are covered in food bits; you rinse your hands after touching raw meat; and sometimes you even leave standing water in your sink to soak your dishes. That means your kitchen sink is teeming with bacteria. Here's how to naturally clean your sink regularly.
Fridge door: You just made a sandwich, touched all those fillings, opened the fridge door to put everything away, and then started noshing — without washing your hands! That fridge door is covered with bacteria that can lead to unwanted tummy aches. Wipe clean with antibacterial wipes or cleaning spray often.
Pet food dishes: Just like your dishes, give your pet food dishes and bowls a regular cleaning. Most can be tossed in the dishwasher.
Countertops: From food bits to spilled beverages to uncooked meats, your countertops suck up bacteria and also may contain lurking mold. Make sure to disinfect often with cleaning spray or antibacterial wipes to stop cross-contamination in the kitchen.
Light switches: Another item you're always touching, light switches deserve a quick shot of antibacterial spray to keep them nice and clean.
Computer keyboard: Your computer gets lots of use, which makes those keys a pretty germy spot. From dead skin cells to germs from your fingers, add cleaning your computer to your weekly must-do list.
Shower curtain: While you're showering, all that steam is making contact with the curtain, along with other gross stuff like skin cells, body fluids, and bacteria, resulting in mold and mildew. Liners aren't very expensive, which makes them easily disposable. Otherwise, remove the curtain, liberally spray with cleaner, and then wipe clean, removing any buildup.