We've partnered with
Pier 1
to help you make holiday entertaining even easier — and more festive — than ever.
All too often, holiday parties rely on the same tacky tropes: ugly sweaters, candy canes, cheesy Christmas songs, and red-and-green everything. This year, try something a little more refined, like this holiday card-making party.
It doesn't require you to spend hours cutting out sugar cookies or stringing garlands. Instead, the simple combination of big-batch cocktails, crowd-pleasing snacks, and an easy group activity ensures your guests will stay entertained all night long. Here's how to pull it off — even if you live in the tiniest micro apartment.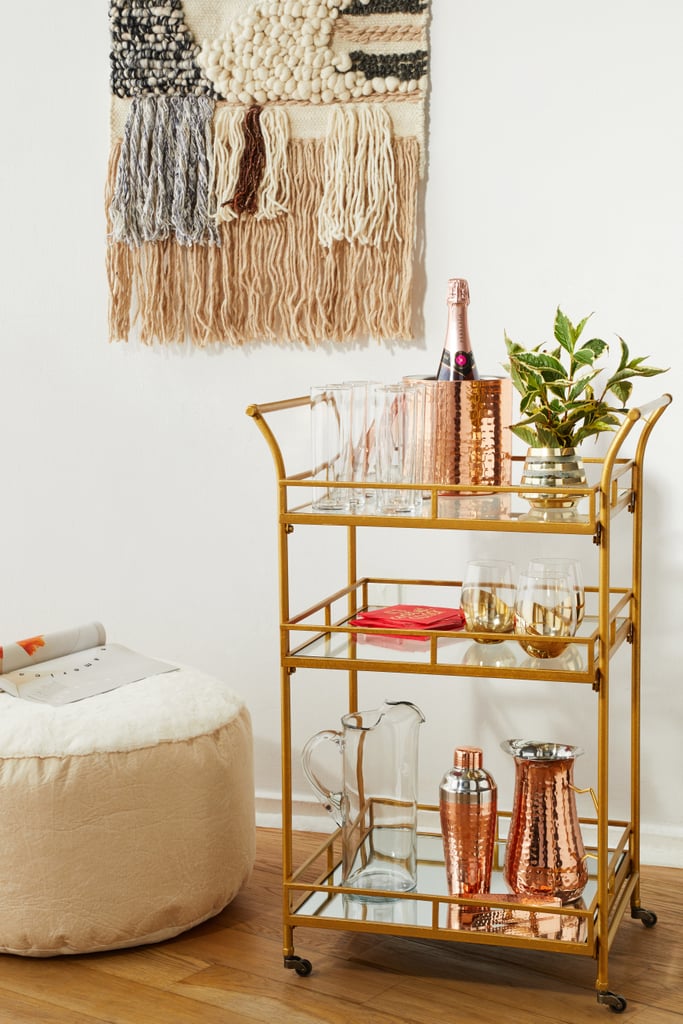 First, you've got to assess your furniture. Can you move anything to the edges of the room to create more mingling space? Keep an eye out for pieces that can serve double-duty, like a coffee table that can turn into crafting space or an ottoman that can be used for extra seating.
Don't go overboard on the decor, either. Skip the red-and-green garlands, reindeer-patterned blankets, and toy nutcrackers and instead opt for a wintry-white color palette with touches of gold and copper. It still brings home the holiday theme, but looks much more sophisticated.
Keep the Refreshments Simple
Hungry guests won't be happy guests. Make sure your friends have the fuel they need to party all evening long by serving plenty of snacks. You don't need to get too elaborate, either: Everyone will love a cheeseboard piled high with fruit, cured meats, olives, and fromage. Small bites like bruschetta crostini or endives topped with pecans and crumbled blue cheese are always nice, too.
Take the same minimalist approach to the bar. Instead of filling your countertops with all kinds of liquors and mixers, opt for a signature cocktail. Since you don't have to buy several different drink options, you can even spend a little extra on garnishes to make it feel extra special. Choose a classic with a twist, like this wintry French 75. It's sure to be a hit.
Festive French 75
Serves 4 to 6
You'll need:
8 ounces gin or vodka
8 ounces pomegranate juice
4 ounces grenadine
1/2 teaspoon bitters
1 bottle Champagne or other sparkling wine, chilled
4 cups ice
Pomegranate seeds, for garnish
Rosemary sprigs, for garnish
Directions: Combine the gin or vodka, pomegranate juice, grenadine, and bitters in a pitcher and stir until thoroughly blended. Just before serving, add ice and Champagne then stir gently. Garnish with pomegranate seeds and fresh rosemary sprigs. To serve, pour into glasses.
Pro tip: If you plan an activity for your party, you won't have to worry about your guests running out of things to talk about. Help your pals get into the holiday spirit by making festive greeting cards.
Set out some basic card-making supplies like construction paper, markers, scissors, stamps, and stickers on the coffee table, then let your guests bring their creativity to life. You can send the cards to friends and family, or even donate them to your favorite charity. Even if your creations don't come out exactly the way you planned, you'll still have a blast making them!
There's another easy way to give back this holiday season: by shopping at Pier 1! Pier 1 is partnering with St. Jude through the Thanks and Giving® campaign to ask consumers to donate to support the hospital's lifesaving mission this holiday season. When you shop at your local Pier 1 store, you can make a donation to the renowned children's research hospital at checkout. Head in today to do your holiday shopping!
Photography: Philip Friedman; Art Direction: Colleen Lennon; Prop Styling: Martha Bernabe; Food Styling: Nicole Twohy; Producing: Sasha Bar-Tur