How to Make Homemade Liquid Dish Soap
The Easy Way to Make Eco-Friendly Liquid Dish Soap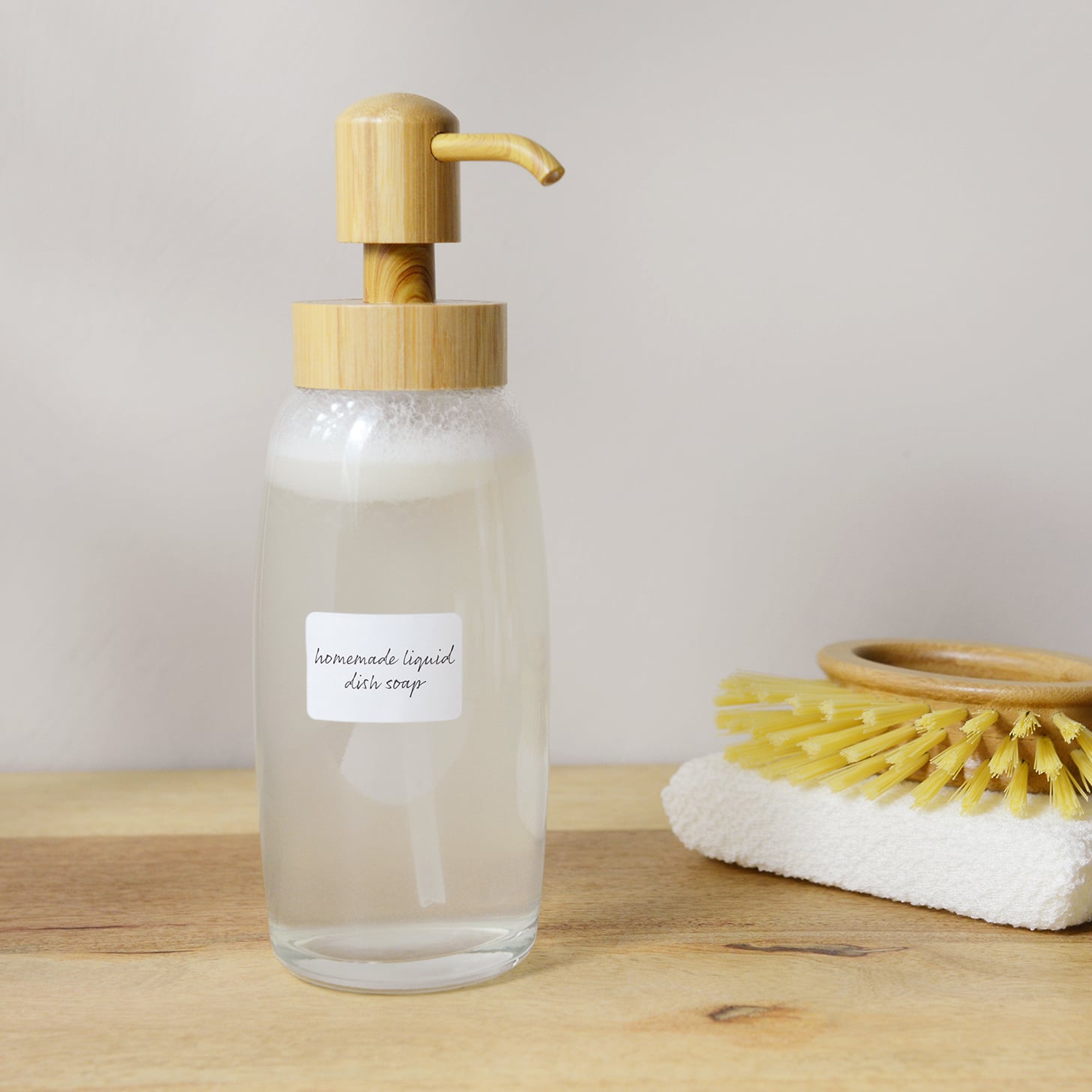 Have you ever noticed there isn't an actual list of ingredients on your dish soap? Instead of tossing down the cash to pick up the top grease-fighting brand, try making your own eco-friendly liquid soap at home. You can personalize your soap with your favorite scent, meaning not only will your dishes smell good, but so will your kitchen! And the best part is this DIY soap is safe for the environment since it's nontoxic. Pro tip: repurpose an old container for a fun and cute sink-side cleaning companion.
What You'll Need:
1 tablespoon borax
1/2 cup liquid castile soap
1 tablespoon washing soda
10 drops essential oil (optional)
2 tablespoons white distilled vinegar
Mixing bowl
Measuring cups
Whisk
Measuring spoons
Glass container
Directions:
Gather the ingredients needed for making the liquid dish soap. Both of the main ingredients, borax and washing soda, can be found in the laundry aisle of your local grocery store. Borax is a powerhouse that will leave your dishes seriously clean, and washing soda gives this liquid dish soap extra grease-fighting power.
Measure and add the borax and washing soda to the mixing bowl along with the liquid castile soap and white vinegar. You can find pure castile soap at your local health food store, and it comes in a variety of scents. We used lavender, which gave our dishwashing liquid a light floral scent. Vinegar helps clean dishes and is a natural antibacterial.
Boil the water and then slowly add in the ingredients, using a whisk to gently incorporate. You can also add a few drops of your favorite essential oil at this time to personalize the scent of the liquid dish soap.
Let the soap come to room temperature before adding to your container. It will thicken as it cools.
Now you are ready to tackle the dishes! This eco-friendly liquid dish soap does a great job at cleaning baked-on pans and leaves glasses spotless. It doesn't suds a ton and isn't harsh on hands.
Looking for other DIY cleaning products? Take a peek at our budget-friendly list!
—Additional reporting by Lauren Harano
Image Source: POPSUGAR Photography / Elizabeth Reyes