How to Caulk Around a Bathtub
How to Caulk Around Your Bathtub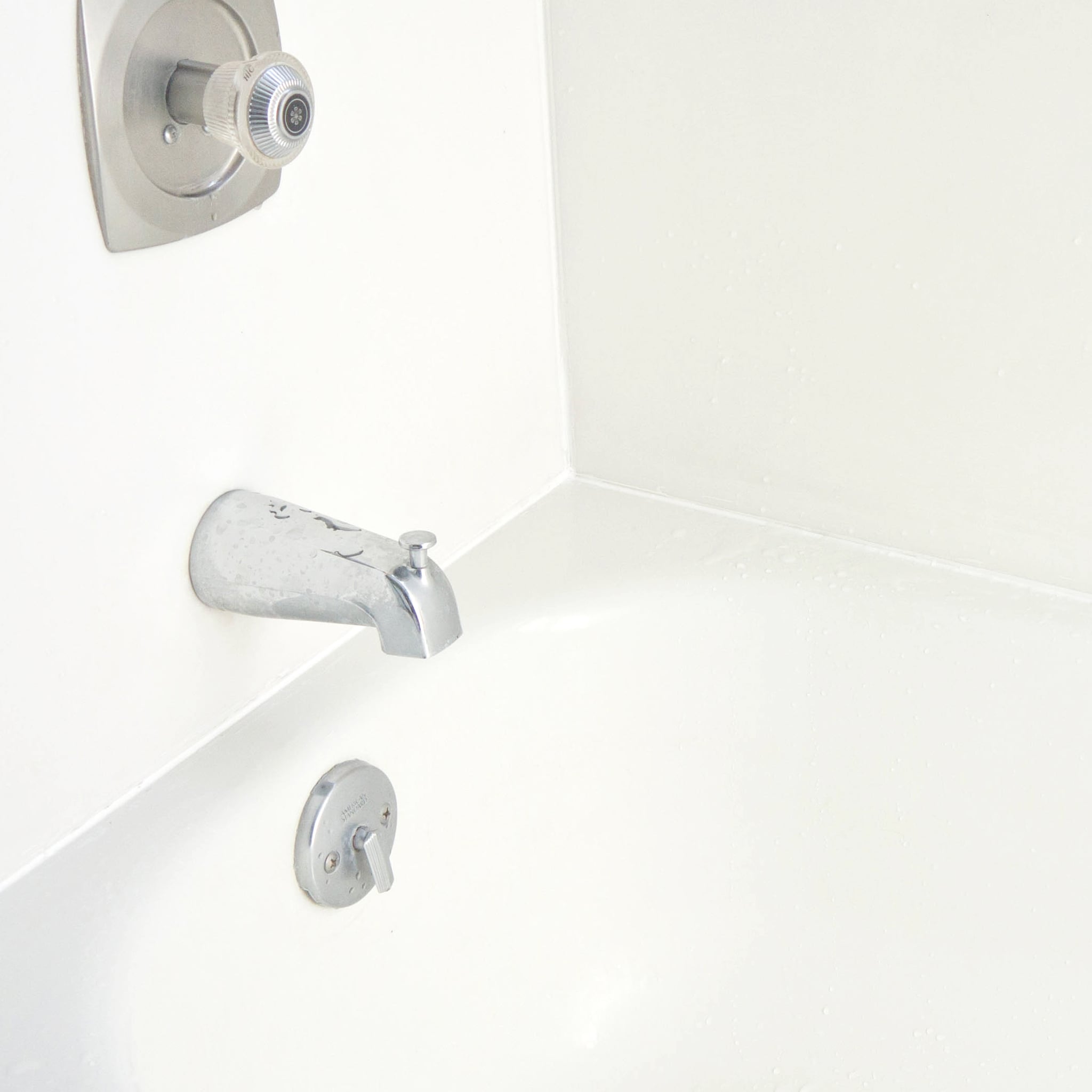 If you don't have the cash to pay someone to spiff up your tub or shower, head to your local hardware store for a few items that will help you recaulk your tub. This project takes an afternoon to pull off, and your tub or shower will be out of commission for 24 hours, so plan accordingly. Recaulking your tub gets rid of old molding and any ick that's decided to make the edges of your tub or shower its home.
Get Started
As you can see, my tub was in need of some serious help. I purchased a squeezable tube of white silicone caulk, which costs around $5, at my local home goods store. I also picked up a caulking finishing tool, a plastic scraper, and some painters tape, taking the total for this project to $15. Before tackling the caulking, cover your drain with painters tape, which makes the final clean up so easy — and keeps old caulk bits from clogging your drain. Start by using the scraper to remove the old caulking. This step takes patience, so crank your favorite tunes and scrap away.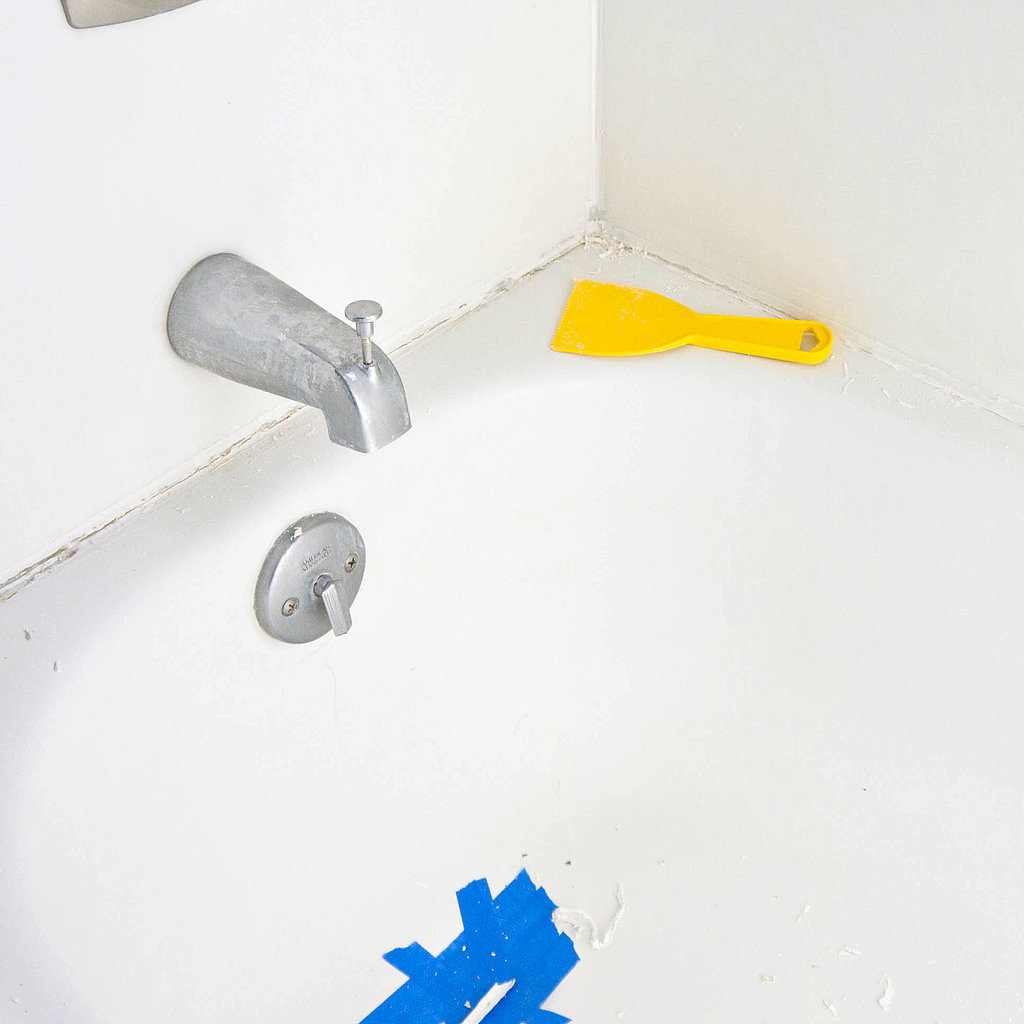 Clean It Up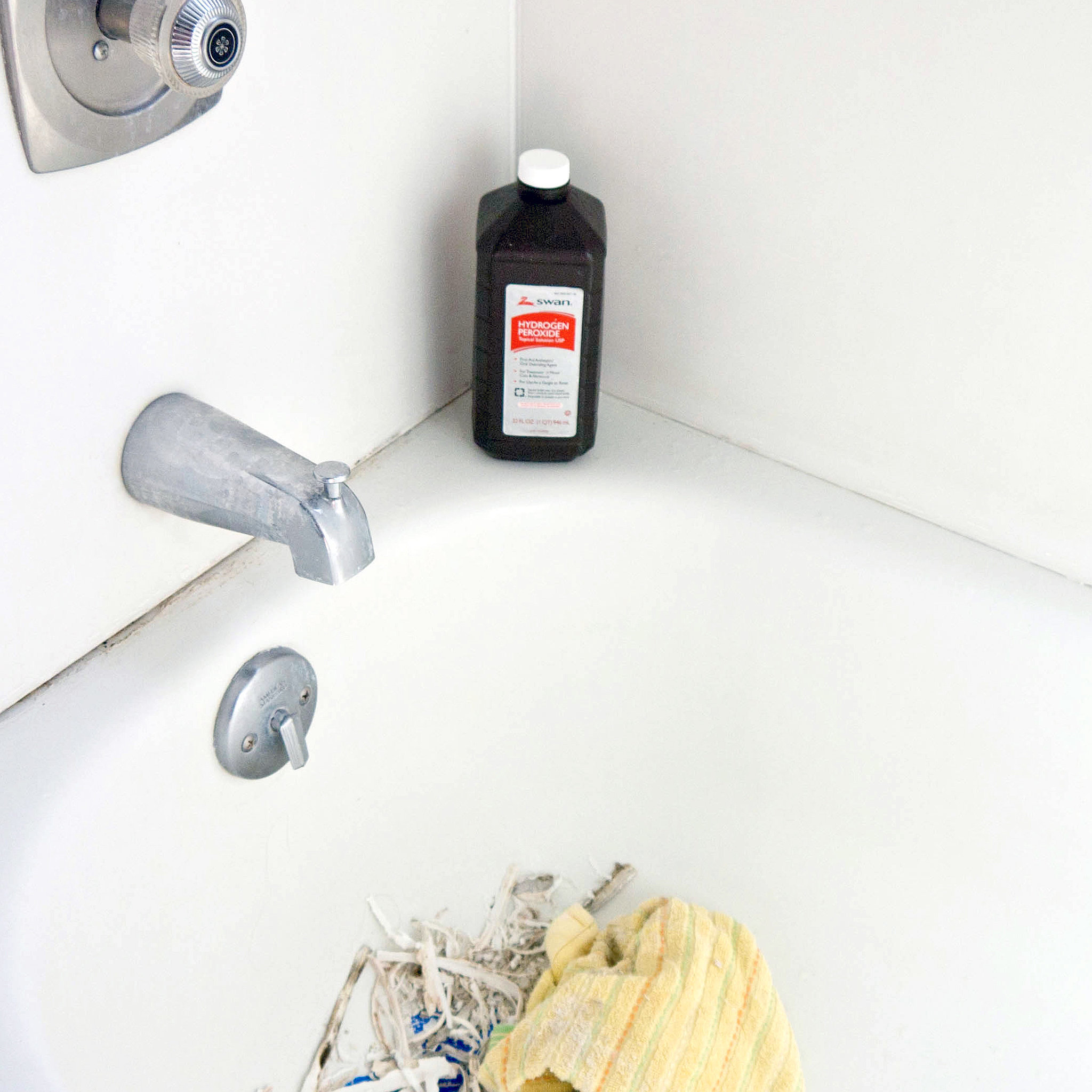 Once all the old caulk is removed, take the time to clean off any mold around your tub or shower. Spritz the area with hydrogen peroxide to naturally clean it and let it sit for 20 minutes. Then scrub the area with a soft sponge and baking soda to remove any stains and discolorations. You want to avoid adding too much moisture, so use as little water as possible while cleaning.
Make Caulking Easy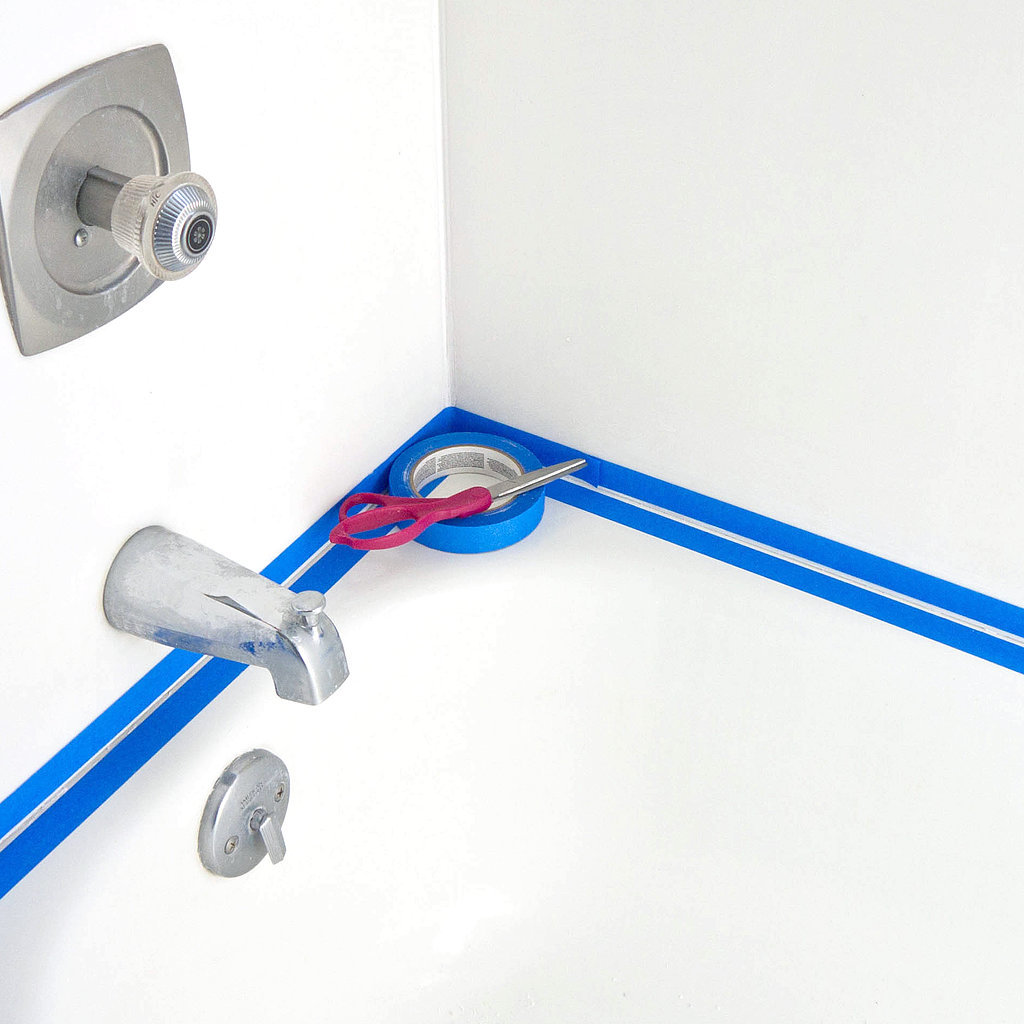 Stick long lengths of painters tape about one eighth of an inch from the edge, at both the top and bottom, which makes recaulking so easy. You can use a scissors to cut straight corners, which creates sharp caulking lines.
Caulk Time!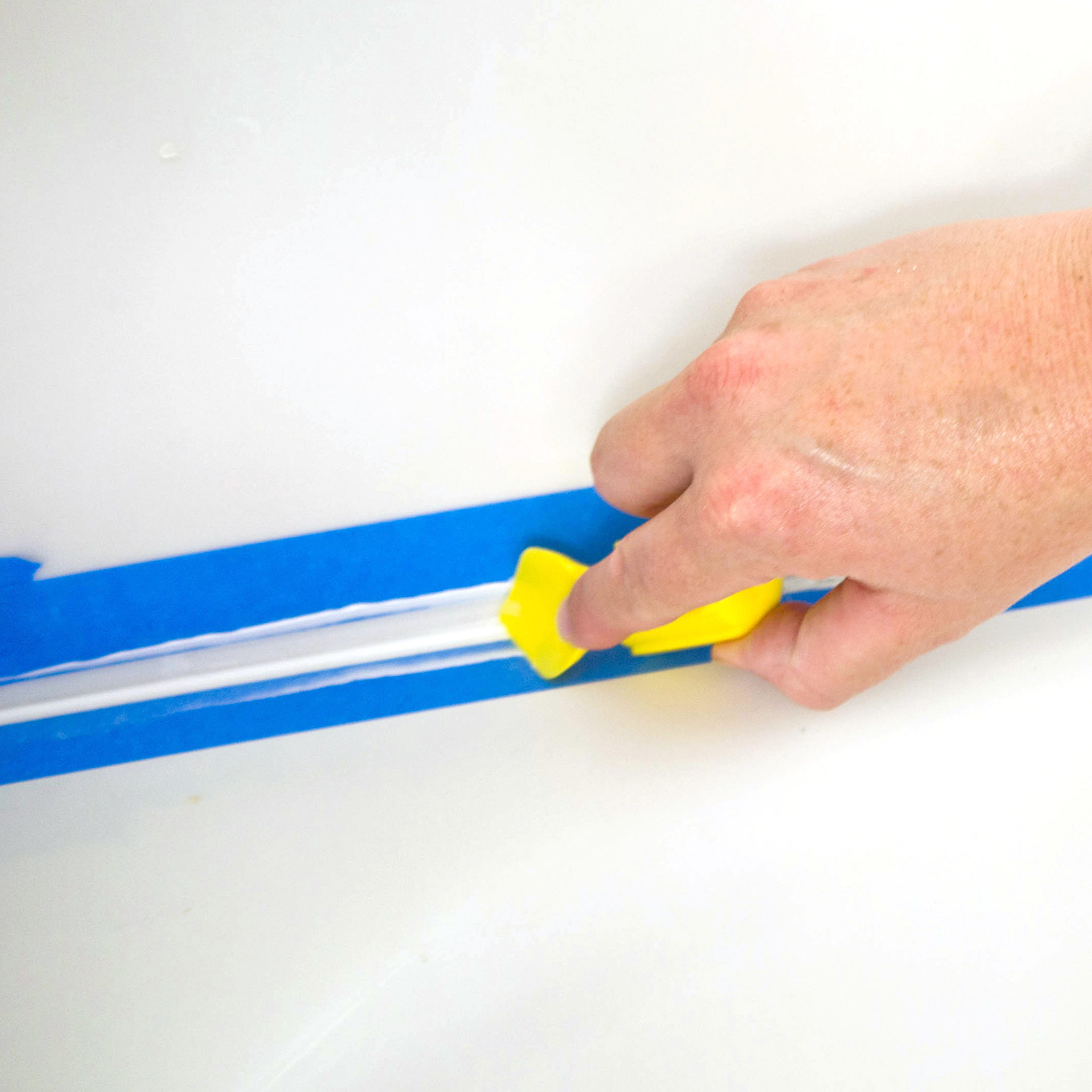 Starting at one corner, start applying caulking along the edge, using even pressure. You want a solid line of caulk to line around your shower or tub, but don't freak out if it isn't perfect. Once you hit another corner, reach for your caulking finishing tool (but a dampened finger works too) and run it along the line of caulk, pushing it into the crack and making the caulk look nice and smooth. Continue caulking and smoothing until the entire tub or shower is finished. And don't worry about making the corners perfect right now! You can touch it up later.
Finishing Touches
Once you've finished caulking the entire area, let the caulk set for about 10 minutes and then carefully remove the tape. Let dry for at least two hours and then use a damp soft cloth to wipe away any blobs of caulk that don't belong. Finish corners with dots of caulk and use damp fingers or a caulking finishing tool to smooth it into the edges. Let the caulk fully dry for 24 hours and then enjoy your sparkling new caulking!