Source: POPSUGAR Photography / Jae Payne

Taking a coffee break is a nice way to grab some caffeine, but there are so many ways to maximize the time. That's why we partnered with International Delight® for this post.
Midafternoon is the time to recharge so you can push through the rest of the day, which often calls for a helpful cup of coffee. While breathing in the wonderful scent of a steaming cup, take advantage of the time to make the rest of your afternoon and evening more efficient. And it's also a prime time for connecting with co-workers or friends. Really, you can make it happen in only a few minutes.
Make a call: After getting an iced coffee, cozy up in a comfortable spot and call someone you care about. Even a short five-minute chat can make someone's day — and leave you feeling good too. And stepping away from your desk or whatever you've been busy working on all day gives you a mental reset before jumping back into business.
Set daily goals for tomorrow: Setting goals leads to success, which is always a good thing. And if you ponder over what you want to accomplish in the future, it sets up a positive outlook. Write out goals and either email them to yourself or put pen to paper and post in a visible spot.
Walk away: Getting up and walking away from your desk gives you a moment to clear your head and think differently about what's happening. Grab your coffee and walk around the office while chatting with co-workers. It's a chance to mingle and make smart connections. And you'll be seen as someone who's open and interested in interacting with others.
Get organized: Use your coffee break as an opportunity to take care of your personal finances or cleaning out your inbox. You can also go over any to-do lists and write out anything that still needs accomplishing by the end of the day — or tackle one of these organization hacks that make life easier.
Stay in: Skip coffee house lines and make your own iced coffee the way you like it to sip with a healthy snack that fuels the rest of your day. Start a jar for collecting the money you would have spent on coffee and save for taking a vacation.
Be smart: While sipping, listen to a podcast or use the time to learn a new language. There are tons of online brain games that also offer an engaging way to keep your smarts active.
Read a book: Head to a quiet spot and get connected with a book. Ditch your phone and reach for an actual hardcover so you aren't distracted with being pinged every two minutes. A short diversion can add clarity and focus to your work.
Move it: Take advantage of your coffee break and give yourself a big boost by hitting the stairs or taking a walk around the block. A burst of physical activity is great for lifting your mood and calming stress. It's also like sneaking in a mini workout, which is great for your body too.
Network: It may sound schmoozy, but using your coffee break as an opportunity to network is a way to make long-lasting connections. You can do it in office or connect with others via social networks.
Make a list: While savoring your coffee, write out lists and reminders for the rest of the day and week. Remind yourself of things that need to get done along with any outstanding business that needs to be take care of. It's also a great time to make a shopping list.
Clean up: Now is the time for a short clean-up, which leaves your space clear of distractions. Just the act of taking that pile of cans to the recycling or tossing stacks of papers makes you feel accomplished.
Accomplish one daily goal: Use your coffee break as an opportunity to check one of your daily goals off your list. Instant happiness.
Let International Delight® help you find your happy in life! Click here!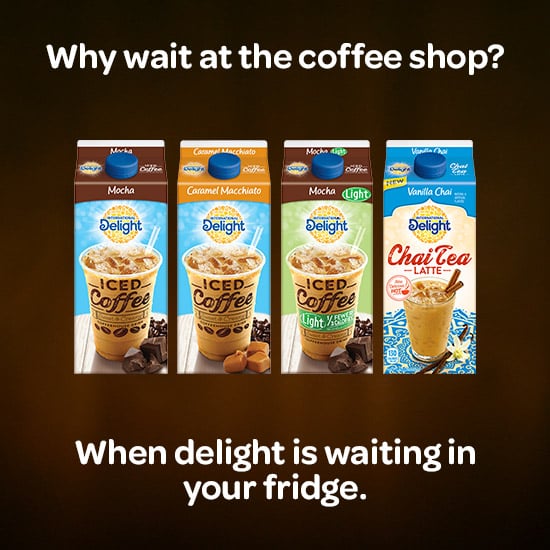 Image Source: POPSUGAR Photography / Jae Payne