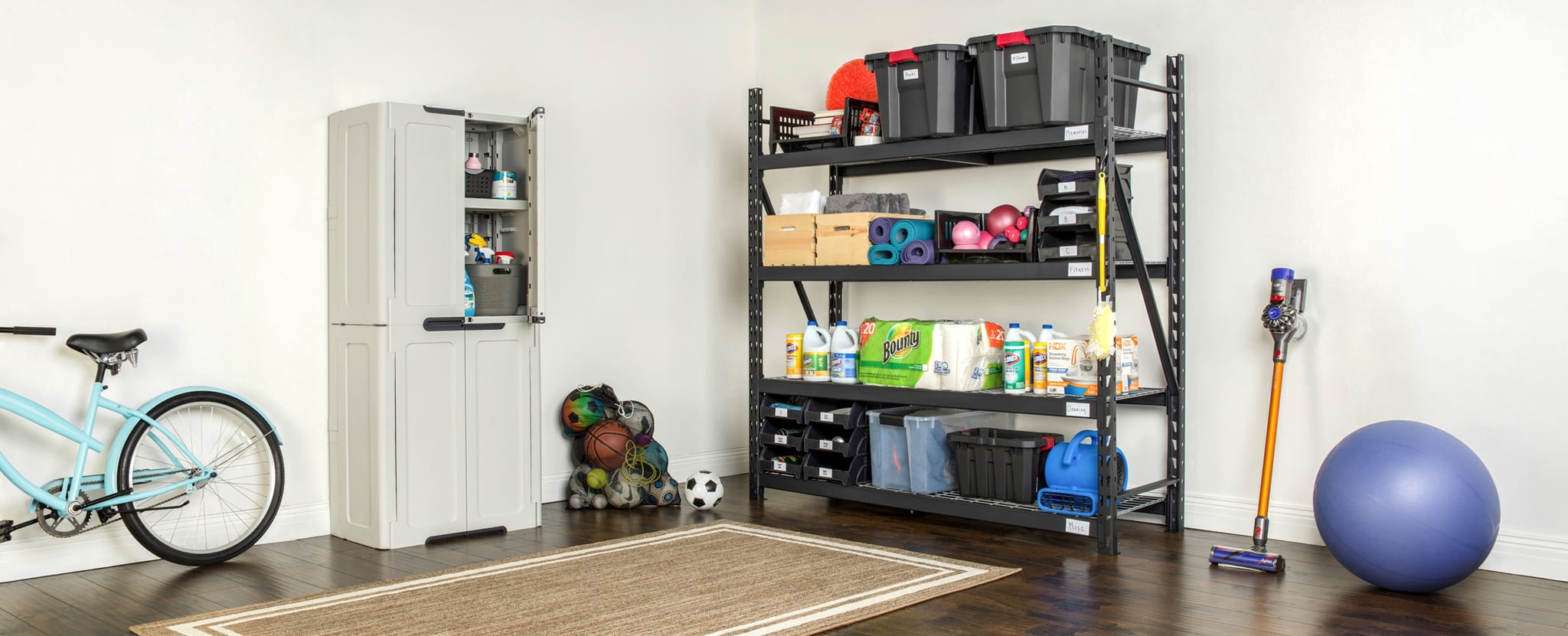 Image Source: POPSUGAR Photography / Justin Fantl
How to Organize Your Basement
4 Easy Tips for Organizing Your Basement and Getting Your Whole House in Gear
Every space in your home deserves some love, so we've partnered with
The Home Depot
to make your basement functional and fun.
Your basement is the lowest point in the home — and the lowest point on the home overhaul totem pole. It's the place where you cram junk or unwanted items before guests come over, and that out of sight out of mind attitude means you say you'll get to it later but TBH you never have. But that's all about to change! We'll show you how to keep your bikes, camping equipment, party supplies, holiday decor, and keepsakes where they belong, and out of your your main living areas. From how to safely stash sentimental items, organize items so they're easy to retrieve, and assemble practical storage solutions, here's how to make your basement work for you.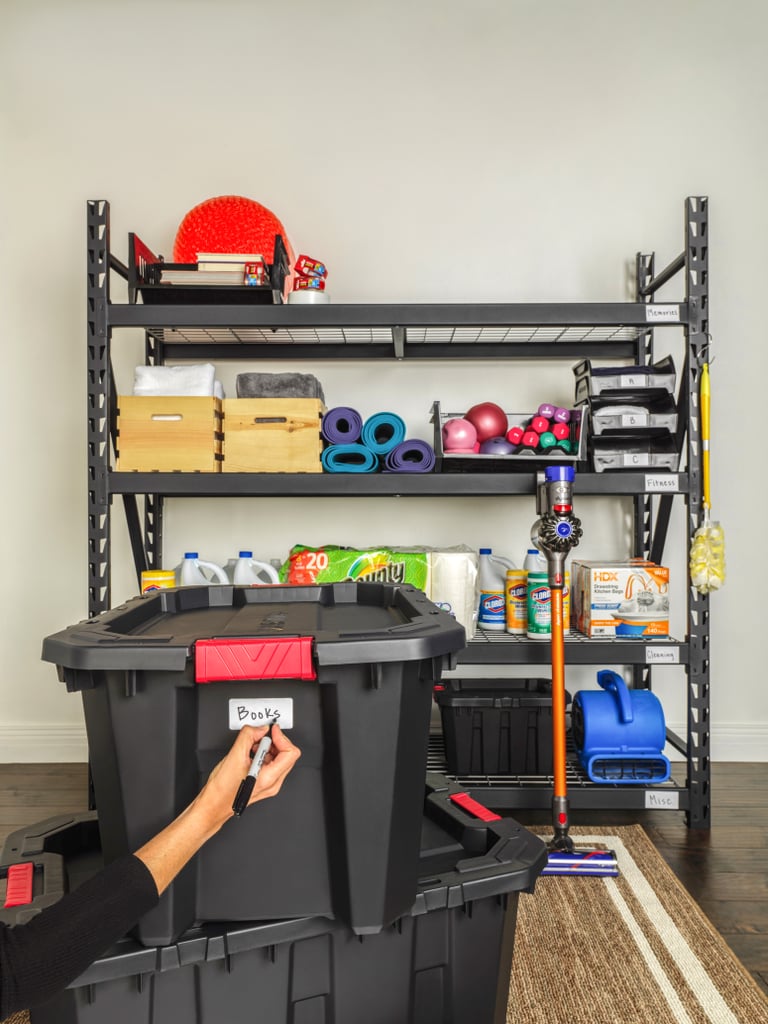 Image Source: POPSUGAR Photography / Justin Fantl
One of the biggest hazards of basement storage is, of course, flooding, so get items off the ground with some heavy-duty shelving and stackable storage totes. Husky's powder-coated steel unit assembles in minutes, does not require wall anchoring, and comes with four wire shelves that are adjustable in three-inch increments and can handle up to 2,000 lbs each when evenly distributed. That's a lot of embarrassing middle school photos.
To grab what you need in a hurry, position shelving units with your most-used items closest to the basement entrance. Next, group related items together on shelves and in labeled storage totes, keeping items that you don't actually need very often but just can't live without toward the top. Even with waterproof storage, beware of grouping delicate items close to the ground, just for peace of mind. Now, not only will you stop tripping over things in your basement, but holiday decorating and locating extra glassware for parties just got a whole lot easier.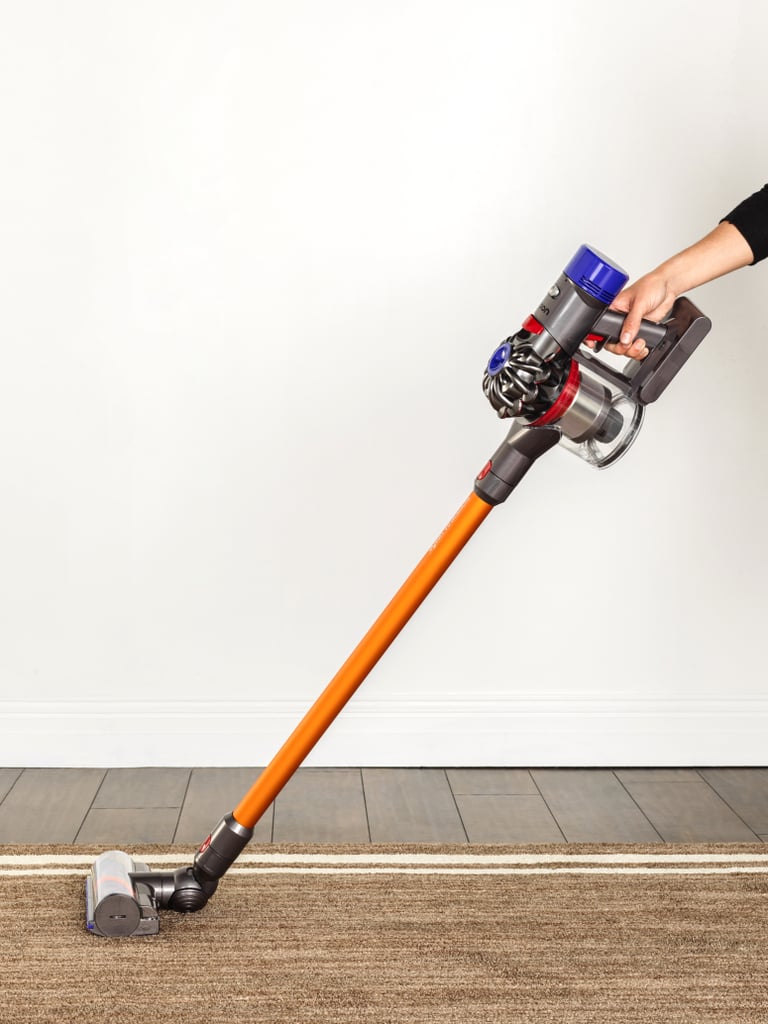 Image Source: POPSUGAR Photography / Justin Fantl
One of the most common complaints about basements is the damp, musty smell. It's typically down to mold, mildew, and poor air ventilation, but it's far from inevitable! Waterproof, lockable storage totes are a good start for keeping stored items smelling fresh as a daisy, and you can make visiting the basement much more pleasant by improving its overall air quality.
Vacuum cleaners have come a long way, so invest in a state-of-the-art multitasker that delivers way more than dust-free floors. The Dyson Cordless Stick Vacuum V8 comes with a HEPA (high-efficiency particulate absorber) function to capture allergens and expel cleaner air. It's also cordless and easy to maneuver, so you can reach every inch of the floor — plus the adjustable motor and power suction make light work of hard surfaces, carpets, tight spaces, and ground-in dirt.
For a more private take on basement shelving, consider the The HDX 30 in. Stackable Utility Base/Wall Cabinet. Not only can it be assembled in minutes without tools, it can be stacked to form a tall utility cabinet and easily padlocked to keep all your biggest basement secrets safely hidden from view.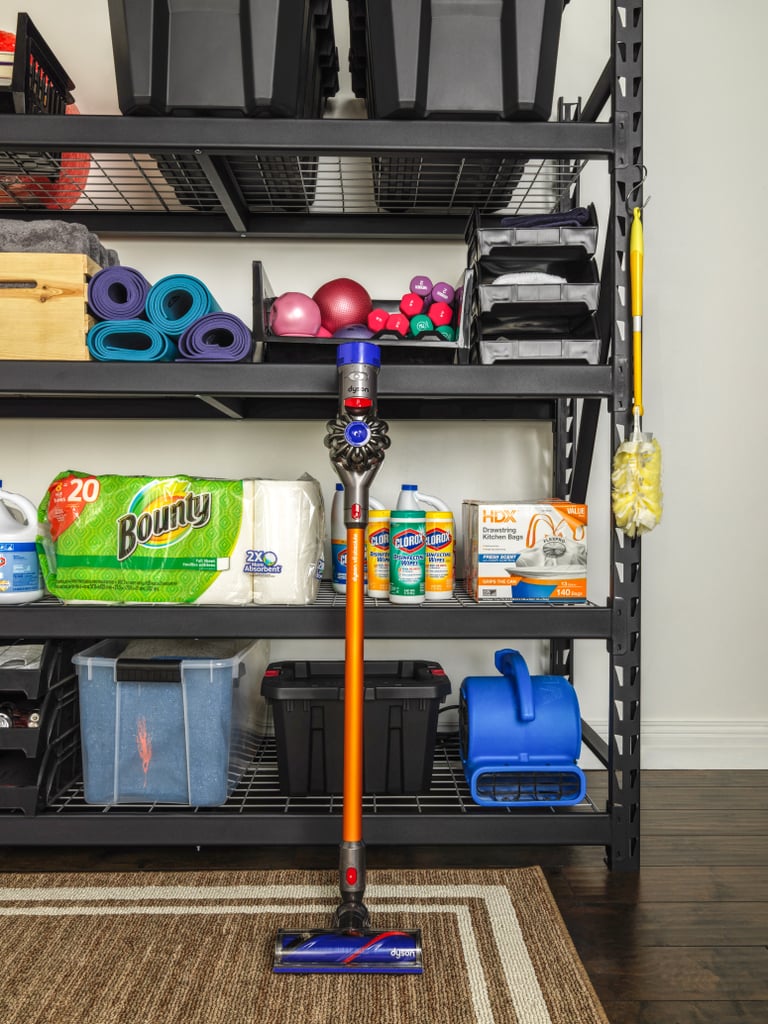 Image Source: POPSUGAR Photography / Justin Fantl
Now that your basement is in order, add a rug and some decorative touches like wall-mounted photographs and you'll have a room you'll want to show off rather than hide. But don't slouch on maintenance. Taking stock of what's down there every few months will help you slowly discard those items that are literally just gathering dust. While you're there, bring those boxes that you're soon going to need closer to hand. Keep the air fresh and hospitable by regularly dusting and wiping down all shelving and storage boxes and running an H.E.P.A. vacuum or an air purifier. All that's left to do is start a band or a wildly successful business down there!

Credits: Photography: Justin Fantl; Art Direction: Shanna Greenberg; Production: Sasha Bar-Tur; Prop Styling: Justin Fry