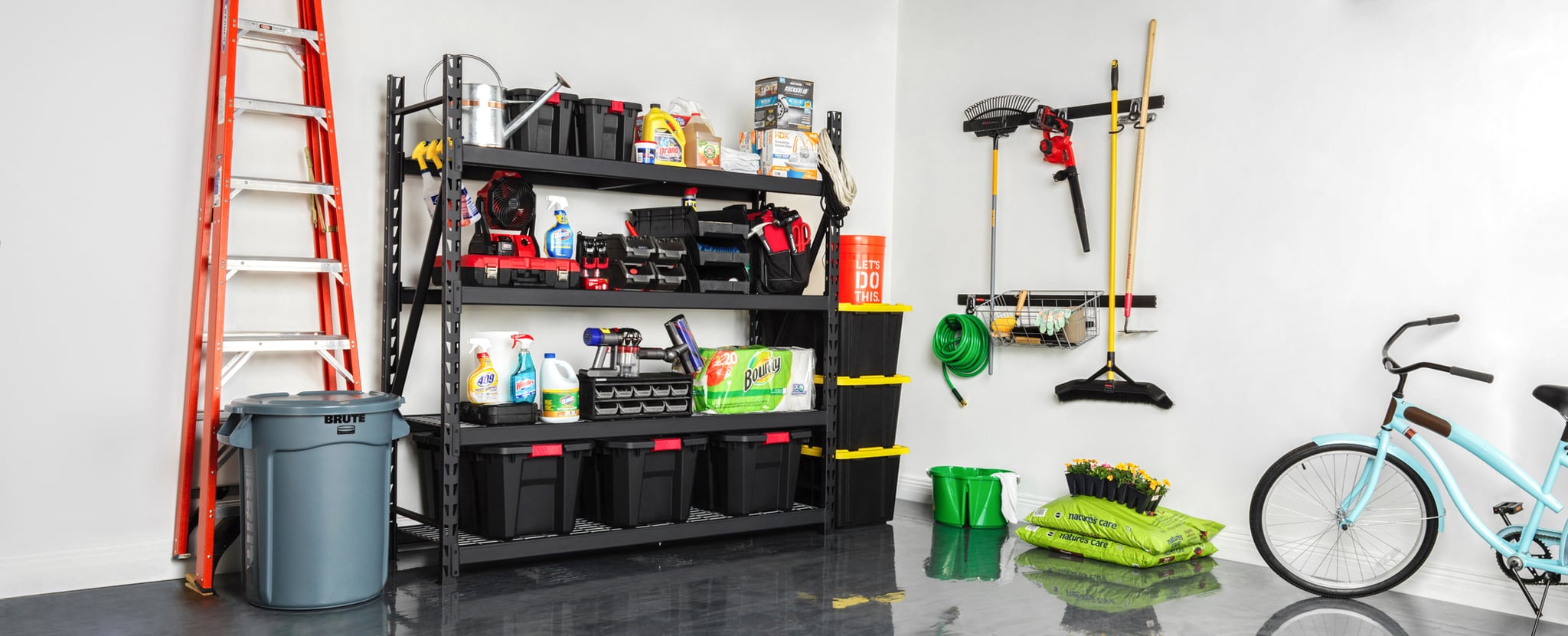 Image Source: POPSUGAR Photography / Justin Fantl
How to Organize Your Garage in 1 Weekend
Here's How to Start Loving Your Garage in Just 1 Weekend

Your garage is a diamond in the rough, so we've teamed up with
The Home Depot
to give it some sparkle.
Does the thought of going into the garage break you out in a cold sweat? Do you even know what cans of paint and other dust-covered items lurk in the corners? Is there so much junk in there that you can no longer park your car!? Relax — it's going to be okay. Garage organization can feel overwhelming, but we've broken it down into a series of easy but impactful tasks that will transform garage shame into garage game. All you need are more heavy duty trash bags than you think (trust us), a few handy organizational items, and a killer playlist while you work.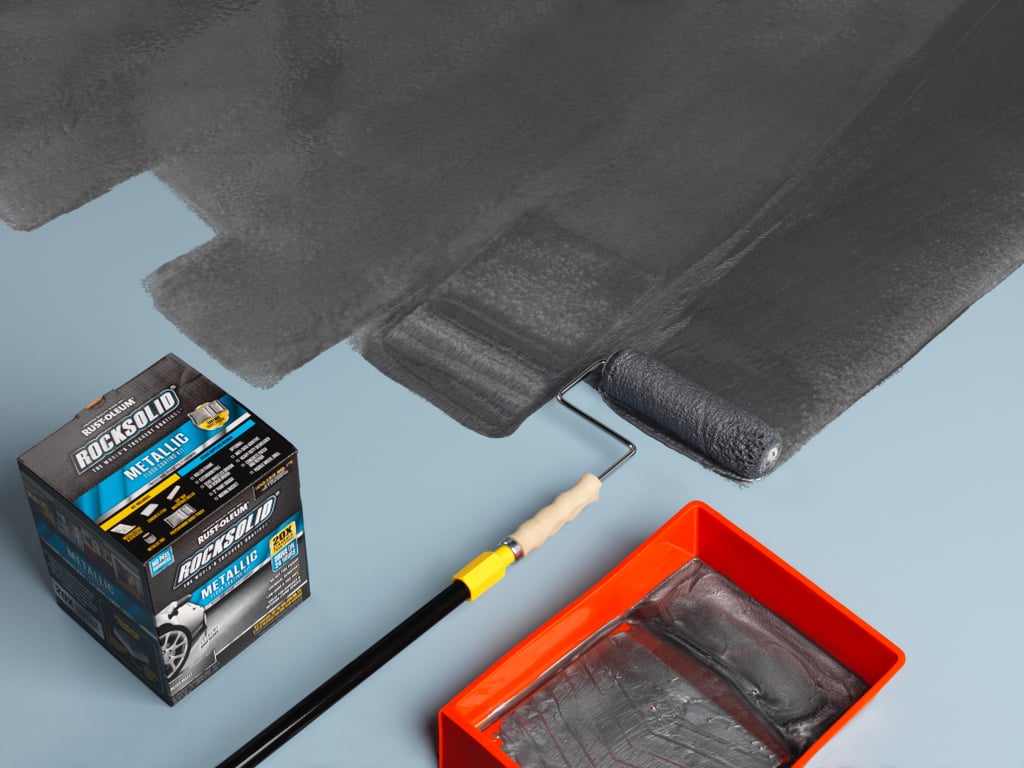 Image Source: POPSUGAR Photography / Justin Fantl
One of the biggest garage complaints is the floor, where globs of sticky oil stains reveal a multitude of sins. The first order of business in your garage overhaul is creating a clean, durable surface that can easily be kept clean, so devote day one to getting the foundation right. Pull on an old pair of sweatpants and get down!
Clear everything off the floor before sweeping, vacuuming, and scrubbing away stains with bleach. Now comes the investment: coating the floor with an epoxy material will protect against all manner of garage nasties like motor oil, antifreeze, salt, and hot tires. While it sounds like a job for the pros, you really can do this with the help of a garage floor kit, complete with materials, clear instructions, and a roller. For light foot traffic, dry overnight and awake to gleaming floors that should stay that way with soap and water.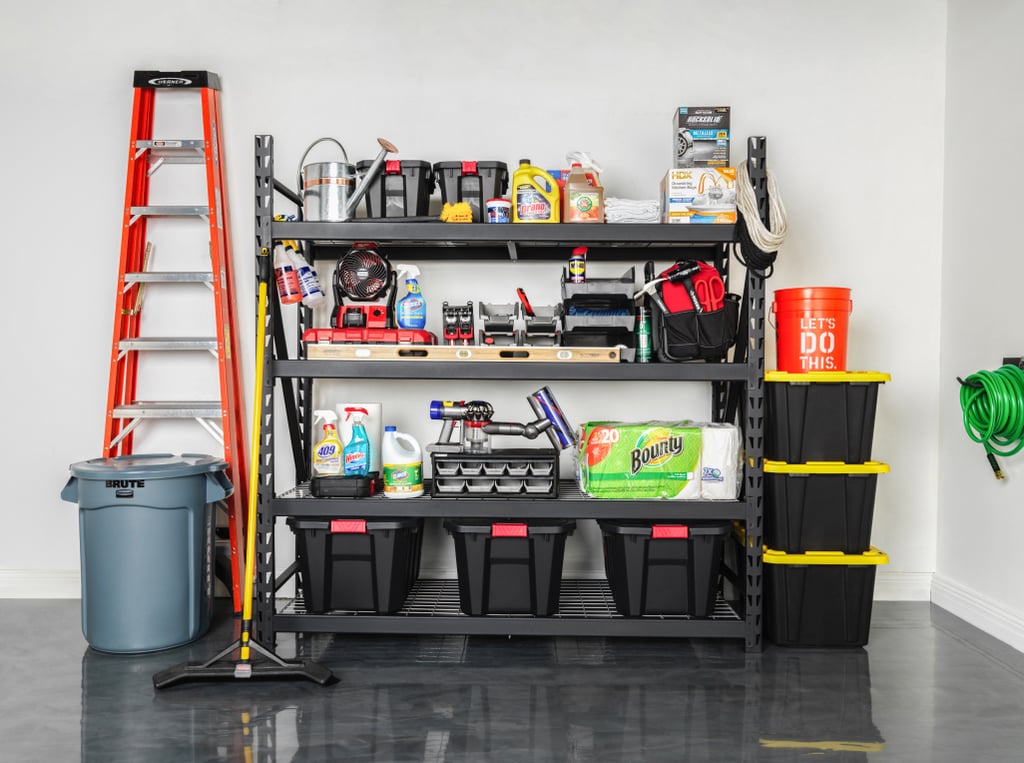 Image Source: POPSUGAR Photography / Justin Fantl
Keeping similar items grouped together will make finding what you need, and putting it back again, infinitely easier. Invest in stackable tote containers labeled by items such as "gardening equipment," "holiday decor," and "Things my ex bought me that I'm slowly moving out of the house." If you're feeling creative, polaroid pics of fun times, attached to each tote, are a good way to remember what's in each box — and why you keep it around. If you can't think of a reason, time to grab those garbage bags.
Now stack with the items you use furthest from the door and the handiest items closest. This way, you won't undo all that hard work next time you're looking for a bicycle pump.
Image Source: POPSUGAR Photography / Justin Fantl
Maximize space and make items easier to find by utilizing wall space where possible. The Husky Steel Garage Storage Shelving Unit has adjustable wire shelves to provide customizable storage so you can store big or small items safely and find them easily. And for items that are tough to stack — such as gardening tools and laundry supplies — the FastTrack 15-Piece Multi-Purpose Kit is an ingenious solution. It provides up to 12 feet of linear storage space, and each rail holds up to 1,750 pounds, so yes, it can totally handle your bike!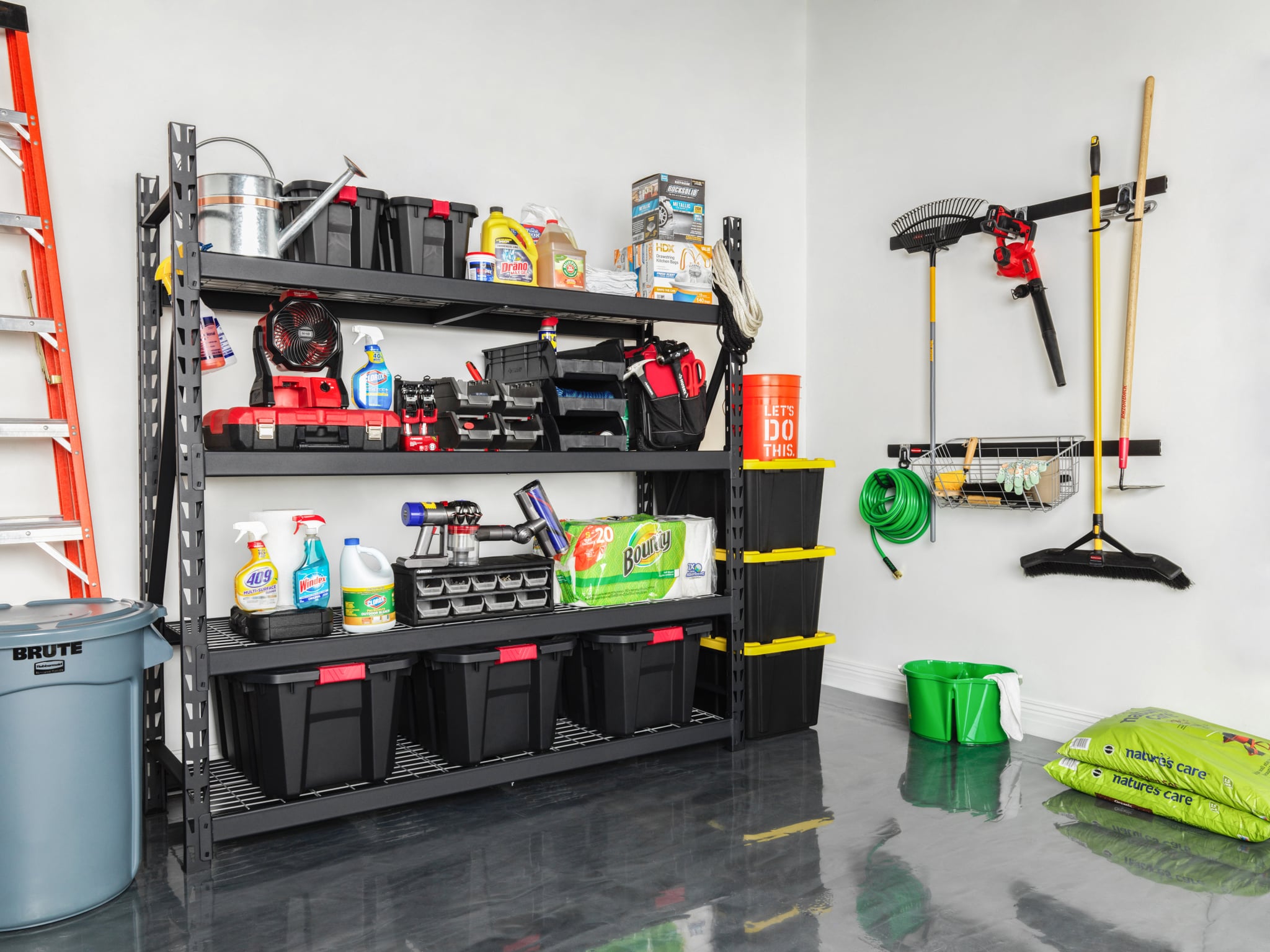 Image Source: POPSUGAR Photography / Justin Fantl