This post is brought to you by POPSUGAR Must Have, the monthly box that brings handpicked products from our editors to your doorstep.
When you have the fabulous moment of checking a life goal off your list, instead of sitting back and doing nothing about it, take the time to treat yourself! The problem is, most people don't make rewarding accomplishments a top priority, which doesn't motivate one to achieve more. You might not think these 13 life goals deserve acknowledgment, but we beg to differ. You deserve it!
Paying off debt: Remember that credit card you busted over the limit in college? Set a goal to pay it off, which will save you money in the long run. After sending in the final payment, treat yourself to a well-deserved mani-pedi.
Sealing the deal on a home: Whether you're signing a lease on an apartment without a cosigner (like your parents!) or renting a space all on your own, making the move is a big accomplishment. Celebrate with a piece of artwork that will always remind you of the moment.
Getting a raise: This is an important one! You've worked hard, put in the extra time, and proven your expertise is worth more. Party with a girls night out!
Losing weight: Making those pesky 10 pounds finally disappear is tough. Mark each milestone with a massage.
Mastering a skill: Whether you're learning how to cook or having a conversation in a language you just mastered, adding a new skill to your repertoire is awesome. Invite friends over and share your new skill for a fun reward.
Earning a degree: There's no greater accomplishment than earning a degree, which calls for a party!
Saving: Even if you're setting up a savings account (with money in it!) or an IRA investment account, starting to think about your future is a big accomplishment. Make the goal to save eight months of expenses in an emergency fund. Once you get there, treat yourself with a bottle of bubbly.
Breaking a habit: Whether it's quitting smoking or ditching soda, breaking a habit takes dedication. Reward yourself with a special indulgence just for yourself.
Making peace: Grudges are no good, and making peace helps you become a better person. It's hard to forgive, but when you do, treat yourself to a coffee date with good friends.
Getting rid of clutter: Holding on to clutter can hold you back. Make the time to really go through your stuff, organizing important items into storage boxes, and donating what you don't need. You'll feel so much better when your space is clutter free. Treat yourself to a set of wooden hangers.
Taking a technology break: We love our devices, but sometimes they get in the way of living life. Set a goal for putting down your phone when conversing IRL with others. Once you've mastered tucking your phone away, reward yourself to a date night out with your SO — phone free!
Going green: Making the change to an eco-friendly lifestyle can take a bit of effort, but once you've accomplished this goal, it makes a big difference. Switching to toxin-free cleaners or using biodegradable garbage bags? Making a conscious effort to live a greener life deserves a reward. Head to your local health food store for a organic cookie.
Loving yourself: We're often lowest on the totem pole of appreciation, which makes loving yourself so important. It's sometimes hard to realize how significant you truly are, so give yourself a hug, be proud of your accomplishments, and celebrate the awesomeness of YOU.
More from POPSUGAR Must Have: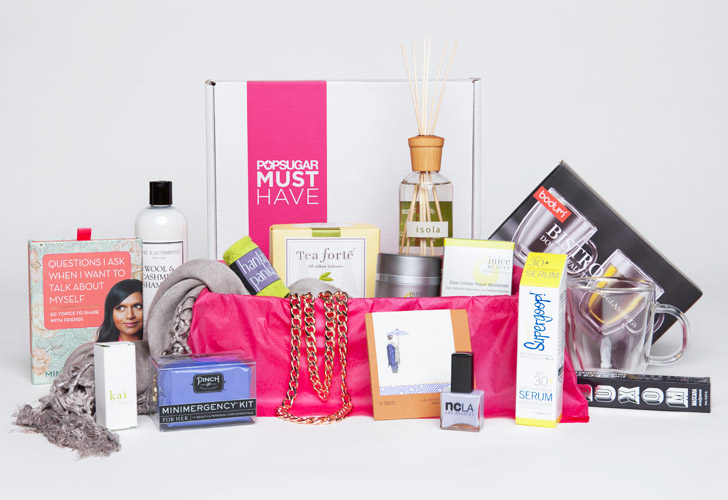 Reward yourself on a monthly basis with a POPSUGAR Must Have box! With the best products in fashion, beauty, home, fitness, and more delivered to your door each month, you can't go wrong. Each box is valued at over $100 with full-size favorite products all handpicked by POPSUGAR Editor in Chief Lisa Sugar and her team of editors.