Pier 1 Decor Inspiration
How 3 Editors Infuse Their Home Decor With Their Individual Styles
A brand-new apartment is a blank slate. It's the design choices you make — from the paint color down to the knickknacks you set on the coffee table — that transform it into your home.
All you have to do is walk through the front door to get a quick sense of someone's style. Since POPSUGAR staffers know a thing or two about style, we tasked three editors with redecorating their spaces with Pier 1 decor. Though they all used a few of the same key pieces, the results are radically different. See for yourself!
Senior Native Editorial Director Joanna Douglas's Muted Minimalist Home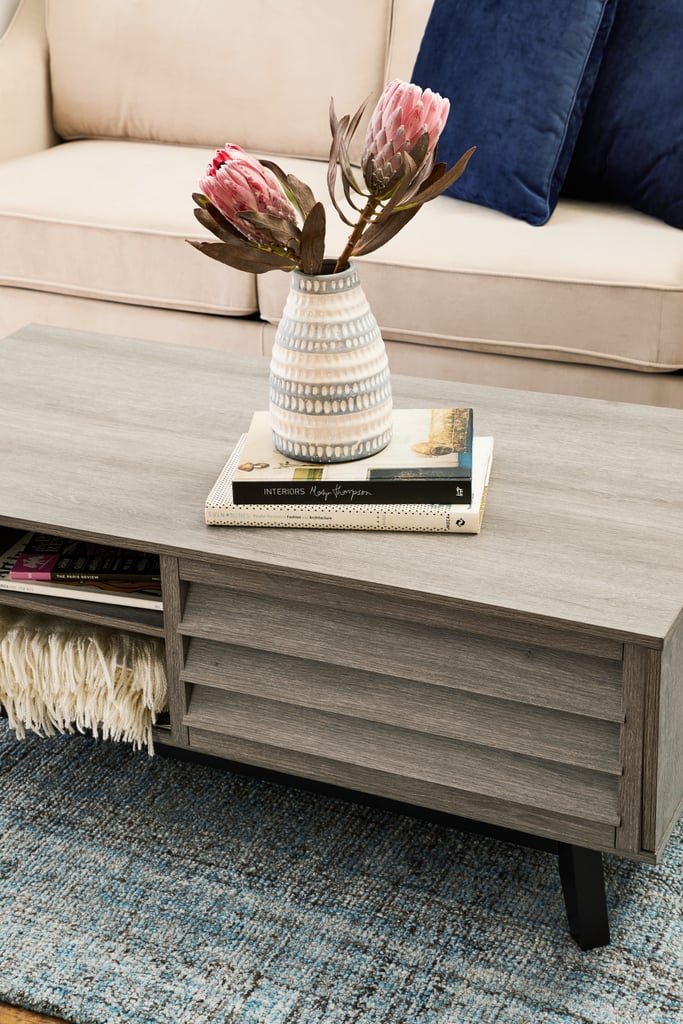 Joanna Douglas is always busy in her role as Senior Native Editorial Director, so making her apartment feel calm and welcoming was a must. "After a long day, I need a space and colors that make me feel at ease," she said.
Still, that doesn't mean it's one-note or boring — Joanna adds lots of personal touches to make the space her own. "I always want my place to feel like a representation of me, so there are items I've collected from over the years that remind me of special places or people in my life, as well as playful items that just make me happy to look at."
Her strategy? Opting for a sleek, simple bookshelf and coffee table with enough storage to hold all her knickknacks, plus a bit of greenery. "I'm obsessed with plants, especially anything that looks tropical," she said. Moody blue velvet pillows and a high-shine reading lamp add some extra flair to her living room. Plus, pillows are always buy one, get one 50 percent off at Pier 1!
Assistant Native Beauty Editor Carrie Carollo's Eclectic Artisan Folk Apartment
Things get a little bit funkier in Assistant Native Beauty Editor Carrie Carollo's apartment. "I'm loving how midcentury modern pieces and vintage finds look with metallic accents, cleaner lines, and lots of color and pattern," she explained.
One hue in particular seems to dominate her living room. "For metals, I really only have eyes for gold," she said. You'll spy gold in the mix-and-match mirrors, feathered lamp, and even the rims of her coffee table.
Check out the couch for another unexpected choice: a thin, rectangular, faux-cowhide pillow. "When done right, cowhide can look so, so chic, and I love the rich brown tones," she said. "I like buying rectangular pillows or circular pillows in addition to square ones for visual variety."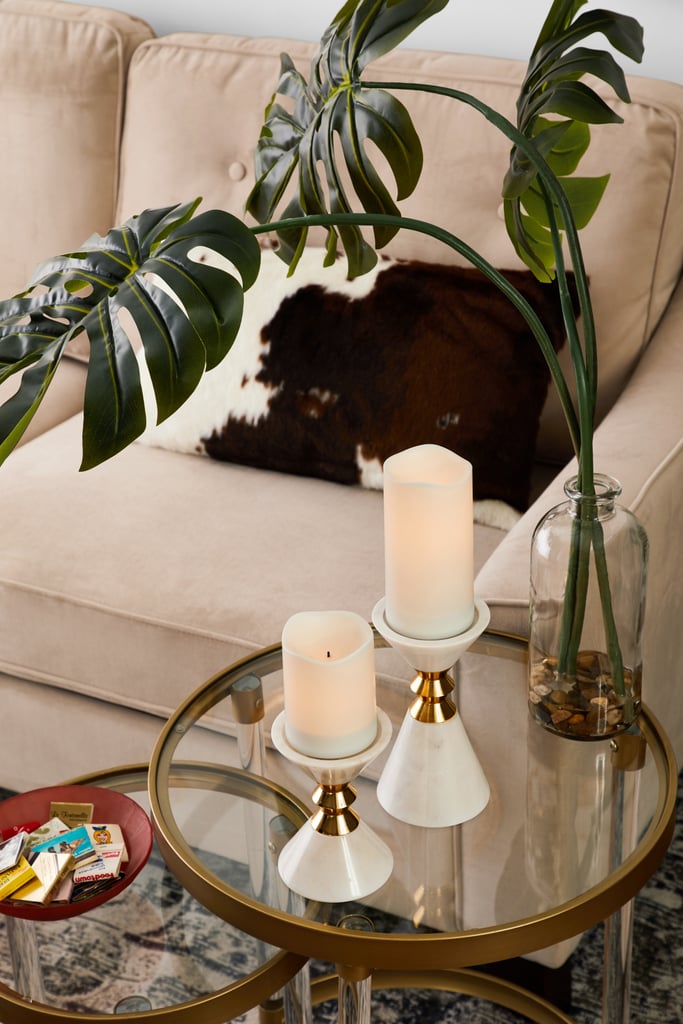 Associate Native Fashion Editor Kathleen Harper's Light and Luxe Space
When she's decorating her apartment, Associate Native Fashion Editor Kathleen Harper can't just do whatever she wants — since she lives with her boyfriend, he has to sign off on it, too. "While I'd love a pink couch or a purple chair, he's not going to go for that," she said. "As a result, we have a lot of gray, white, and silver in our apartment."
Still, Kathleen manages to channel the bright, luxe feel she loves with a mosaic mirror, ivory faux-fur pillow, and glass and chrome coffee table. "A mirror really brightens up our living room, which unfortunately gets next-to-zero natural light," she said. "It also helps our small space appear bigger."
A tufted navy ottoman adds both extra seating and a splash of color to her space. It's perfect for entertaining — guests can sit there instead of all squishing onto the couch — and incorporates the trendy blue hue.
Photography: Philip Friedman; Art Direction: Melissa Medvedich; Prop Styling: Martha Bernabe; Producing: Sasha Bar-Tur