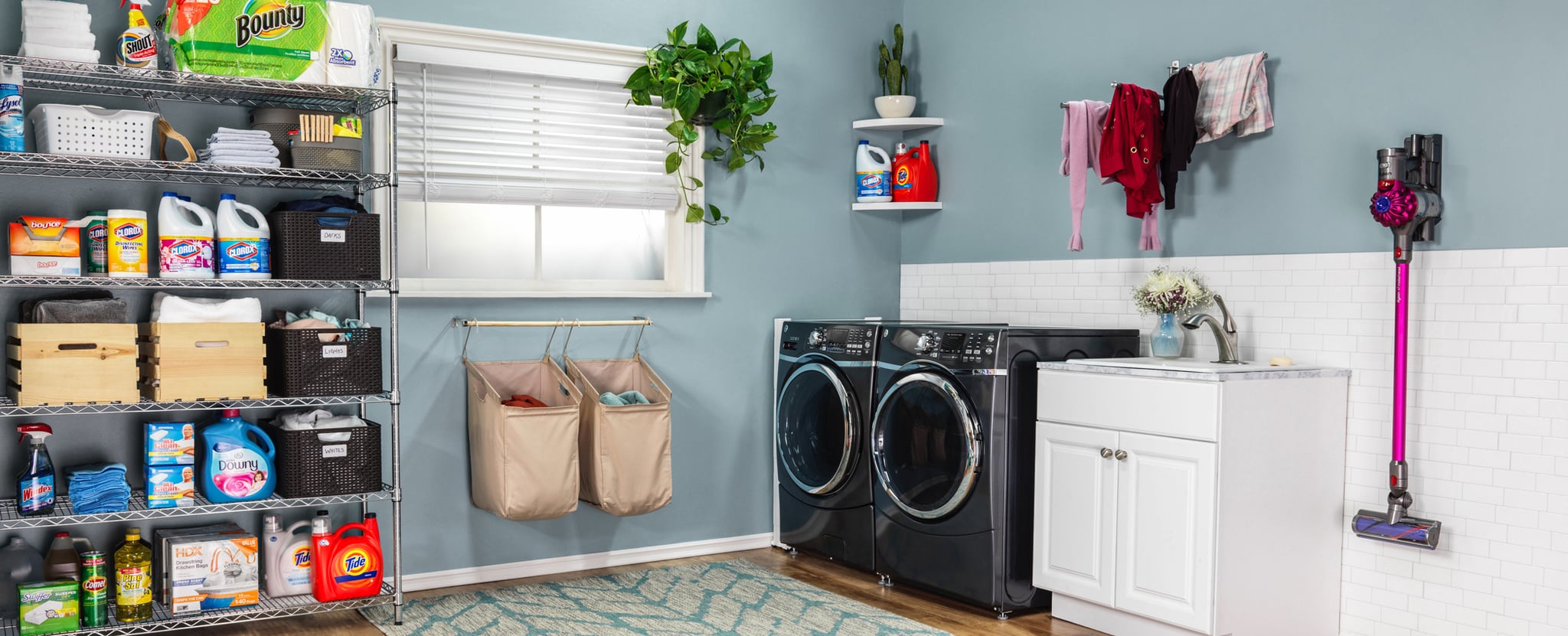 Image Source: POPSUGAR Photography / Justin Fantl
Tips For Laundry Room Organization
Get Your Laundry Room Sparkling in Just 4 Easy Steps

Every great fashion look starts with a great laundry room, so we've partnered with
The Home Depot
to make yours shine.
Fun fact: women spend an average of 17 minutes per day washing, folding, or ironing their clothes. That's 16 minutes too long (half a TV show!) to spend in a space you don't love, so we've put together the ultimate guide to making your laundry room sparkle. From organization and decor to the right products to have on hand for every cleaning emergency, here's how to put the yay in laundry day.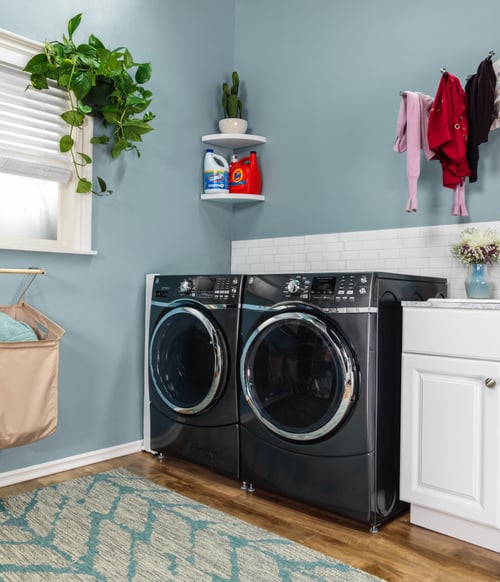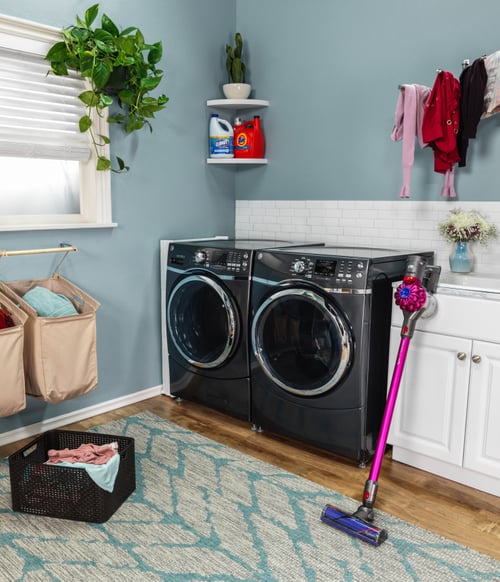 Image Source: POPSUGAR Photography / Justin Fantl , POPSUGAR Photography / Justin Fantl
Make laundry easy on yourself with an ultra-efficient washer and dryer set up that will save you time and energy, and a room that'll inspire you to keep loading up. Go for a washer with a steam-clean setting that releases stains while protecting fabrics, a time saver cycle that shaves 20% off wash times, and an ENERGY STAR rating. And lighten your ironing load with a responsive dryer than lets you know when clothes are the ideal dampness for ironing, and can tumble without heat — or with steam — for wrinkle-free results on a range of fabrics.
Besides their beauty and scents, the mood- and productivity-enhancing effects of potted plants and fresh flowers are well known. If laundry stresses you out, opt for relaxing features like colors that are close together on the color wheel and curved petals and leaves. And if you need some encouragement to power through those loads, go for invigorating sharp shapes and opposing colors.

Throwing down a cute rug will not only reduce noise, but also grab dust from the dryer, which can easily be vacuumed up at the end of every session. That's good news for dark clothes and for allergy-sufferers.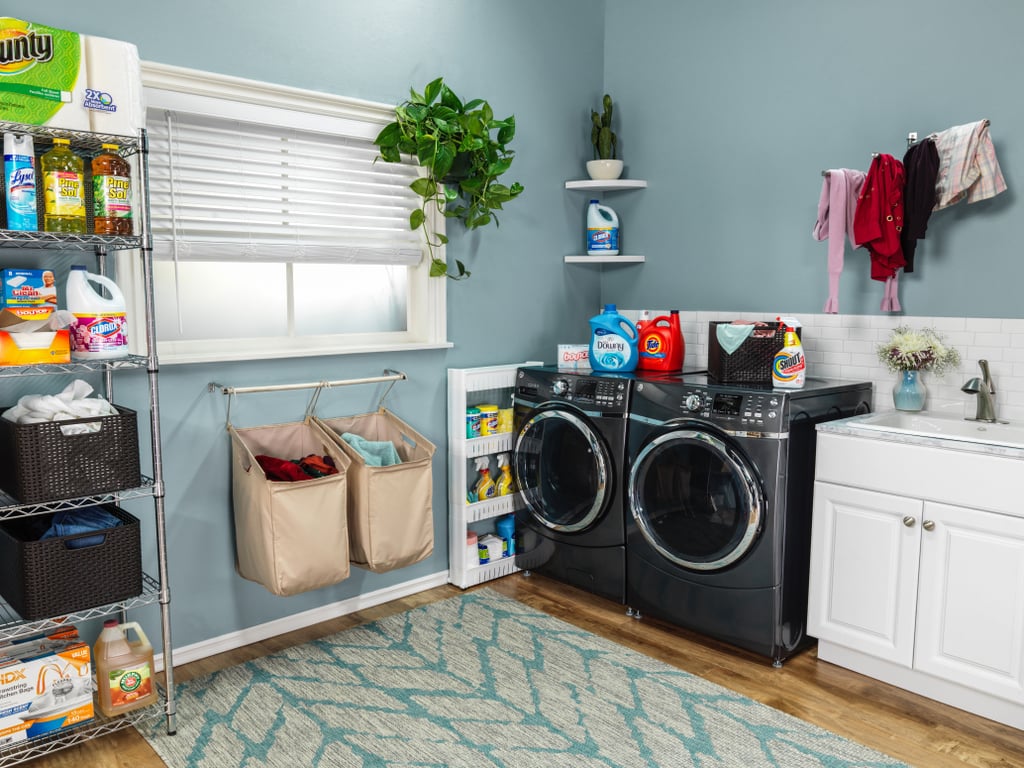 Image Source: POPSUGAR Photography / Justin Fantl
Think about how many bottles of shampoo and conditioner you own, then ask yourself how one bottle of detergent could possibly cover all your laundry needs. Your clothes deserve some TLC too, so stock up on a spectrum of products like stain remover, detergent, bleach, and softener to keep them in tip-top condition — whatever you've been up to.
Whether you gesticulate too hard while holding a glass of red wine or you're trying to keep those dark-wash jeans looking brand new, keep the following on hand: Downy Fabric Softener 129oz, Tide Clean Breeze 150 oz, Clorox Laundry Bleach, Mr Clean Magic Eraser Extra Power 8pk, and Shout. To avoid any snafus, keep them clearly organized, from everyday washes to "whoops!"
Keeping track of your laundry can be cute with the help of color-coded baskets! Sort darks, lights, and delicates as you go for ready-to-wash loads and an extra layer of quality control before you accidentally boil-wash something fancy.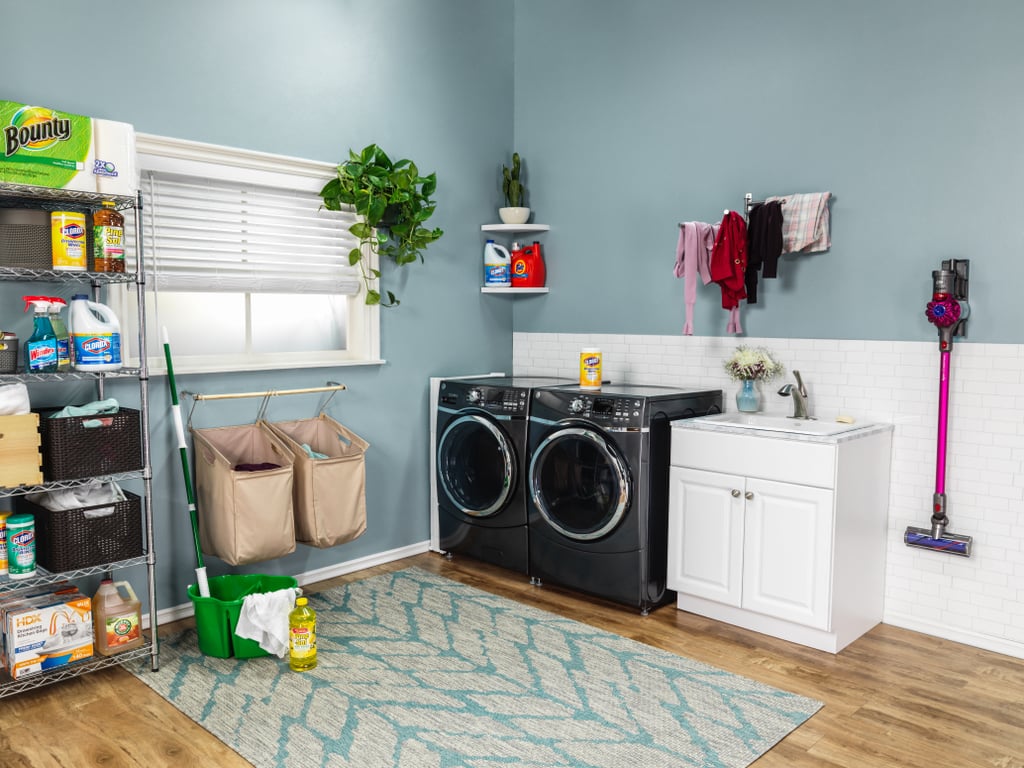 Image Source: POPSUGAR Photography / Justin Fantl
While it's tempting to take your basket of clean clothes and call it a day after working hard, cleaning up the laundry room will not only make the job easier next time, but you'll be much more likely to do it sooner — and keep your laundry organized in the meantime — if you take 10 minutes to restore order.
Wipe down the machines, mop the floors, and return all laundry and cleaning products to their shelves. Reduce dust (the bane of all laundry rooms!) by running the vacuum cleaner over your rug and dusting down the surfaces. Even better, clean out your dryer vent before every use.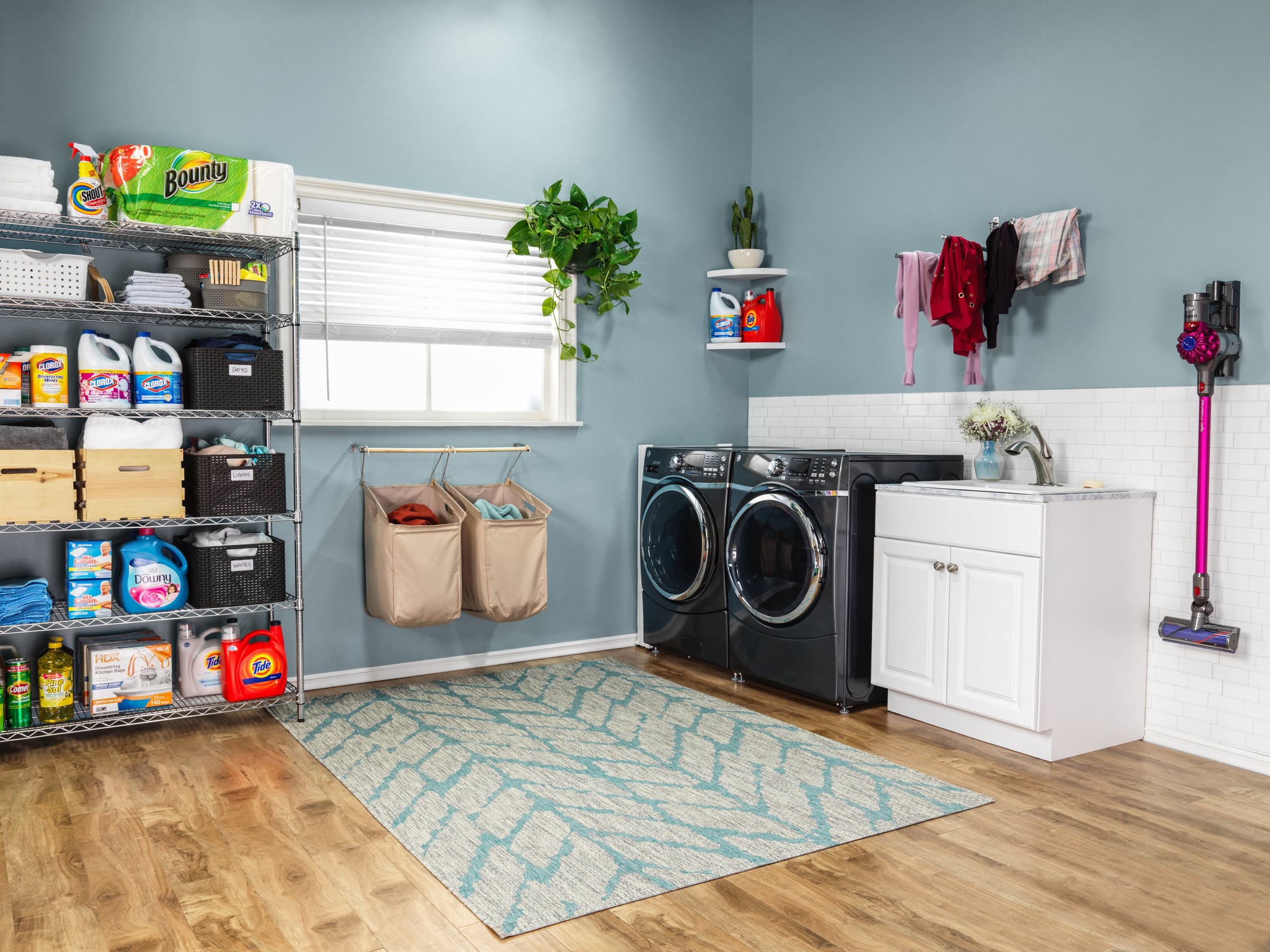 Image Source: POPSUGAR Photography / Justin Fantl
Credits: Photography: Justin Fantl; Art Direction: Shanna Greenberg; Production: Sasha Bar-Tur; Prop Styling: Justin Fry