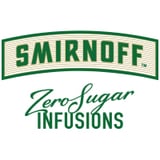 We've partnered with Smirnoff to help you knock all your Summer plans out of the park, with a little help from new
Smirnoff Zero Sugar Infusions
inspired by fresh fruit and herbs.
No shade to all the grillmasters out there, but the standard backyard barbecue party can get a little boring. As much as we love hot dogs and hamburgers, there are only so many times you can really enjoy them in one Summer.
Next time you get the urge to fire up the grill, why not try something a little bit different? Inspired by some of this Summer's hottest trends, we've come up with a foolproof barbecue-hosting plan that will leave your guests feeling refreshed, satisfied, and thoroughly entertained. Best of all, it's just three steps, so you're ready to invite your friends over at a moment's notice. Happy hosting!
Whenever you host, opt for one crowd-pleasing cocktail instead of several niche options. Come Summer, light and fresh-tasting drinks are a must. Fresh fruit and herbs are also having a moment — as are cocktails without a ton of added sugar. For a simple backyard BBQ, set up a simple pour-your-own-cocktail bar with an ice bucket, club soda, fresh garnishes, and all three flavors of Smirnoff Zero Sugar Infusions: Watermelon & Mint, Cucumber & Lime, and Strawberry & Rose. That way, your guests can customize their drinks to their personal preferences, and you don't have to spend the whole party mixing, stirring, and shaking up cocktails. Win-win!
Throw Something Unexpected on the Grill
Toss the typical BBQ menu out the window, and try something new — like grilled fruit kebabs made with pineapple, peaches, blackberries, and other in-season fruit. Grilling the fruit for just five minutes over medium-high heat caramelizes the natural sugars, creating an irresistible char. Not only are these skewers way more fun than fruit salad, but they're also insanely good drizzled with honey or dipped in whipped cream.
Live It Up With Lawn Games
Activities can make or break a party — and no, eating doesn't count. Give your guests something to do besides wonder when the food will be ready by setting out several lawn games. Croquet is always a classic, or you can go big by spray-painting a giant tic-tac-toe board on the grass and using different colored bean bags as X's and O's. Bonus: outdoor games also make for a perfectly natural Instagram moment!
Credits: Photography: Matthew Zach; Art Direction: Meg Konigsburg; Production: Cassie Doyle; Prop Styling: Katja Greeff; Food Styling: Julia Choi; Modeling: Idriss Copeland
The Smirnoff Co., Norwalk, CT.
*Per 1.5 fl. oz.-Average Analysis: Calories-72; Carbohydrates-0 g; Sugar – 0 g; Protein-0g; Fat-0g.
Please sip responsibly.