Backpacking Checklist: Items You Need to Remember For Your Adventure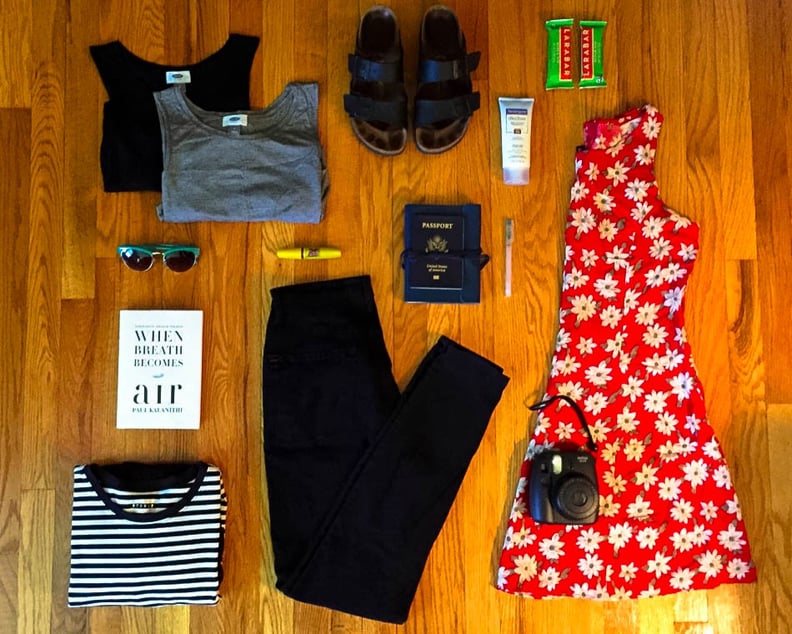 POPSUGAR Photography | Kathryn McLamb
POPSUGAR Photography | Kathryn McLamb
No matter the destination, backpacking can be such an incredible way to travel. Think about it — you don't have the heavy load of a rolling suitcase to drag behind you. And we all know dragging suitcases over cobblestone streets is no fun. However, the only caveat when it comes to backpacking is that whatever you pack, you must carry.
Now, I know what you're probably thinking: "How heavy can those extracute dresses you stashed in your backpack at the last minute really be!?" But when you're sprinting to catch your train or trying to frantically condense your bag as much as possible to avoid hefty baggage fees, even the slightest thing can weigh you down.
I say all of this from experience. While I used to be the average overpacker — better to be overprepared, right!? — when I had the opportunity to backpack across Europe last Summer, I quickly realized what I did truly need for my journey, as well as the items I could have left behind at home.
While packing can be one of the most daunting tasks of any adventure, knowing what you'll need — and not need — for your trip will save you time, frustration, and unnecessary backaches, which is why I'm excited to share my packing list with you. From clothes and shoes to toiletries and travel accessories, I've curated a list to cover all your bases, no matter where your adventure takes you.
Tackling Your Wardrobe
After extensive online research, the one piece of advice that stuck out to me the most when trying to pack was to first pull together everything you think you might need. Once you're finished building a mountain of clothes, then start taking away items.
My goal for packing was to find a nice balance between dressing comfortably while also looking semifashionable, because, hello — Europe!
Basics played a huge part in my backpacking wardrobe. Because I had very limited space, I packed mostly neutral-colored pieces so they would be easy to mix and match. Since I knew I would be wearing these clothes over and over — and over! — I didn't want to spend too much money on these items.
One thing to remember when packing is that you will be able to wash clothes while on your adventure. The great thing about staying in mostly Airbnbs was that the majority of these places had their own washers.
In addition, don't fret too much about forgetting certain items when it comes to your clothes. Chances are you'll most likely be able to find whatever slipped your mind in a store somewhere in your destination. H&Ms were practically on every corner in Europe!
What was in my backpack for 10 weeks overseas?
Five dresses and four tank tops
Two long-sleeved shirts and two lightweight sweaters
Two pairs of shorts
One maxi skirt
One pair of jeans (keep in mind jeans can be super heavy!)
One pair of yoga pants and one pair of running shorts
Two running tops
Three pairs of shoes (sneakers, TOMS, and Birkenstocks)
One lightweight, waterproof jacket (a MUST!)
One bathing suit
*I tried to pack only cotton clothes, as they were easy to wash and quick to dry.
Any regrets?
Believe it or not, I only had one regret. Looking back, I should have spent more money on better-quality tennis shoes and kept the TOMS at home. Since I averaged walking 10 miles per day, comfort quickly became my top priority.
Overall, I was surprised at how well I made use of everything I packed. No piece of clothing went unworn!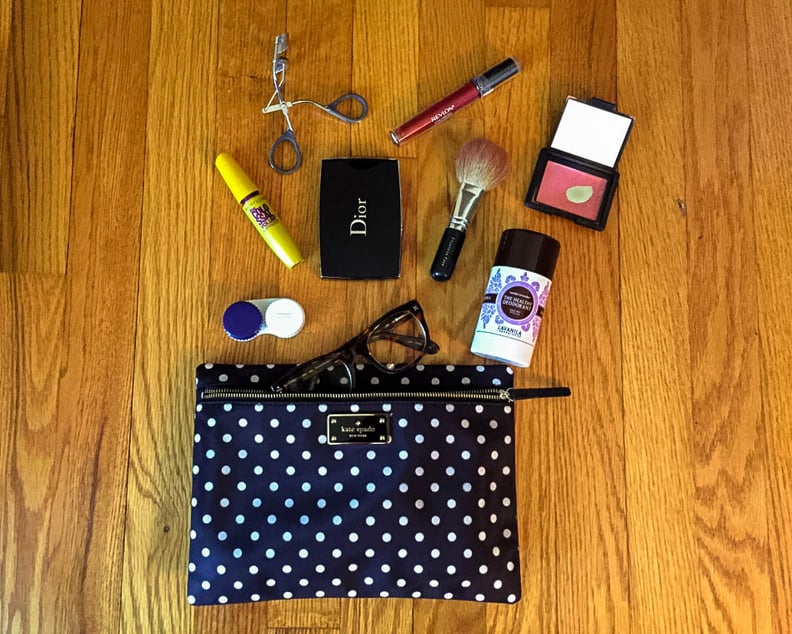 Tackling Your Cosmetics and Toiletries
When it comes to makeup and skin care, I have a pretty low-key routine. A thin layer of foundation, a dash of blush, a few strokes of mascara, paint on a classic red lip, and BAM — done!
For me, the toughest part of this step was making sure I had all my other toiletries. I can't imagine what I would have done had I forgotten an essential such as my contacts, as I definitely cannot see without those lenses!
What was in my backpack?
Everyday makeup
Face lotion
Contact lenses, case, and solution
Backup pair of glasses
Toothbrush and travel-size toothpaste
Razor
Deodorant
Travel-size sunscreen
Chapstick
Small bottle of shampoo and body wash
Since I did not want to check my backpack while flying, I waited until I arrived at my first destination to buy larger bottles of shampoo, body wash, toothpaste, sunscreen, and face wash.
Any regrets?
Surprisingly, no. However, I would advise to carry all liquids in some kind of bag — I used an old-fashioned zip-lock bag — as the last thing you want is for something to spill and get over all your belongings. Then you really will have to wear the same thing over and over again.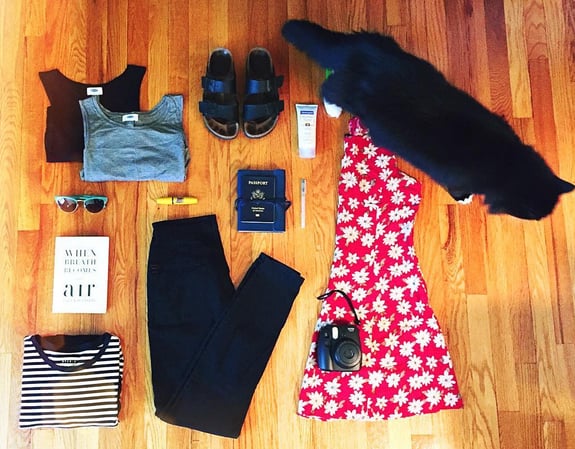 Tackling Travel Accessories and Everything Else
While it's easy to buy clothes and toiletries abroad, the real headaches and complications arise when you forget certain travel accessories. So make sure you have all your travel documents ready to go. It is also a good idea to make copies of these documents before heading out for your adventure.
For instance, I kept a copy of my passport, credit card, and insurance card for myself, and then made another copy for my family back home. This way, if anything did get lost or stolen, I would have the proper backup to continue on my journey while waiting to have these items replaced.
What was in my backpack?
Travel documents (passport, plane and train tickets, money, insurance cards)
Mini first-aid kit (bandaids, pain medicine)
Travel adapter (I found this one on Amazon and it worked great!)
Cameras and chargers (digital camera, Polaroid camera, GoPro)
Laptop, iPad, and phone (and corresponding chargers)
Notebook and pen
Headphones
Sunglasses
Snack bars (just enough to get you through your flights)
Reading materials (for the ever-so-long flights and train rides)
Nylon daypack
*Having a smaller daypack is great for daily exploring when you don't need to lug around your entire backpack. I would recommend a nylon bag, because the material is great for traveling. It's water resistant, easy to fold, and extremely lightweight. Here's an option similar to the one I used.
Last Tidbits of Advice?
Most importantly, I would ensure the backpack you choose for your adventure is considered a carry-on bag when flying so you don't have to check it. My worst nightmare was the thought of having to check my bag and then it somehow got lost. Ah — can you imagine the misery that would cause!? Lastly, by taking the time to pack appropriately for your destination, you will not only save time and energy, but you will also save space, allowing for a souvenir or two.
Happy travels!