Make the Beach an Even More Blissful Escape With the Help of These 15 Hacks From TikTok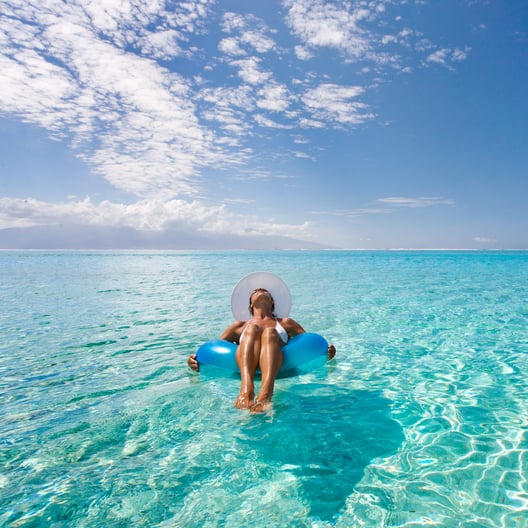 TikTok has blessed us with photo hacks, home care tips, cleaning how-to's, and so much more, but because it's summer, we went digging for our favorite pieces of advice on how to survive and thrive at the beach. While the beach is a (usually) relaxing escape, there are also some things (read: sand, heat, and lack of shade) that can make your day by the water a little less enjoyable. Luckily, there are countless tips and tricks to make your seaside sunbathing sesh even better. Whether you're over getting sand all over your towel or your umbrella keeps flying away, let these hacks change the way you do the beach for the better. Keep reading to the best beach hacks on TikTok, and we'll see ya on the sand!
01
How to Keep a Beach Umbrella From Flying Away
There's nothing worse than lounging in the shade just for your umbrella to get swept up by the wind. Luckily, this Sand Anchor can stop that from happening. Thanks, TikTok!
02
How to Keep Sand Away at the Beach
This hack has been all over TikTok, and for good reason! This sand-free beach setup requires some extra work, but it's worth it. After you set up your spot (you can either go all-out with a tarp like this or just do beach towels), get a bucket and fill it with water. Every time you head to your towel or tarp, wash off your feet, and your space will be sand-free.
03
How to Remove Sand at the Beach Part 2
As much as we love the beach, sand can be pretty annoying. If you want to remove it fast, just rub some baby powder on your skin, and watch as it works wonders.
04
How to Get Sand Off Skin at the Beach Part 3
Make sandy skin a thing of the past with this cool trick. Just grab some corn starch, a sock, and a rubber band. Fill the sock with corn starch, tie it shut with the rubber band, and rub the sock on your skin. It works wonders.
05
How to Hide Valuables at the Beach
Keep your wallet, phone, and other items safe while you're splashing in the water when you try this tip. Simply dig a hole, stash your goodies in it, and cover the spot with a towel. No one will know!
06
How to Keep Your Things From Getting Stolen at the Beach Part 2
Never worry about your things getting snatched while you're in the water or at the snack bar anymore when you have this lockbox. Known as the AquaVault, this device latches onto beach chairs and keeps valuables right where they belong.
07
How to Keep Drinks Cold at the Beach
Dig a hole, toss in a plastic bag, fill it with ice, and stash your drink of choice right on top. The hole will help keep the beverages cold, meaning you can enjoy them even on a hot summer day.
08
How to Fashion a Triangle Bikini Differently
Make the most out of your beach looks with these three fun tricks. Bikini tops are super versatile, so feel free to channel your inner Aquamarine and get creative!
09
How to Not Get Sunburnt at the Beach
It's simple, but oftentimes forgotten: wear sunscreen! There are a ton of great products (POPSUGAR approved!) that'll keep your skin safe in the sun. Please do yourself a favor and use them.
10
How to Transport Beach Items to and From the Car
Got a sled? Because this cool trick can basically save your back from hurting. Simply stack all your beach essentials on the sled, tie 'em up, and pull away!
11
How to Pack a Lunch For the Beach
Who knew a tackle box could be so versatile? This cool hack lets you bring a lot of snacks to the beach, and even makes single-serving sizes for each person. Dig in!
12
How to Fold a Beach Towel
Wondering how to properly fold a beach towel? Let TikTok teach you! Thanks to this folding hack, you can now fit things inside of it so you don't have to carry as much.
13
How to Treat Sunburns at the Beach
14
How to Get Rid of Dead Skin With Sand
Want to leave the beach looking not only tan, but also glowy? Try this hack! Simply rub wet sand on your skin, and enjoy some true exfoliation.
15
How to Make the Perfect Beach Pillow
This TikTok video covers four different hacks, all of which are equally important, but the one we like the most has to do with making the perfect beach pillow. Getting comfortable at the beach can sometimes be tough, but by stashing your clothes inside a small bag, you not only can kick back and relax, but you also can keep sand away from your garments.