17 Nature TikTok Videos That'll Make You Want to Get Outside ASAP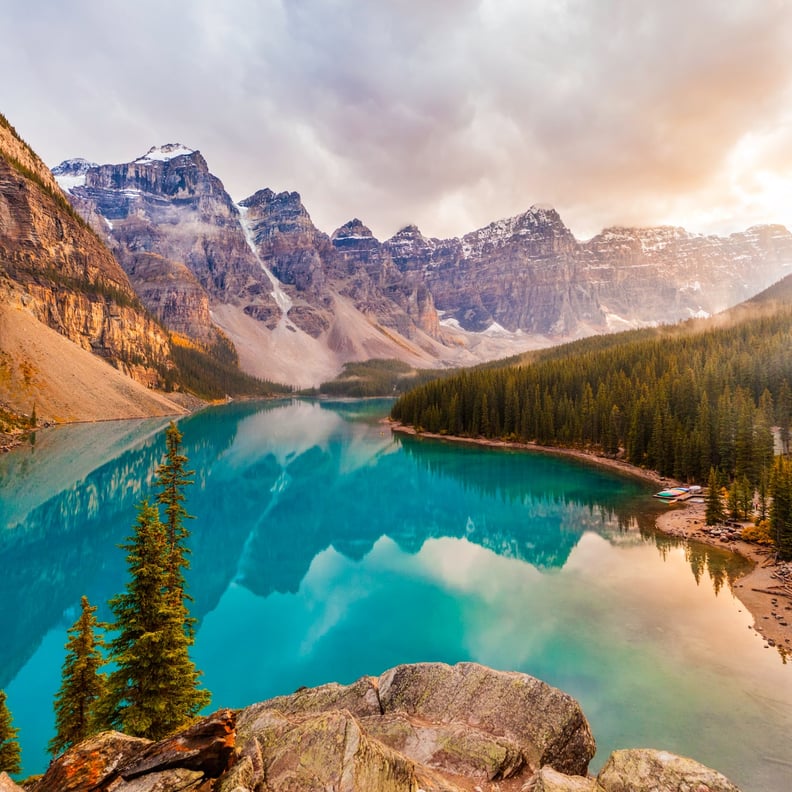 Summer is the best time to reconnect with nature, and leave it to TikTok to fuel our passion for the great outdoors even more. The social media app is exploding with #natureTikTok videos, and each one is more awe-inspiring than the last. TikTok users are sharing their favorite outdoor destinations, making summer travel not just a dream, but a must! From the seaside escape of Santa Barbara, CA, to a picture-perfect lake in Alberta, Canada, every destination is filled with its own unique characteristics that make all of them worth adding to your bucket list.
Whether you're looking for summer travel inspiration for this year or you want to daydream from home, TikTok is filled with amazing places that'll make you appreciate all that's out there. Complete with mermaid-filled grottos, soft-sand beaches, and places that are sure to make you swoon, these destinations will take your wanderlust to a place it has never been before.
01
Manarola, Liguria
One of the oldest towns in the Cinque Terre, this colorful Italian seaside escape is a dream come true. With hiking, vineyards, and the famous walking trail called Via dell'Amore, or Love's Trail, this place will capture your heart in no time.
02
Castile, NY
Only a couple hours drive from New York City, Letchworth State Park is a hidden treasure. With countless trails, hikes, and beautiful views, be sure to come here when you need a break from the bustling city.
03
Blaubeuren, Germany
Dreamy, romantic, and said to be a place where mermaids once swam, the Blautopf, or "blue pot," is a wonderland in and of itself. Come here to reconnect with nature and let all your fantasies run wild.
04
Zürich, Switzerland
Green hills, quaint lakes, and the beauty of the Swiss Alps, Zürich has got it all. Hike, kayak, fish, and enjoy the beauty of Switzerland when you get the chance.
05
Alberta, Canada
Located in Banff National Park, Moraine Lake is a sight to see in Canada. Complete with bright blue water and surrounded by glaciers, it's no wonder why Alberta is on so many people's bucket lists.
06
Wonderland Trail, WA
Looking for bliss? Head to the Wonderland Trail in Washington. Flowers, meadows, and gorgeous mountains make every view here a dream.
07
Yosemite National Park, CA
Known for its waterfalls, giant Sequoia trees, deep valleys, lush meadows, and vast wilderness, Yosemite National Park is a national treasure. Come here to hike, climb, explore, and see all that nature has to offer.
08
Crater Lake, OR
Take a trip to this picturesque lake that's tucked away on Oregon if you're feeling adventurous. It's the deepest lake in US, and has crystal-clear water that's captivating to look at.
09
Penida Island, Indonesia
There's a good chance you've seen this beautiful island in pictures before, and it makes sense why! The blue water, white sand, and lush greenery make this spot a must visit.
10
Page, Arizona
Believe it or not, Horseshoe Bend is even more beautiful in person. You'll soak up incredible views (and a whole lot of sunshine!), so get ready for an adventure like never before.
11
Lake Como, Italy
Take a trip to the enchanting Lake Como to experience pure bliss. You'll get to enjoy great restaurants, good shopping, and views like no other.
12
Steamboat Springs, CO
You can ski, hike, swim, and more when you head to Steamboat. This quaint town is a perfect place for reconnecting with nature, so take time to fully immerse yourself in the elements.
13
Madeira, Portugal
If you like hiking, head to the blissful paradise of Madeira. Overgrown trees and wildlife surround the paths, making it a place full of peace and happiness.
14
Queensland, Australia
Clear blue water is just one thing that makes Queensland so irresistible. Wildlife, soft-sand beaches, and unbeatable weather also make this place special, no matter what time of year it is.
15
Santa Barbara, CA
With the mountains on one side and the beach on the other, Santa Barbara is the perfect escape because it has the best of both worlds. Enjoy a romantic dinner on Main Street or explore the college campus of UCSB during the day, and have a bonfire on the beach at night. The options are endless!
16
Gilchrist County, FL
Located along the Santa Fe River, Gilchrist Blue Springs State Park is a Floridian gem. With untouched land and thriving wildlife, be sure to check out this park the next time you go to the Sunshine State.
17
Rockbridge, VA
With streams, creeks, and beautiful trails, this Virginia escape is perfect for any explorer. Pro tip: pitch a tent and camp out for the night so you can enjoy the twinkling stars.