How To Stay Cool and Comfortable When You Don't Have Air Conditioning
The first really hot day of summer always feels lovely at first — but if you don't have air conditioning, the heat can quickly become a problem. With hot days right around the corner, now might be a good time to plan out how you're going to protect yourself from the heat. If you don't have central air at your disposal, you'll need to get a little creative with your summer plans. No worries, though: We have a few ideas that'll keep you cool, comfortable, and maybe even add a little fun to your daily routine.
Put Your Skincare Products in the Fridge
The skincare tools and products we use every day can have the added benefit of cooling off our faces. Store your tools — like a gua sha face sculptor or a jade roller for those puffy morning eyes — and your face masks, serums, and creams in the fridge so they feel especially cooling when you're ready to apply them. (Water-based masks and creams can solidify in the fridge, so try refrigerating them an hour before use). Your skincare routine will feel like an at-home spa retreat — and a respite from the sun.
Cool Down With Cold Compresses
Similar to when you have a fever and your body is running hot, a cold compress provides the best burst of chill and a break from the heat. Soak a washcloth in cold water, then wring it out and place the cloth across your forehead or the back of your neck. You can also use frozen ice packs for the same effect, but remember to wrap the pack in a cloth instead of pressing it directly against your skin.
Savor Cool Food and Drinks
No shame if ice cream is your go-to snack as soon as it hits 70 degrees outside — but when the temperatures skyrocket, ice cream can quickly melt into a big mess. For a more efficient and tasty solution, try freezing your favorite fruits. You can certainly eat frozen grapes or strawberries on their own, but pairing them with a glass of iced Canada Dry Ginger Ale is even more refreshing. You can even drop a few frozen berries into the glass for a fun mocktail vibe. The bubbly carbonated ginger flavor will give you tropical island energy while staying comfortable indoors.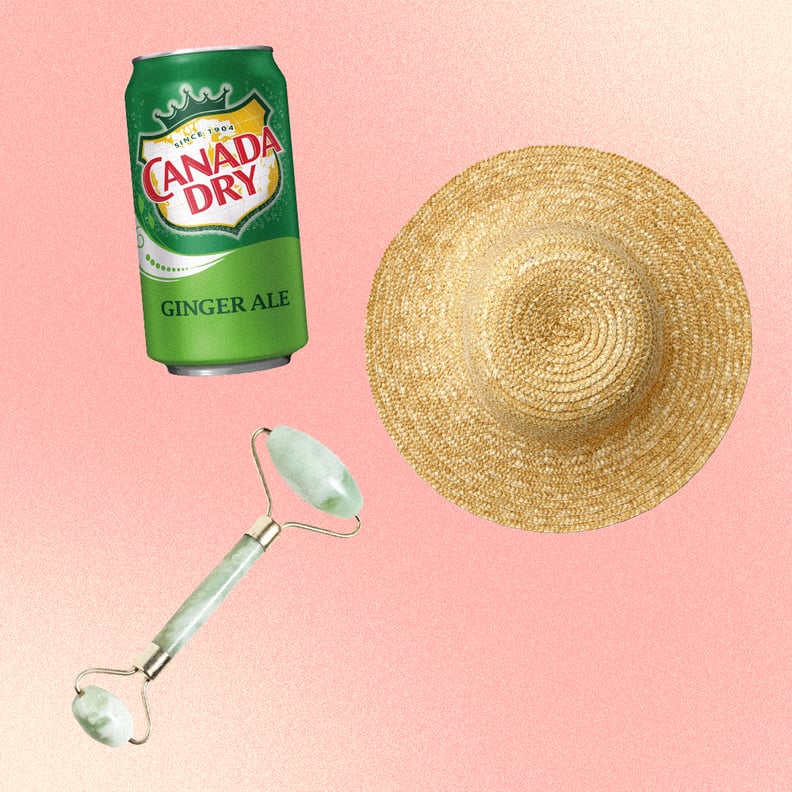 Get Comfortable in Your Birthday Suit
Clothing can be very restricting and uncomfortable when you're sweaty and sticky. When you're in the comfort of your own home, strip down to your birthday suit and enjoy a nice breeze in all the right places. If going au naturale is not your style, then light fabrics like chiffon, linen, or cotton will also give you sweet relief.
Always Keep a Fan on Hand
If you're going to spend most of your time on your phone anyways, you might as well get a breeze from the experience. With a mini fan that plugs into your phone, you can scroll through your favorite social media platforms while cool air blows on your face. Plus, these accessories are super affordable, so you also won't break the bank.
Have a Pool Day
Get out of the house and go for a relaxing swim. If you have a public pool nearby, check the website for their opening hours and visiting instructions: Most recreational centers are free for residents. If you have a little money to spend, you can also check out local fitness clubs and wellness centers with pools. Many offer affordable day passes or memberships which may be worth the investment if you plan to swim all summer long.
Mooch Off a Friend
We're not necessarily saying to "use" a loved one for their A.C., but if a friend knew you were suffering in the sweltering heat, they'll probably be willing to have you over in their cool air. Text a friend who lives nearby to see if you can come over for a visit. You can even make a day out of it by picking up a few snacks and drinks — they might also enjoy your frozen fruit and Canada Dry combo! — and catch up on a few shows and movies. Nothing says comfort like sitting in a cool room with good food and good company.