These British Easter Traditions Will Surprise You — and Make You Jealous
Everyone has their favorite public holiday. Whether you're all about those Fourth of July fireworks or you prefer the last-days-of-Summer vibes of Labor Day, those extra days off work give you more time with your loved ones, and make the rest of the 9-to-5 so much more bearable. But there's one holiday that the US has not fully embraced yet, and that's Easter. For that, you have to look to the UK, where the Spring holiday is taken very seriously indeed.
Obviously, Easter is primarily a Christian holiday with religious significance that goes far beyond cuddly bunnies and painted eggs, but just like that other big Christian holiday — Christmas, anyone? — Easter in the UK has now become an excuse for country-wide celebrations, whether or not you're religious. The main reason for that? Food! As a POPSUGAR editor based in the UK, I was blown away to discover that my colleagues in the US don't get time off at Easter, and had no idea about our giant chocolate eggs, hot cross buns, or pancake day. If you're in the same boat, here's a little breakdown of what you're missing out on. It All Starts With Pancake Day
Easter traditions really begin in the UK a long time before Easter, 41 days to be precise. This is Shrove Tuesday, or as it's now more often known, Pancake Day. It's is not just another one of those "national days" like unicorn day or doughnut day, but our version of Mardi Gras: the last day before Lent begins, when people would consume the last of their rich, fatty foods before fasting.
Pancakes are the traditional dish on Shrove Tuesday, as they would allow people to use up things like milk, eggs, and sugar, which wouldn't be allowed during Lent. Though it's now more popular to give up just one thing during Lent, rather than all pleasure-giving foods, the tradition of gorging on pancakes beforehand remains. British pancakes are much thinner than American pancakes, and when it comes to toppings, lemon juice and sugar are traditional.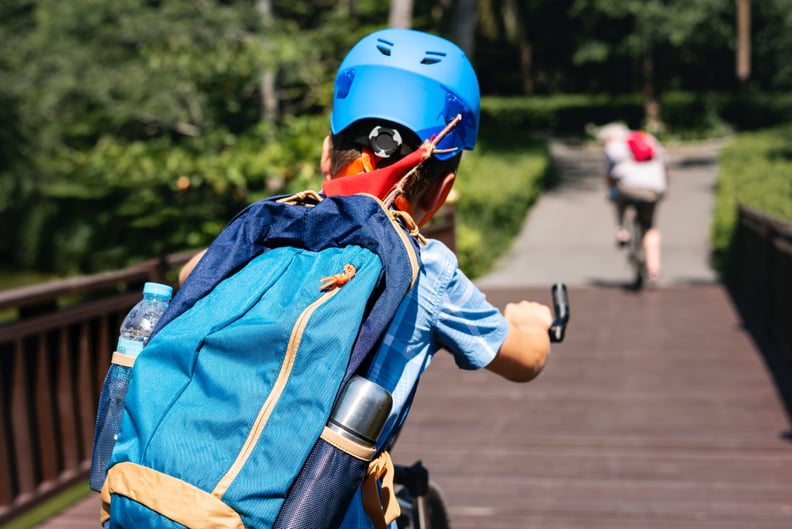 School's Out!
Kids in the UK public school system ("state school") get a two-week break around Easter. The British school system works quite differently to the US when it comes to time off. The Summer break is much shorter — only six weeks — allowing for longer breaks at other times in the year. Along with their Summer break, kids generally get two weeks at Christmas, two weeks at Easter, and three one-week breaks (known as "half term") in October, February, and May.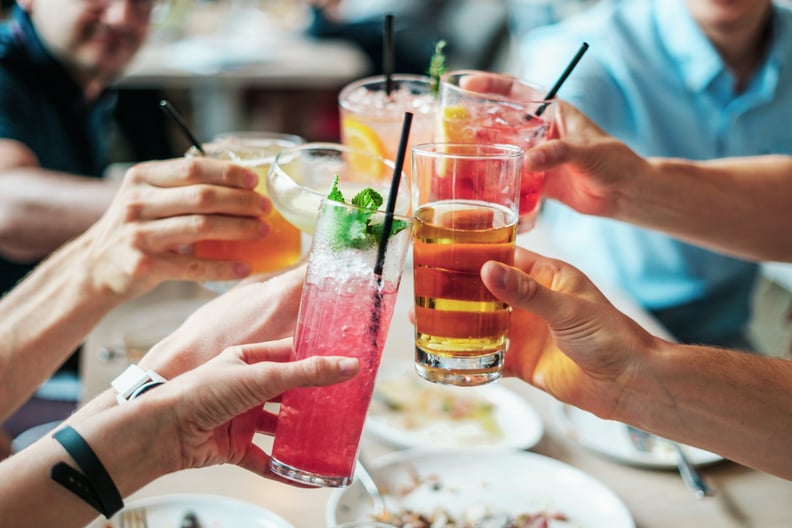 Most People Get a Long Weekend
The Friday and Monday immediately surrounding the Easter weekend are public holidays in the UK — or "bank holidays" as we call them. Friday has religious significance: it is Good Friday, an important day in the Christian Easter calendar.
The Monday after Easter is also a public holiday in England, Wales, and Northern Ireland, though it's less religiously significant. Though, as the name suggests, banks do tend to shut on both Good Friday and Easter Monday, most shops, restaurants, and pubs are open. For non-Christians, the four-day weekend may not hold religious significance, but it does offer an opportunity to catch up with family and friends, go on a trip, or get on with jobs around the house. As it's often one of the first sunny weekends of the year, Easter is often the time for DIY projects, garden makeovers, and Spring cleaning — or just sitting in a pub garden with your friends. Hot Cross Buns Hit the Shelves
As pancakes mark the beginning of Lent, Hot Cross Buns mark the end. These sweet pastries with currants or raisins and a sticky glaze on top are sold everywhere at this time of year, and traditionally consumed around the Easter weekend, particularly on Good Friday. They're a little like a very sweet teacake, with a white dough cross on the top, which symbolizes the cross on which Jesus was crucified. They are usually cut in half, toasted, spread with butter, and served (of course) with a cup of tea.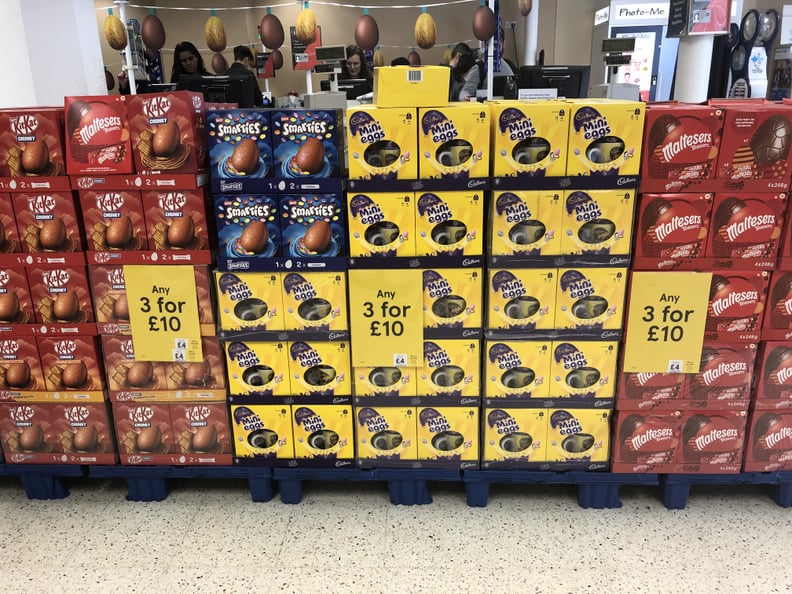 Shops Are Filled With Candy
When it comes to candy, Easter is to Brits what Halloween is to Americans. For weeks leading up to Easter, huge displays of Easter candy take up vast amounts of space in British supermarkets. We're not just talking about one aisle of delicious Easter treats, but huge displays of chocolate eggs piled up as you walk in, and often throughout the store. And while we do have the chocolate bunnies and Easter-themed treats (no Peeps, though) the real deal is the classic British Easter egg.
These are not the miniature candy eggs you might hide around the yard or the pretty hand-decorated eggs that are more familiar to people in the US. These are big, hollow chocolate eggs that stand about five inches tall, and they are big business.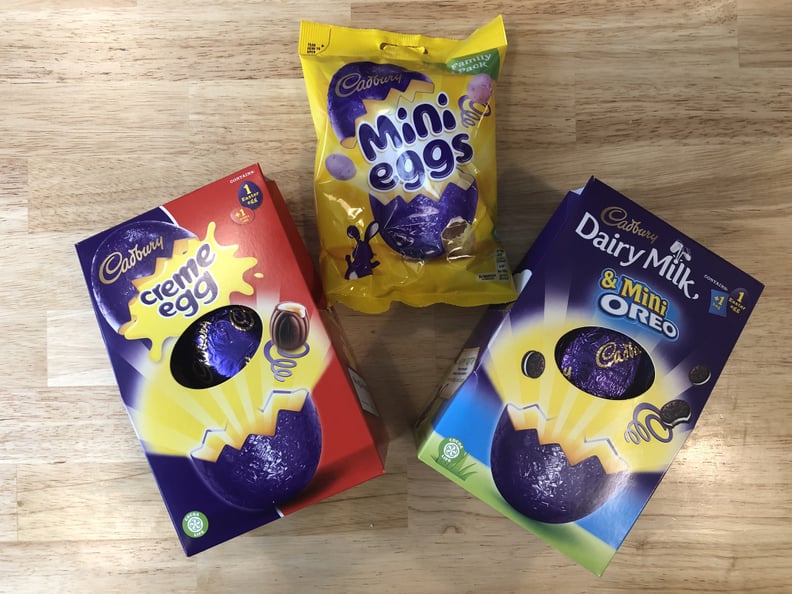 We Take Our Easter Eggs Seriously . . .
Like in the US, Easter eggs come in hundreds of varieties, usually branded around the most popular candy bars, but ours will often come packaged up with extras inside. So a Cadbury Creme Egg Easter Egg might have some baby Creme Eggs hidden inside, or a Snickers egg might come with two full-size Snickers bars. Cadbury Mini Eggs are also a compulsory purchase, because who doesn't love those speckled little treats? In the UK, they come in big yellow sharing bags like the one in the picture.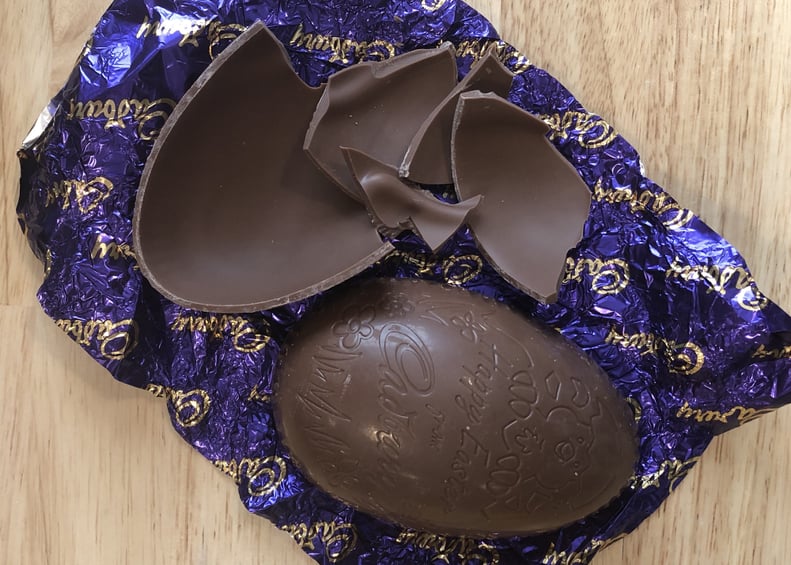 . . . Really, Really Seriously
"Traditional" British Easter eggs are hollow, and made of a thin layer of chocolate (usually Cadburys, naturally) that may be carved with a little design. There are plenty of luxury offerings, too (Lindt makes a pretty spectacular truffle egg), but for most of us, a stash of Cadbury, Mars, and Nestlé eggs is what we're hoping for.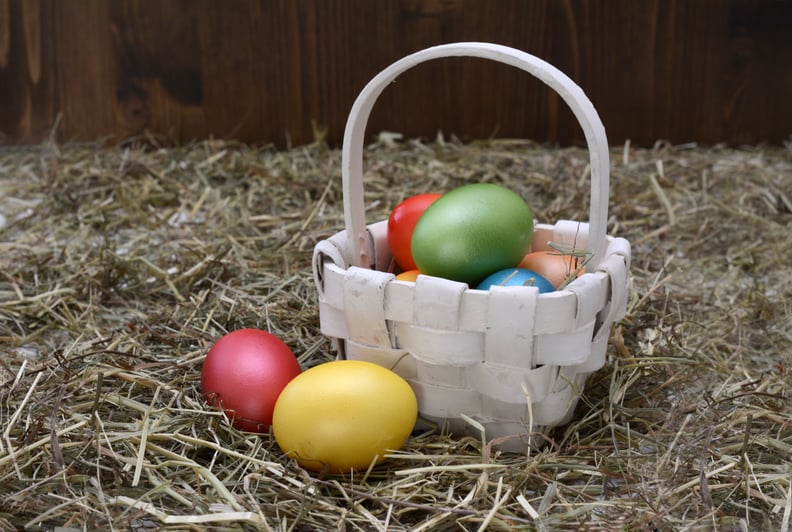 Yes, We Do Still Hunt For Eggs
Though it may be difficult for parents to hide the chunky boxes that some of the bigger Easter eggs come in, a lot still try (kudos to my parents for always finding a decent spot) and it's not uncommon for kids to go on a hunt for smaller, foil-wrapped chocolate eggs, too. Easter baskets and egg hunts are just as popular in the UK as they are elsewhere. We Eat Roast Lamb For Lunch
Though the classic "Sunday roast" is not so much of a British tradition now as it was even 10 or 15 years ago, plenty of families do still sit down for a big meal on a Sunday afternoon (or head to the pub and let someone else do the hard work). The meal consists of a roasted meat served with vegetables, gravy, and all the trimmings (yes, I will fight you for the last Yorkshire pudding).
On Easter Sunday, the traditional meat to choose is lamb. The lamb was a sacrifice during the Jewish Passover, and it became a symbol for Jesus's sacrifice too. It's also seasonal: Spring lamb is particularly tender and has a subtle flavor.