100 Practically Free Halloween Costume Ideas That Only Require Creativity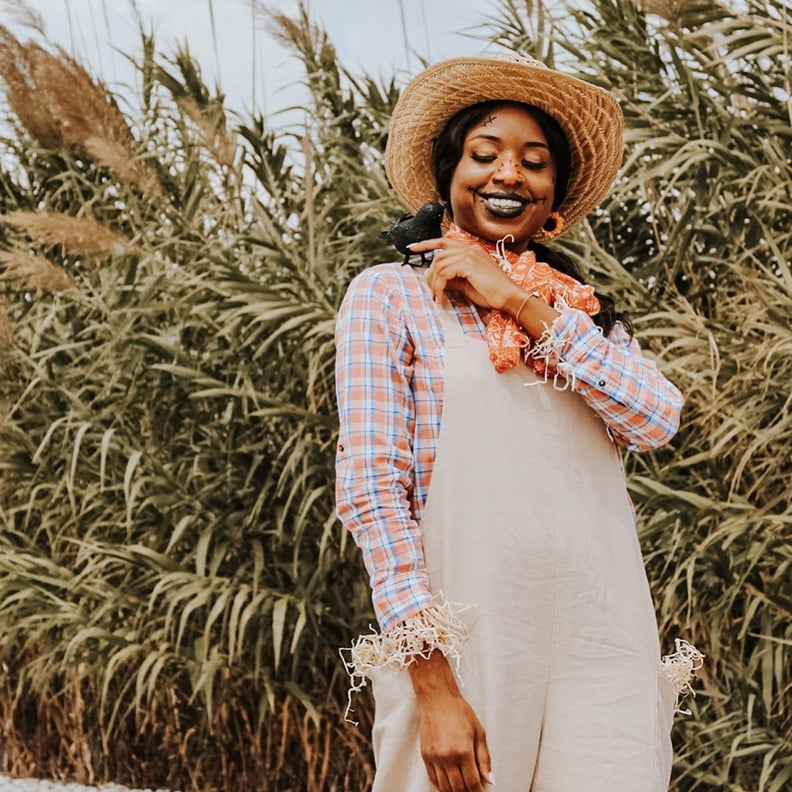 Thinking about this year's Halloween costume? Well lucky for you, there are so many (practically) free DIY outfit options that can be found in your own closet! From pop culture costume ideas like Harley Quinn from Birds of Prey and Klaus Hargreeves from The Umbrella Academy to creative witches and cool cats, we promise this guide has a costume that's cute, crafty, and easy to re-create. If you don't want to go broke splurging on an outfit this year, keep reading to see some of the best choices that'll cost little to nothing to throw together. Happy haunting!
— Additional reporting by Lauren Harano, Hedy Phillips, and Hilary White
01
Witch
Classic and traditional, you can't go wrong when you dress up as a witch. A black hat is the main accessory here, along with alluring makeup and enchanting jewelry. Carry around a spell book for emphasis.
02
Audrey Hepburn
While a black dress and pearls make up the most famous Breakfast at Tiffany's look, Audrey Hepburn's character also dons a sleeping mask and white dress shirt in other scenes. Draw lashes on a blue eye mask and enjoy the coziness of Halloween in a comfy collared shirt.
03
Creepy Ballerina
This killer costume is all about the makeup. Create the illusion of a cracked face by using an eyeliner pencil to section off different areas of your skin. Then, use bronzer and foundation to fill them in. From there, throw on a dress and a tutu, and pull your hair up into a high bun. Your work is complete!
04
Archie From Riverdale
Throw on your best letterman jacket, casual tee, and jeans, and transform yourself into Archie from Riverdale. Make sure to sport his iconic ginger hair!
05
Roxanne From A Goofy Movie
A green shirt, little brown nose, and stack of books will transform you into this cute Disney character in seconds flat.
06
Harley Quinn
A hot costume for the last couple years, the idea of being Harley Quinn isn't going anywhere any time soon. High pigtails (one colored blue and the other pink), distressed pinstripe shorts, and a long-sleeve shirt are all you need to become this iconic character. Wear a bold necklace, colorful gloves, and a black belt with a padlock. Now, you're ready to hit the town.
07
Risky Business
If you don't mind going pantsless, you can easily re-create this look with just a white button-up, socks, and sunglasses
08
Raven
To pull off the DC Comics superhero, top an all-black outfit with a purple cloak.
09
Rachel Green and Ross Geller From Friends
Dig through your closet to find this Rachel and Ross look. All you need is a black top and skirt for Rachel and a sweater with jeans for Ross (don't forget the Central Perk coffee logo!).
10
Leopard
You can style this look in a variety of different ways, but our favorite way is by pairing a leopard-printed dress with a heavy long-sleeve black turtleneck or shirt. Complete the look with leopard ears and comfortable black boots.
11
Rapunzel From Tangled
Long hair or not, you can still pull off Rapunzel for Halloween. Simply braid your hair to the side, accessorize with some flowery clips, and throw on whatever pink dress you own!
12
Erik Killmonger From Black Panther
Being bad never looked so good! Dress up as this Black Panther character by wearing a jacket with fur trim, glasses, jeans, and your hair pulled into a high ponytail.
13
Ariel From The Little Mermaid
Who says you have to have an actual tail to become Ariel? Instead, opt for something much easier, like this simple green and purple outfit.
14
Dorothy From The Wizard of Oz
A blue gingham dress and little pigtails will turn you into Dorothy. Wear red heels or sneakers, and follow the yellow brick road.
15
Scar From The Lion King
If you're a makeup-lover, this Scar from The Lion King look is out of this world.
16
Boo From Monsters, Inc.
An oversize pink sweater and lavender purple leggings are all you need to re-create this Monsters, Inc. character. Toss your hair into cute pigtails, and you're ready for the night.
17
Kylo Ren From Star Wars
Tights, a long-sleeved dress, and a warm cape will turn you into a chic version of Kylo Ren from Star Wars in no time at all. Complete your outfit with gloves and boots if the weather dips.
18
Angel
If you've been nothing but good this year, you can dress up as an angel. Wear a white shirt, white pants, and a small halo. Top off your look with dreamy white wings.
19
The Child From The Mandalorian
If Baby Yoda stole your heart, then this costume is for you. Wear an olive-green or light-brown dress or jacket, pull your hair back into tight buns to re-create his pointy ears, and look as cute as can be. Feel free to experiment with green makeup, too!
20
Taco Belle
Channel Beauty and the Beast with this adorable costume, but rather than carrying around books, you'll be toting a Quesarito, chips and dip, and (of course) tacos instead.
21
Selena Quintanilla
Channel the late Selena Quintanilla with a sexy outfit inspired by the talented and beautiful singer.
22
Beetlejuice
The name of the game for this movie-inspired costume is to look stone-cold dead. Pale face, green "mold," and dark eyes go perfectly with a striped top.
23
Cartoon Character
If you're into makeup and face paint, being a cartoon character should be on your Halloween list of things to be. Feel free to get as creative as you want with the makeup, and don't forget to define other assets of your body, too.
24
Alexis and David Rose From Schitt's Creek
Whether you love both of the characters or just one, this costume idea is easy and relevant. Spoiled yet super stylish, dressing up as Alexis Rose will consist of wearing a head-turning hat, chunky accessories, and a cute outfit. Finish off the look with effortlessly curled locks, and you're ready to be a Schitt's Creek socialite. If you want to be David, a printed sweater, preferably with stripes, will do the trick here. Make sure none of your hair (eyebrows included) is out of place, and get ready to run the town.
25
Danny From Grease
A white t-shirt and a leather jacket are all you need to transform into one of the most well-known bad boys of all time.
26
Dwight Schrute From The Office
Pull off the Dwight Schrute look by dressing in casual office attire, a striped tie, Dunder Mifflin tag, and Dwight's classic glasses.
27
Britney Spears
Break some rules this Halloween with this ". . . Baby One More Time" costume. Black knee-high socks, a black pleated skirt, a white collared shirt, and gray sweater, will make this costume complete. Add pink poms to your braids to finish it off.
28
Taylor Swift's 1989 Album Cover
Sing along to your favorite songs this Halloween when you dress up as Taylor Swift's 1989 album cover. You'll need a blue and white long-sleeved shirt and red lipstick. Carry around a white cutout to make it look like you're a Polaroid picture.
29
A Handsome Devil
Embrace your sexy side when you dress up as the handsome devil you are. All you need are devil horns and a red outfit.
30
Elle Woods From Legally Blonde
Whoever said orange was the new pink was seriously disturbed. A pink blazer or jacket and miniskirt are the key pieces to this look. Pair it with a small purse and pink-tinted shades for best results.
31
Jughead From Riverdale
To be Jughead from Riverdale, you just need a denim jacket and a beanie.
32
Sugar Mama
Just grab a baby carrier and a bag of sugar, and you're ready for a puntastic party!
33
Beret Girl From An Extremely Goofy Movie
As long as you have the makeup and hair down, you can become P.J.'s love interest in moments. And the makeup doesn't look too hard!
34
Dora the Explorer
Get your explorin' on this Halloween. Get a pink shirt, orange shorts, a backpack, and sneakers. Don't forget the short brown bob.
35
Morton Salt Girl
It's OK to be salty! A yellow dress and blue umbrella are all you need to be the Morton salt girl. Oh, and don't forget the salt!
36
Beyoncé
To re-create this superstar's look, you'll need cutoff jean shorts, a yellow sweatshirt, and tall boots.
37
Where's Waldo?
A striped shirt, beanie, and circular glasses are just about all you need to channel your inner Waldo.
38
Carrie Bradshaw From Sex and the City
The ultimate style icon, dressing up as Carrie Bradshaw will require hot street style and voluminous curls. Any of her outfits are fair game, so get creative!
39
Carmen Sandiego
Where in the world do you get a Carmen Sandiego costume? As long as you have a red trench coat and a red hat, then you've got one!

40
The Terminator
Easy and simple, being the Terminator is about as cool as it gets. Wear a black leather jacket with a black shirt and pants, and pair your look with dark sunglasses or draw on cool face makeup. Your work here is done!
41
The Big Bad Wolf
Sorry, Grandma. If you want to be this Little Red Riding Hood character, you'll need to wear a fuzzy jacket and brown ears. Draw on a little nose and whiskers and tousle your hair to make it look mischievously messy.
42
Cher Horowitz
Clueless star Cher Horowitz is easy to reenact with a plaid two-piece set and the boxiest cell phone you can find.

43
Aaliyah
A bedazzled bra, choker, belt, and black plants will turn you into the '90s and early 2000s music icon.
44
Allie and Noah
A vintage dress for Allie and a newsboy hat for Noah make these two become The Notebook's couple.
45
Holly Golightly From Breakfast at Tiffany's
All you need is a white T-shirt, eye mask, and purple fringe earrings for this Breakfast at Tiffany's-inspired costume. Cat not required.
46
Drake
Timberland boots and a gray sweatsuit will transform you into Drake. Learn the "Toosie Slide" move to really get into character.
47
Cinderella
Want to enchant everyone this holiday? Wear a blue dress (or silk robe!) to re-create the princess's dreamy look. Throw on a blue headband and white shoes to add a bit more magic to your look.
48
Minnie Mouse
A red polka-dotted dress and a matching bow is all this Minnie Mouse outfit needs.
49
Rabbit
Whether you're channeling Regina George, Elle Woods, or your favorite pet, being a rabbit is about as easy as can be. You'll just need to wear white clothes with bunny ears and a tail.
50
Pumpkin
Forget the costume this year and opt for this killer pumpkin look. You'll need orange and black face paint, and a little creativity.
51
Slytherin Student
A white collared shirt, a green striped tie, and a black blazer will turn you into a Slytherin student from Harry Potter in no time.
52
Deviled Egg
How cute is this? Wear devil horns with a white shirt that has a yellow circle in the middle, and just like that, you're a deviled egg.
53
Skeleton
No costume? No problem! Face paint is all you need to make this costume complete. If you want to make it even creepier, add a little fake blood to your outfit, too.
54
Vampire
One word: fangtastic. A dollop of fake blood and a black or red outfit will turn you into the sexiest vampire Halloween has even seen.
55
Scarecrow
A large flannel shirt is the main article of clothing you need to be a scarecrow. If you're somewhere really chilly, make sure to get one that's made with heavy fabric. Pair that with a straw hat and overalls, and you'll be ready to take things outside.
56
Rosie the Riveter
If you want to be something iconic (and easy!), Rosie the Riveter is calling your name. A red bandana and blue denim shirt will bring this costume to life.
57
Clark Kent From Superman
Feeling super this year? Now's your time to dress up as Clark Kent. Wear nice dress pants, a white button-down shirt, black glasses, and a tie. Be sure to wear the iconic Superman shirt underneath your button-down.
58
Nebula From Zenon: Girl of the 21st Century
To become the best friend of Zenon, it's important that your space outfit is on point. A pink bodysuit, leggings, and a purple vest and skirt pull it all together. Bonus points if you do the hair and fanny pack, too.
59
Gabriella From Brink!
Grab your skating gear! If you have roller blades and knee pads, you're practically already Gabriella. Throw on a helmet for good measure (and to keep you safe!).
60
Holly Golightly From Breakfast at Tiffany's
A little black dress with a chunky statement necklace and small crown will turn you into the posh Holly Golightly. Put your hair in a high bun, then add opera-length gloves for good measure.
61
The Cheetah Girls
Once you decide which pop star you want to be, just find colored sweats and a matching headband to re-create their look. You can complete your costume with a microphone and cheetah-print accessories.
62
Pop-Art Painting
If makeup is your thing, try this easy pop-art look! Cartoon features, white dots, and bright colors will make this look easy to replicate.
63
Doll
Want to be cute and creepy this year? You can look like a doll by going all out with eye makeup — brightening white liner along the lower lash line is a must for achieving a doe-eyed effect, as are false lashes and multiple coats of mascara. Finish off your look with a big bow.
64
Ariana Grande
Ari is known for her oversize sweatshirt looks, and damn, do they look warm. Find a bright pink oversize sweatshirt and pair it with black leggings or knee-high black boots. Make sure to re-create her high pony and winged liner, and add a lollipop as your accessory.
65
Cheetah
Bring out your wild side. If you have any article of cheetah-print clothing, your work is done. Just add cat ears and whiskers.
66
Bugs Bunny From Space Jam
If you have white basketball shorts and a white jersey, you're pretty much good to go! Draw the iconic Time Squad logo on your jersey to make your costume complete.
67
Aerobics Instructor
If you have a bodysuit of any sort, you can use it to create this look. Pair it with leggings, and complete the look with sneakers and sweatbands.
68
Flower Child
A crown of flowers will work great for this flower-child outfit.
69
Cruella de Vil
Throw on your most luxurious faux fur white coat and black dress, then swipe on some red lipstick. Carry around a stuffed dog or use your own pet dog as an accessory. The key to this costume is the bigger the coat, the better!
70
Athlete
Whether you played baseball, football, soccer, or any sport in the middle, dressing up as an athlete for Halloween is always a safe bet. Once you find one of your old uniforms, it's game time.
71
Shizuku Murasaki
If you're into anime, this Shizuku Murasaki costume is calling your name. All you need is a black turtleneck, a gold necklace, and circular eyeglasses.
72
Thing 1 or Thing 2
Pair a "Thing 1" or "Thing 2" shirt with the coziest red sweatsuit you have. After you bundle up, wear a blue wig and red lipstick to make your outfit a masterpiece.
73
Sad Clown
Feeling down? Being a sad clown will cheer you up. Put fake blood on your face from your eyes to your mouth. You can choose to do the noticeable clown-makeup triangles above and below your eyes, or you can skip it. The choice is yours.
74
Alien
Wear all metallic clothing, and add a bright makeup to make this out-of-this-world costume come to life.
75
Kim Possible
Call me, beep me! Kim Possible rocks cool camo pants with a black long-sleeve shirt, and you can, too. If you're cold, you can add a black jacket over your outfit.
76
Spider
Being a spider is not only kind of creepy, but it's also kind of cute. Spiderweb eye makeup is the move here, along with spider jewelry and a mesh shirt. You'll be creepy (and crawly!) before you know it.
77
Black Panther
Re-create this iconic superhero look by wearing a panther-shaped mask (or by putting on panther ears and drawing on whiskers and a nose) and gold accessories. You can go for the most noticeable Black Panther look by wearing all black or you can switch things up and wear a patterned skirt or shorts with sandals.
78
Sabrina Spellman From Chilling Adventures of Sabrina
You'll cast spells on all those who see you! A red sweater with a white collar and black headband will make you turn into Sabrina Spellman.
79
Deer
To be a deer, you'll have to dress in brown clothing and find little antlers to put on your head. Finish off the look with white-spotted makeup and a small black nose.
80
Rihanna
Channel one of Rihanna's looks from years past when you drench yourself in sparkles and throw on a cut-out Gucci tank and jean shorts. Finish off the look with black sunglasses and sneakers.
81
Barbie and Ken
Make your favorite childhood toys come to life with lots of pink and a blond wig.
82
Devil Wears Prada
Not everyone can pull off a Meryl Streep costume, but dressing up as a devil wearing Prada is easy — you can even write "Prada" across a plain shirt if, like most people, you don't happen to have anything from Prada lying around.
83
Lara Croft From Tomb Raider
Bring the heat this Halloween when you dress up as Lara Croft. All you'll need is an olive green crop top, short shorts, and some top-notch fake weapons.
84
Teen Wolf
Scary, spooky, and totally easy, dressing up as a werewolf for Halloween is a one-and-done kind of costume. Add a varsity jacket and jeans to your long, wild hair, and you're ready to howl in the moonlight.
85
Maleficent
Are you a mistress of evil, too? Then this costume is for you! You'll need to wear a black dress and craft the iconic headpiece to make this look come to life. (To re-create Maleficent's headpiece, we suggest gluing horns to a black piece of fabric and securing it around your head.) You'll then need to contour your face to create the look of (very) defined cheekbones and add a dash of red-hot lipstick.
86
Comfortable Cinderella
A baby-blue shirt or sweater, black choker, and small tiara are the key pieces to this outfit. Throw on your coziest pair of sweats and slippers, and accessorize with a broom or small white pumpkin.
87
Crazy Cactus Lady
You've heard of a crazy cat lady, but what if you're a crazy cactus lady? A messy 'do and a plant-printed outfit are all you need for this look.
88
Sasha Bratz Doll
Etch the word "Bratz" into a white T-shirt, cut out the top, and throw your hair into a few pigtails to get the true Sasha Bratz doll look. Take it a step further and re-create Sasha's awesome makeup to complete the costume.
89
Snickers
Nothing's sweeter than this costume! Wear a brown dress and attach a piece of paper with the Snickers logo to the front of it. Carry around a bag of chocolate to really make this costume come to life.
90
Rue From Euphoria
Head into your closet and pick out an oversize jacket, pair it over an all-black outfit, and ta-da, you're Rue! The most important part of the whole look is Rue's signature glitter tears, so don't forget them.
91
Mummy
The undead will have never looked hotter if you use some strategically wrapped gauze for this slinky mummy look.
92
Cowboy
Hey there, cowboy. No matter what you choose to wear, whether it be a cowhide vest or denim jeans, this costume will only be complete with a cowboy hat and boots. Now get out there and save a horse!
93
Snow White From Snow White and the Seven Dwarfs
You don't need a gown to become Snow White! This denim crop top and yellow skirt will do.
94
Beanie Baby
Pick your animal then make a Ty tag for this easy throwback costume.
95
Blair and Serena From Gossip Girl
Spotted: Blair Waldorf and Serena van der Woodsen hanging out on Halloween. Turn into the Upper East Siders by dressing in schoolgirl outfits topped with fancy accessories.
96
Devil
Super easy and also very sexy, dressing up as a devil makes being bad look so good. Just wear a red dress, devil horns, and add some red-hot makeup.
97
Harry Potter
Use a long cloak (even a graduation gown will do), and top it off with a striped scarf. Make sure to draw a lightning bolt scar on your head!
98
Klaus Hargreeves From The Umbrella Academy
A long black trench coat, skinny jeans, and a tight vest will turn you into Klaus. Rock tousled hair, black eyeliner, and a dog tag necklace to make this look come to life. Oh, and don't be alarmed if you start seeing dead people.
99
Wednesday Addams From The Addams Family
Braid your hair into matching pigtails and wear an all-black outfit. You'll want a white shirt underneath your top, though, for Wednesday's usual white collar to show through.
100
Jack Skellington From The Nightmare Before Christmas
Any striped black and white clothing item will do! Just make sure you're adding another accessory, like a top hat or skeleton makeup, so you don't look like a prisoner.