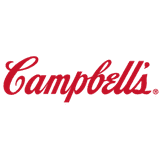 We've partnered with
Campbell's®
to inspire you with some fresh ways to stay entertained while staying home.
Staying home feels a lot easier when you're in the mood to chill. When your energy levels go through the roof, you have to get a bit more creative to stave off boredom.
Save the novel you're reading or your newfound love for puzzles for another day — this kind of mood calls for something more exciting. These six at-home activities will help you make the most of your pent-up energy, and you'll have a little fun doing it.
Instead of spending yet another evening binge-watching TV, make the effort to plan something different — like a theme night. It could be an at-home karaoke night with your roommates or virtual costume party with long-distance BFFs. You can keep it simple and shoot off a quick text to your friends, or go all out with custom-designed evites and themed decor.
After months of cooking every meal at home, it's all too easy to fall into a recipe rut. Instead of reaching for a tried-and-true option you've made a hundred times, think outside the box. Look for recipes that put a creative twist on a favorite food, like Chicken Taco Casserole, to spice up your meal plan.
Even if you've never picked up a paintbrush before, painting can be a powerful way to express yourself. Go for whatever style speaks to you — abstract, realism, even finger painting! Just try to get your feelings onto the canvas. The finished product doesn't need to be a museum-quality masterpiece, but creating it should make you feel good.
Just because you can't hop on a plane to some far-flung destination doesn't mean you have to give up on your travel dreams. Indulge your wanderlust by exploring word landmarks through your computer screen. You can take virtual tours of everything from Machu Picchu to the Vatican to countless museums — no passport required!
When you're feeling a little restless, nothing feels better than dancing it out. Put on your favorite pump-up playlist and bust out some of your best moves. You'll release some of that pent-up energy and get your body moving in the process.
A high-energy mood can also be a perfect opportunity to check a few things off your to-do list. Accomplish a few household chores you've been putting off: maybe reorganizing the hall closet or deep cleaning your bed from the mattress up. Nothing feels quite like the satisfaction of a job done well.
Design: Mia Coleman; Images: Shutterstock and Campbell's