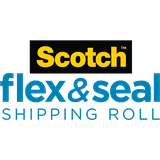 We've partnered with
Scotch™
to share why its Flex & Seal Shipping Roll is a must have this summer for sending gifts to loved ones.
While December may come to mind when thinking of gifting season, summer is filled with major milestones — graduations, bridal showers, Father's Day — that require your gift-wrapping station to be restocked. And this year, we're thinking out of the box (literally) to make these celebrations feel extra special.
Instead of reaching for that old roll of wrapping paper in the back of your closet, we've selected stylish wrapping supplies tailored to each summer celebration. Whether you want chic reusable wrapping paper or prefer personalized touches with custom tags, keep reading to find the affordable supplies you need to package the perfect gift for your loved ones.
While you might not be able to attend your niece's graduation ceremony in person this year, you can still say "congrats!" from afar. Make your present feel special with personalized touches like sparkling confetti, washi tape with cute cap decals, and a contemporary card. Before you send the package cross-country, save time (and supplies) by packaging it with Scotch™ Flex & Seal Shipping Roll. Just cut the roll to the gift's approximate size, fold it over, press down firmly, and send it off.
When you're shopping from a wedding registry, bridal-shower gifts aren't always surprising. But there's one way to make your gift stand out in the pile of presents: unique packaging. Go for dreamy accessories like pastel velvet ribbon and floral tissue paper. Instead of using traditional wrapping paper that will be tossed after one use, opt for this Japanese-inspired wrapping cloth. It features a gorgeous design that the bride-to-be can continue to enjoy long after she has opened her present.
As much as we love our dads, they can be notoriously hard to shop for. But we've picked out a few gift-wrapping supplies that will really capture his personality. Show him how much you care by paying homage to the classic "dad outfit," complete with a card that has all the elements of his favorite Hawaiian shirt and wrapping paper that's reminiscent of his everyday house shoes. We promise that he'll love the packaging almost as much as the gift itself. If you can't see Dad IRL this Father's Day, this shipping roll will help protect presents — whether it's cufflinks or a keychain — along its journey home.
Chances are that in the past year, countless friends have moved into new homes. Now that they can finally welcome you into their space, a thoughtful housewarming gift, all the way down to the packaging, can help ease the transition. Whether it's a personalized card with a map of their new town or palm-leaf-inspired supplies to fuel their houseplant obsession, these aesthetically pleasing picks will make any gift a sure winner.