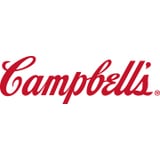 We teamed up with
Campbell's®
to help you make this unconventional holiday season beautiful and memorable, no matter how you're celebrating.
If you can believe it, the holiday season is nigh! It's been such a whirlwind of a year, it seems crazy that it's almost time to start decking halls and jingling bells. And since you've probably got a million other things going on, we've simplified some of the planning for you. No matter how you're celebrating this year, you'll likely still want a hint of a decor theme and, of course, a delicious meal to go along with it.
So why not put a little effort into coordinating the two? No need to go overboard — just take a sec to think about the overall vibe of your holiday table. Are you going super festive with tinsel and red accents? Or are you a minimalist, with clean lines and modern adornments? Then, choose a meal to complement said vibe — voilà! A holiday setup for the books, regardless of how many people are actually sitting at the table.
Keep reading for our suggested recipe pairings for different entertaining styles, and then get to merry-making!
Think cabin chic, with lots of warm textures, natural materials, and soft lighting. Line your table with greenery like cut eucalyptus, and accent with things like linen napkins and tea candles for an ethereal, wintertime glow. And nothing says rustic feast like a tender, herby chicken. Try a recipe like this Quick Mushroom Chicken Bake — the Campbell's® Condensed Cream of Mushroom Soup mixed with the pan juices give an irresistible umami flavor that screams cozy.
If you're a minimalist who loves clean lines and uncluttered spaces, stay true to you when planning out your holiday table. Keep it simple — some gorgeous dried flowers or palm leaves in a clear vase, plus chic serveware and barware is all you need for a stunning set up. Complement your style with a meal that's just as on-trend as you, like this Salmon With Creamy Pesto Sauce. Seared salmon in a flavorful, herb-forward sauce is always a crowd-pleaser, even if it's a crowd of two this year.
For all you holiday purists out there — this one's for you. If you're the type to go all out with the red accents, tinsel, and ornaments galore, go for it! We love a good festive moment. For the meal, look no further than the most on-point ingredient of all: pork chops. We suggest these Pork Chops with Creamy Onion Sauce if you're in the mood for more of a traditional preparation, or this slightly more adventurous recipe for Avocado Ranch Pork Chops and Rice.
Hello, you free spirit, you. Channel your inner bohemian with a table full of layers — combine different floral textures like pampas grass and protea blooms, add a touch of taper candles with gilded holders, and don't be afraid of more eclectic glassware and cutlery. Do the same with your meal; go for layers of belly-warming sweet potatoes and cheese with this Savory Sweet Potato Bake. Or zhuzh up your traditional mashed potatoes with these Kale Mashed Potatoes — the addition of veggies like kale and a salty component like chopped, thick-cut bacon makes for a delectable side dish.
You're timeless, with taste that never goes out of style. Classic touches like low-key wreathes and hints of pine are staples in your holiday decor, and this year doesn't have to be any different. Hang up some twinkle lights, bring out your Douglas Fir candle, and lean into the beauty of the season. And what is more classic than Green Bean Casserole? Absolutely nothin'. Go with the recipe that started it all: Campbell's Condensed Cream of Mushroom Soup and a dash of soy sauce are the magic ingredients that have made it a favorite for over 60 years.