How to Create a Gorgeous Holiday Setup For a Smaller Party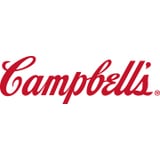 Alongside
Campbell's®
, we're helping you turn this unusual holiday season into a moment to celebrate joy.
There are no two ways around it — the pandemic likely threw a wrench in a lot of your holiday plans. For a lot of us, not being able to travel home this year is a new phenomenon, meaning we'll have to get creative about how we're celebrating. Perhaps you're just gathering with a few close friends, or even just your partner or roommate; maybe you're able to see a few family members who live nearby. However you're coming together, there are still plenty of ways to bring merriment and joy to the season, just with a smaller party!
Even if you're hosting just a few people, it's still fun to make all the elements of your party stand out. From the food to the decor to the music, keep reading to get some small-gathering inspo for all your holiday evenings.
Keep the Tablescape Simple and Chic
For your holiday table, you'll want to think about how to make it intimate, warm, and uncluttered. Fresh seasonal flowers or dried bundles are always a chic centerpiece, and adding touches like a linen runner or small candles can bring the whole thing together. Stay away from big arrangements or tall adornments so that everyone around the table can see one another and feel more connected.
If it's just you and your partner, why not make the occasion a little romantic? Think about it like date night! Bring out the candles, dim the lights, and grab a bottle of your favorite wine to add little touches that make the evening special and memorable for the two of you.
Tailor the Recipes to Fit the Party
When building out your menu, the first thing to think about is the amount of people coming — if it's just two people, you may not want to go all out on a full turkey or ham for the main dish. Instead, maybe opt for a roast chicken or game hen, or pick up a presliced amount of meat from your favorite grocer.
For a smaller party, you might even consider just serving delicious sides — if we're being honest, they're usually everyone's favorite part of the meal anyway. Plus, they're much more customizable, both for size and ingredients if anyone has a dietary preference. Recipes like this Savory Sweet Potato Bake and this Broccoli & Cheese Casserole will please both vegetarians and meat-lovers alike, while something like this Turkey & Stuffing Casserole is a great way to incorporate turkey if you're not cooking the full bird. And you can never go wrong with Green Bean Casserole.
Pay Extra Attention to Serving Dishes and Displays
Everyone appreciates a beautiful platter! Since you have less food to put out, you can use those randomly sized dishes and bowls that don't always work with larger portions. You can also use this as an occasion to use those lovely glasses or plates that come in a set of four that don't come out of the cupboard when you host lots of people.
Think about how you want to display all your dishes — do you want to have everything out on the dinner table family style? Do you want to serve everyone out of the kitchen one by one? A smaller party definitely gives you more leeway with how you set up the flow of your group.
Having a smaller, more intimate group also gives you the advantage of skipping the awkwardness or small talk that, let's face it, is often the vibe of big holiday parties. Chat with your friends or partner about the mood of the night — maybe have a fun game that you all play during or after dinner, a cute craft moment while you sip on cocktails, or perhaps a classic holiday movie marathon with your pie. And if you can't land on anything specific, having a great dinner-party playlist is always a game changer!