The Smart Brown Girl Book Club Is Not Your Average Book Club — and That's Exactly Why You Should Join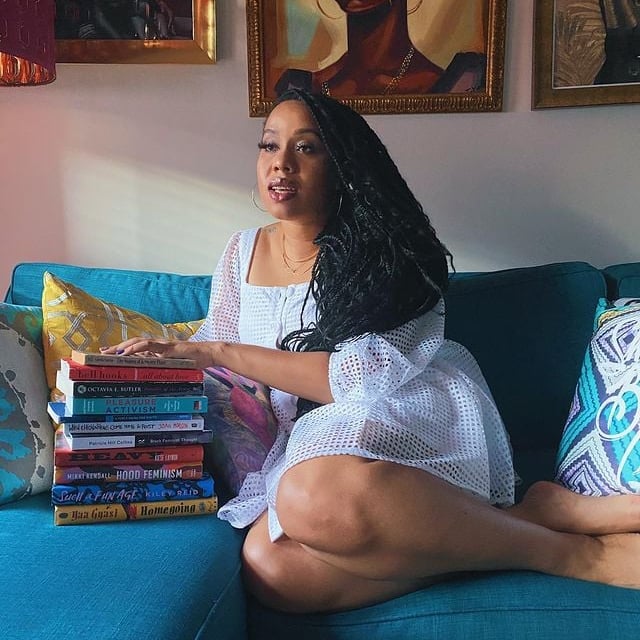 Calling all brown girls everywhere! If you love books, learning about new things, and just connecting with other badass women, allow us to introduce you to your new favorite thing: the Smart Brown Girl Book Club. Content creator Jouelzy founded the the book club to form an international community for Black women and women of color to empower them and expand their access to knowledge through reading. Through the club, women are introduced to Black writers and are then able to come together to talk about the books through discussions and syllabi for every reading.
While there's nothing like curling up in a comfy chair with a good book, as a Black woman, I also know there's nothing *as* good as curling up with a book by a Black woman literary legend who so eloquently and brilliantly speaks to your truth in this world. Those moments are usually followed up by you just having to text your homegirls in the group chat because you've got to fill them in on what went down on those pages. The Smart Brown Girl Book Club book club is basically a leveled up version of that group chat.
Jouelzy works with a team of phenomenal Black women who curate reading guides and live discussions that enrich the experience of reading. They're doing the very important work of widening the space for the public to engage with research, theory, and history across a wide range of backgrounds. The book club has already read books like Toni Morrison's Beloved, Raven Leilani's Luster, and Britney Cooper's Eloquent Rage.
If you're interested in learning more about what the book club has to offer, how to join, and more, keep reading.
01
Choose Your Membership
Smart Brown Girl Book Club offers general membership and insider membership. The general membership is free and open to everyone, and you get access to the Facebook group and the live discussions, but you'll have to purchase the syllabi individually each month. The insider membership is $15 per month and gives you special perks like a free syllabi, private author chats, entry into a separate, private Facebook group, and more!
02
To Join, Sign Up on the Website
All you have to do is enter your information and you'll get newsletters sent directly to your email. You'll also qualify for acceptance into the Facebook group where you're sure to find lively conversations and so many other women of color to connect with from all over.
03
Choose a Reading Track
The book club is truly for everyone no matter your reading level. You can either read along with the general monthly book, the complex theory read, or both. No matter what you choose, both reading tracks are curated by a group of graduate-level Black women researchers so you're sure to be provided with the foundation necessary to critically engage with the readings.
04
Download Your Syllabus
The syllabi guide the readings with notes on major themes, discussion questions, key definitions, and links to related outside journal entries or news stories. There's even syllabi for teens!
05
Tune In For Live Discussions Throughout the Month
The book club hosts live discussions throughout the month, either guided by one of the women who created the syllabus or as a conversation between Jouelzy and the authors themselves, Booktubers, or experts. You can tune in via the Facebook group or YouTube.
06
Buy Merch to Support the Book Club
Don't forget to support the book club by checking out their merch on their website, which includes bookmarks, candles, postcards, t-shirts, and mugs. (I've already got the Audre Lorde literary giant tee and it was an instant fave!) If you don't have time to join the group, this is a great way to support the work Jouelzy and her team are doing.