How to Tell If a Product Is Sustainable From the Label
Here's How to Tell If a Product Is Really Sustainable Just by Looking at the Label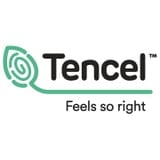 We've partnered with
TENCEL™
to help you make smart, environmentally conscious choices when you're shopping for everything from apparel to bedding.
Even if you're already a regular recycler and frequent composter, if your daily routine doesn't include sustainable products, it's not as eco-friendly as it could be. Figuring out whether a product is really environmentally conscious can be harder than it sounds, though: sometimes, it seems like you need an advanced degree to decode the technical jargon on the tag. Next time you go shopping for any brand-new product, use these four strategies to determine whether it's actually sustainable — no expert-level knowledge required!
First and foremost, check the materials used to make the product. For clothing and textiles, it's particularly important to opt for sustainable fabrics and fibers whenever possible, as 73 percent of clothing ends up in landfills. TENCEL™-branded lyocell fibers are made from wood pulp — a renewable resource — using an environmentally responsible closed-loop production process that uses less water and energy than many other fiber materials. Plus, TENCEL™-branded lyocell fibers are certified compostable and biodegradable.
Whenever you're shopping for clothing, furniture, or other home goods, prioritize options made from previously used materials, like recycled plastic or reclaimed wood. Some companies even create new products out of post-consumer waste, like plastic bottles and caps.
Another way to ensure you're choosing sustainable products is by looking for trusted certifications. Even if you don't quite understand how a product was manufactured, you can rely on certifications from these environmental or government agencies. For instance, the USDA BioPreferred® designation can only appear on products made from renewable resources and the EU Ecolabel indicates that the product meets a high level of environmental care throughout its entire lifecycle.
A growing number of brands are also providing more transparency into exactly how they create their products. The Higg Materials Sustainability Index rates products on just how environmentally friendly they are — it works as a quick scorecard you can scan before deciding to buy a product. Global retailers like H&M are even beginning to embed the Higg Index on their websites. Look for it beneath the product details.
Think like a fact-checker when you're shopping for sustainable options: if something seems too good to be true, it's worth investigating further. Look for specific claims — like what percent less water went into making a product, or what percentage of post-consumer waste was used — rather than generic labels like "green" or "all natural." Do a quick web search to find out whether the brand can support that claim, and only give your dollars to those who can.
Just because a brand has one eco-friendly product doesn't necessarily mean it practices sustainability overall. Before you make your final decision on a product, take a few minutes to research the brand's business practices. Even something as simple as reading about the company's background or recent initiatives can help you determine whether they're really committed to sustainability overall. Commitment to sustainable packaging — both of the product and even the mailers they use — is a good litmus test.
Shop Sustainable Products Made With TENCEL™