10 Thrilling Details About Universal Orlando's Record-Breaking Jurassic Park Ride, the VelociCoaster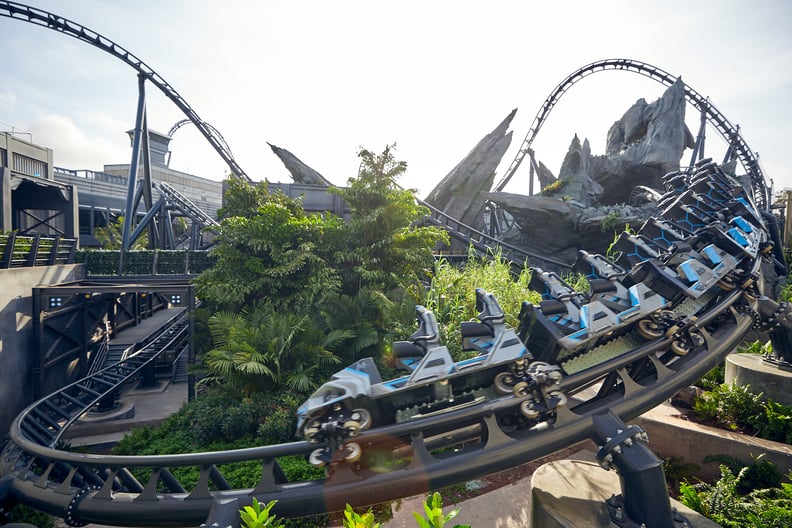 Universal Orlando Resort
Universal Orlando has been teasing the "summer 2021" opening of its newest attraction — the Jurassic World VelociCoaster — for months, and now it's finally open! Much to the delight of anxious fans, the park officially opened the coaster to the public on June 10, and it looks like one of their best attractions to date.
Universal has described the coaster as the "Apex Predator of Roller Coasters," and it fits the bill in more ways than one. Not only will you encounter some of the well-known Velociraptors from the Jurassic World films, but it's also at the top of the feeding chain, so to speak, for roller coasters. In addition to being Florida's fastest and tallest launch coaster, it's also the movie franchise's first roller coaster!
Think you've got what it takes to handle this new breed of coaster? Here's everything you need to know before you buckle in.
01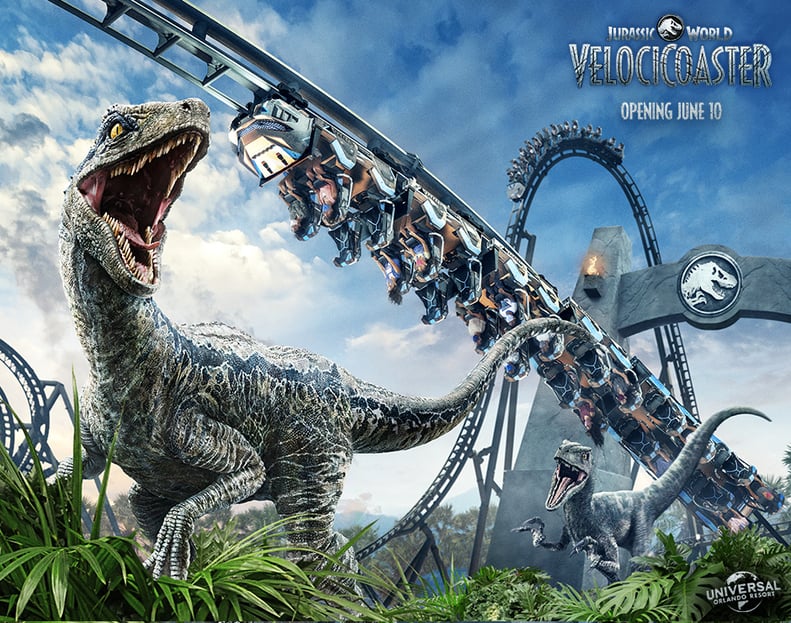 The Jurassic World VelociCoaster Is Located in Universal's Islands of Adventure Park
The Jurassic World VelociCoaster is located in the Jurassic Park section of Universal's Islands of Adventure, which houses both Jurassic Park and Jurassic World-themed attractions. In the films, Jurassic World is a dinosaur theme park built on Isla Nublar — the same fictional island where Jurassic Park once stood.
02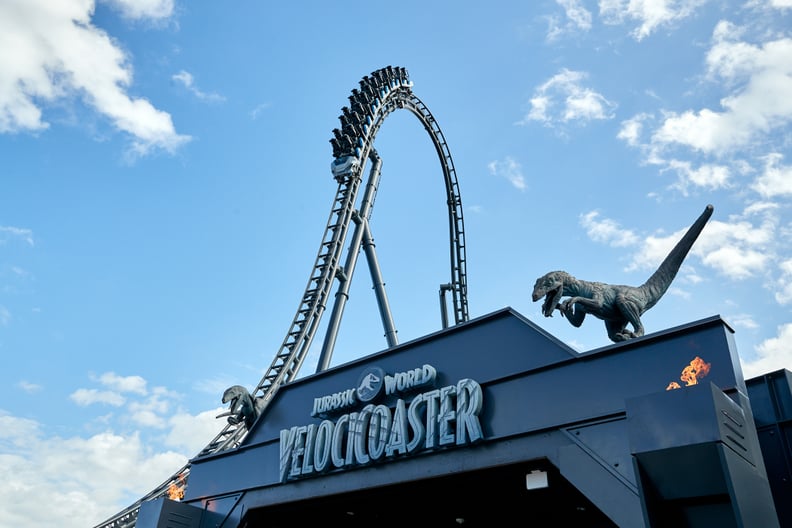 It's Breaking a Few Roller Coaster Records
The VelociCoaster hits speeds of up to 70 miles per hour and propels riders 155 feet in the air, making it Florida's fastest and tallest launch coaster.
03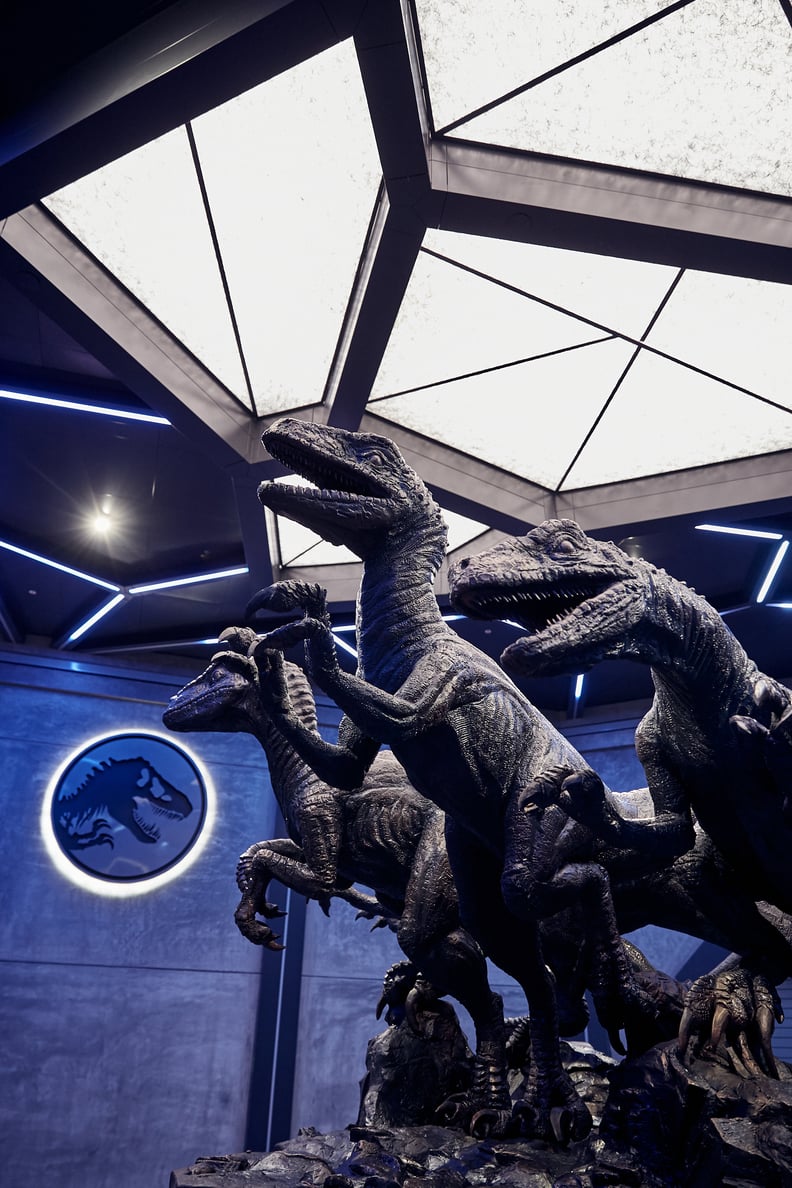 The Ride's Storyline Was Inspired by the Jurassic World Films
VelociCoaster is billed as the newest attraction in Jurassic World's "carnivore expansion." Riders enter the raptor paddock where they hear from Dr. Henry Wu (BD Wong), Claire Dearing (Bryce Dallas Howard), and Owen Grady (Chris Pratt) before taking off on this high-speed (and probably dangerous) mission.
04
The Unique Ride Vehicles Add to the Attraction's Thrill Level
The coaster's ride vehicles were specially designed to get your adrenaline pumping. Despite the many loops, twists, and turns, the only thing between you and those hungry raptors is a lap restraint.
05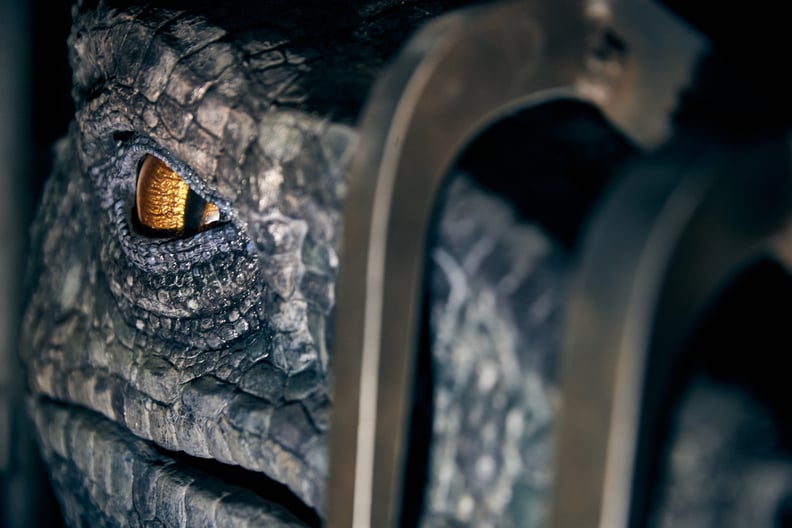 Your Favorite Jurassic World Raptors Are There
Jurassic World's human heroes aren't the only ones who reprised their roles for the ride. Velociraptors Blue, Charlie, Delta, and Echo also have leading roles. Let's just hope the coaster runs faster than they do!
06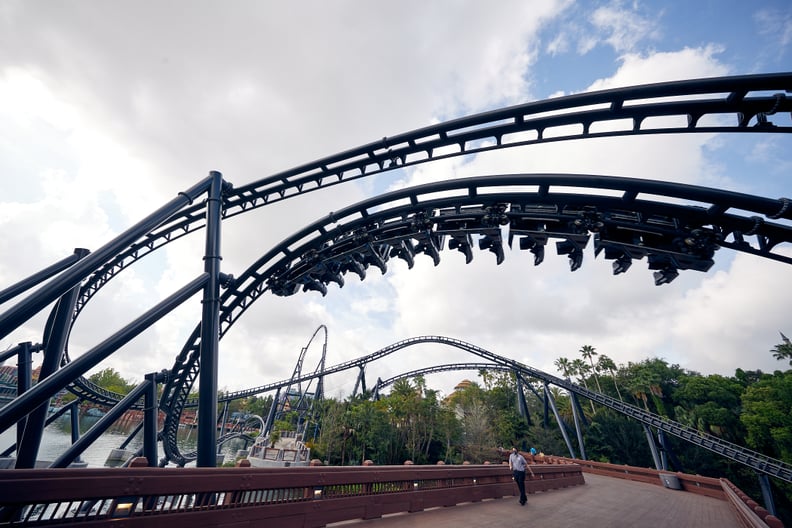 VelociCoaster Has Some Intense Maneuvers
By the numbers, VelociCoaster boasts two high-speed launches, an 80-degree drop from the 155-foot top hat, four inversions, a 360-degree barrel roll, and a 100-foot zero-gravity inverted stall. Uh, *insert screaming emoji here.*
07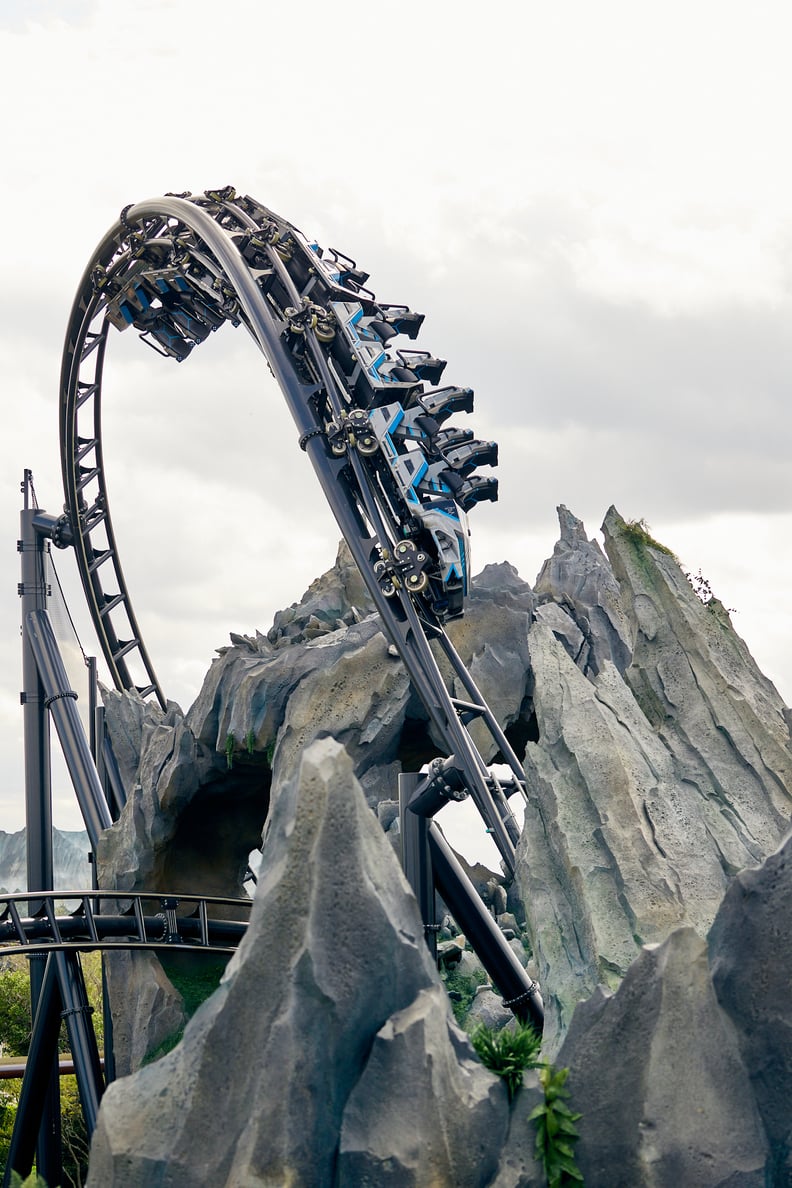 The Minimum Height to Ride Is 51 Inches
This coaster is not for the faint of heart or for most little ones. The minimum height to ride is 51 inches. Child swap is available, so you don't have to wait in line twice if everyone in your party isn't tall enough to ride.
08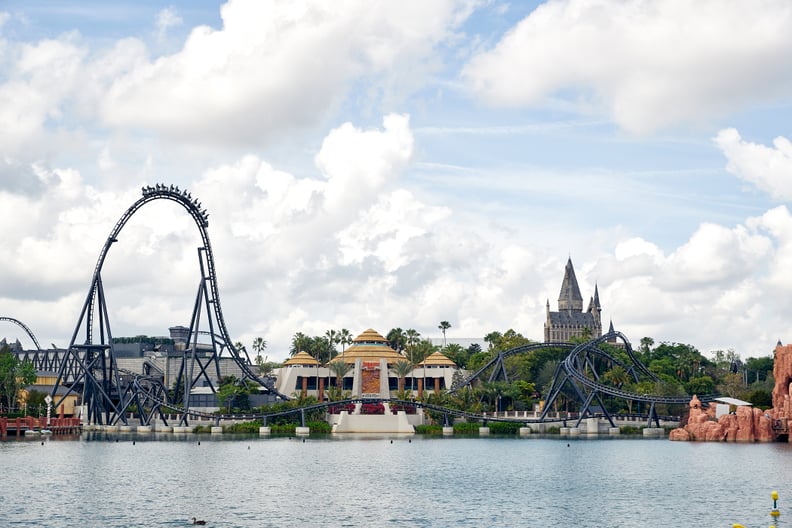 The Ride Experience Will Feel Totally Different During the Day Than at Night
You're definitely going to want to ride VelociCoaster during the day and again at night for the full experience. At night, the flashing blue and red lights above the raptor enclosure and the bright blue lights on the coaster trains shine even brighter than they do during the daytime. Running with (or from) dinosaurs is much scarier when you can't see them.
09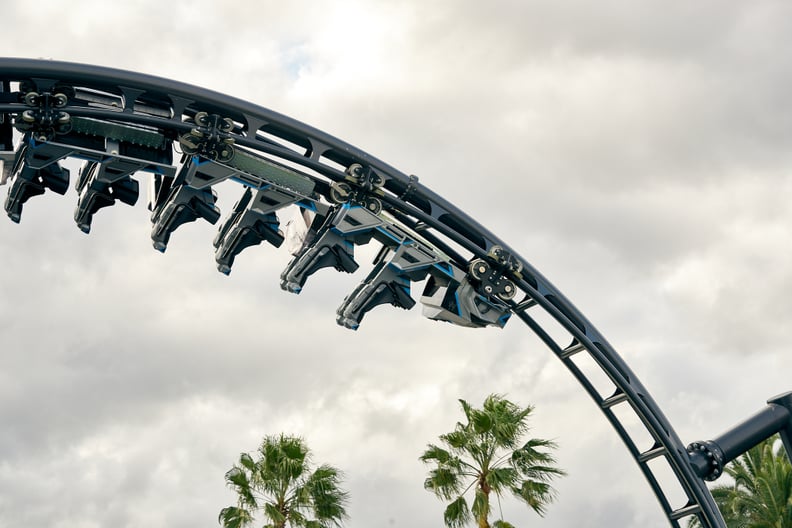 Riders Will Experience Some Major Airtime
Throughout the ride's 4,700 feet of track, riders will experience a staggering 12 seconds of airtime (that feeling when you feel like you you're floating out of your seat). That might not sound like much when your feet are planted safely on the ground, but you may change your mind after facing off with the VelociCoaster.
10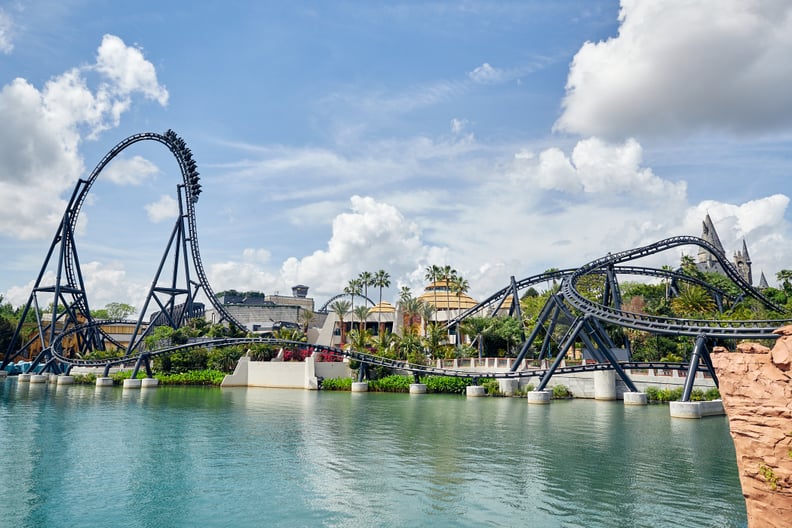 If You Aren't Quite Ready to Ride, There Are Some Great Viewing Spots
Even if you aren't into riding super-intense coasters like this one, you'll probably get a kick out of watching (and hearing) other guests scream their hearts out. There aren't many spots in Islands of Adventure where the ride isn't visible, but you can get an up-close look from the bypass bridge that connects Jurassic Park and Lost Continent. The coster passes right overhead.
11
The New Jurassic World VelociCoaster