52 Lazy Halloween Costumes That Are Truly Low Effort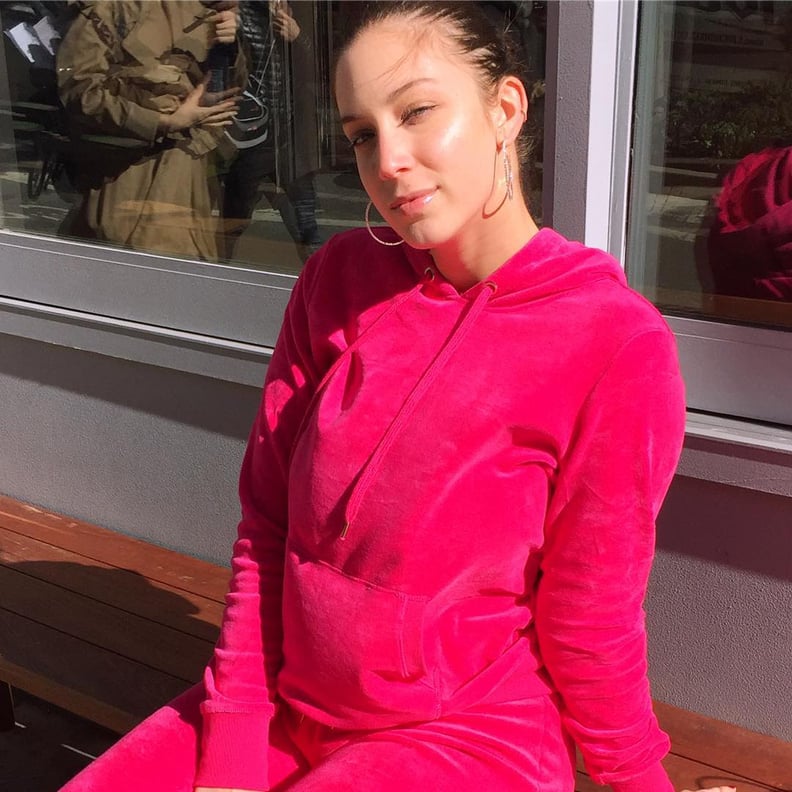 POPSUGAR Photography | Kelsey Garcia
POPSUGAR Photography | Kelsey Garcia
Some of the best costumes require little planning. And contrary to what some might think, it doesn't make anyone less excited about Halloween if their costume came together easily or at the last minute. If you're a procrastinator who doesn't want to spend too much money, time, or brainpower on your costume, then our list of lazy costume ideas will have you covered. Even better, a lot of these low-effort ideas rely on clothing items you probably already have in your closet.
The expansive list ahead contains pop-culture costumes referencing titles like "Legally Blonde" and "The Little Mermaid," made newly relevant after this year's live-action adaptation. There are classic ideas, like a scarecrow or a bat, and even punny costumes (see: Taco Belle). No matter your Halloween vibe, there's a little something for everyone, and the best part is, they're all fairly effortless to DIY without a whole lot of additional products and resources. In some cases, you may just need a makeup brush and a steady hand (OK, and maybe a Halloween makeup tutorial).
We feel strongly that these lazy Halloween costumes can come together nicely with just a few moments of your time. See for yourself by scrolling through the list of 52 ideas ahead.
— Additional reporting by Kelsey Garcia, Lauren Harano, and Haley Lyndes.
01
Lazy Halloween Costumes: Elle Woods From "Legally Blonde"
"Whoever said orange was the new pink was seriously disturbed." A pink blazer or jacket and miniskirt are the key pieces to this look. Pair it with a small purse and pink-tinted shades for best results.
02
Lazy Halloween Costumes: Wednesday Addams
Still thinking about "Wednesday"? As you await season two, take on the character's gothic style with a black dress, a white collar, two braids, and her trademark stare.
03
Lazy Halloween Costumes: Thing 1 or Thing 2
Pair a "Thing 1" or "Thing 2" shirt with the coziest red sweatsuit you have. After you bundle up, wear a blue wig and red lipstick to make your outfit a masterpiece.
04
Lazy Halloween Costumes: Witch
Classic and traditional, you can't go wrong when you dress up as a witch. A black hat is the main accessory here, along with alluring makeup and enchanting jewelry. Carry around a spell book for emphasis.
05
Lazy Halloween Costumes: "I'm Real" Jennifer Lopez
Take it back to the iconic 2001 "I'm Real" music video by channeling Jennifer Lopez in all her Y2K glory. All you need is a pink velour tracksuit, hoop earrings, a slicked-back bun, and loads of highlighter for that J Lo glow. Bonus points if you use
JLo Beauty.
06
Lazy Halloween Costumes: Ariel From "The Little Mermaid"
Who says you have to have an actual tail to become Ariel? Instead, opt for something much easier, like this simple green and purple outfit.
07
Lazy Halloween Costumes: Angel
If you've been nothing but good this year, you can dress up as an angel. Wear a white shirt, white pants, and a small halo. Top off your look with dreamy white wings.
08
Lazy Halloween Costumes: Scarecrow
If you have a pair of denim overalls on hand, you can turn them into your scarecrow costume. Pair them with a flannel shirt, and that's really all you need. If you want to use makeup to give yourself a scarecrow face, that'll take it up another notch.
09
Lazy Halloween Costumes: Deviled Egg
How cute is this? Wear devil horns with a white shirt that has a yellow circle in the middle, and just like that, you're a deviled egg.
10
Lazy Halloween Costumes: Aerobics Instructor
If you have a bodysuit of any sort, you can use it to create this look. Pair it with leggings, and complete the look with sneakers and sweatbands.
11
Lazy Halloween Costumes: The Child From "The Mandalorian"
If Baby Yoda stole your heart, you'll love this costume idea. Wear an olive-green or light-brown dress or jacket, pull your hair back into tight buns to re-create his pointy ears, and look as cute as can be. Feel free to experiment with green makeup, too.
12
Lazy Halloween Costumes: Skeleton
No costume? No problem! Face paint is all you need to make this costume complete. If you want to make it even creepier, add a little fake blood to your outfit, too.
13
Lazy Halloween Costumes: Pantone Color Swatch
Behold, a lazy Halloween costume perfect for the artsy among us. If you have a matching sweatsuit, workout set, or otherwise monochrome outfit, you can become a Pantone color swatch with the help of a printer.
14
Lazy Halloween Costumes: Clark Kent
Feeling super this year? Now's your time to dress up as Clark Kent. Wear nice dress pants, a white button-down shirt, black glasses, and a tie. Be sure to wear the iconic Superman shirt underneath your button-down.
15
Lazy Halloween Costumes: Debbie Thornberry
If you watched Nickelodeon's "The Wild Thornberrys" as a kid, this lazy Halloween costume is a fun throwback. Rock your natural waves (or create some with braids or a hair tool), don a crop top, ripped jeans, and an unbuttoned flannel. Purple lipstick and a black choker necklace add a teen-rebel Y2K touch.
16
Lazy Halloween Costumes: "101 Dalmatians"
Homemade outfits will make this costume come to life. Add black polka dots to any white pieces of clothing, add whiskers and ears, and bring on the puppy-dog eyes.
17
Lazy Halloween Costumes: Sabrina Spellman From "Chilling Adventures of Sabrina"
You'll cast spells on all those who see you! A red sweater with a white collar and black headband will make you turn into Sabrina Spellman.
18
Lazy Halloween Costumes: Snow White
You don't need a gown to become Snow White! This denim crop top and yellow skirt will do.
19
Lazy Halloween Costumes: Party Animal
Dress up as any animal you please and top it with a party hat for an instantly clever costume.
20
Lazy Halloween Costumes: Minnie Mouse
Add the magic of Disney to your Halloween by dressing up as Minnie Mouse. If you have a red polka-dot shirt, throw that on and add little mouse ears. If you have mouse ears from Disneyland or Disney World, those work, too.
21
Lazy Halloween Costumes: Snickers
Nothing's sweeter than this costume! Wear a brown dress and attach a piece of paper with the Snickers logo to the front of it. Carry around a bag of chocolate to really make this costume come to life.
22
Lazy Halloween Costumes: Flower Child
Here's to spreading peace and love. A crown of flowers will work great for this flower-child outfit. A peace sign wouldn't hurt either.
23
Lazy Halloween Costumes: Taco Belle
Channel "Beauty and the Beast" with this adorable costume, but rather than carrying around books, you'll be toting a Quesarito, chips and dip, and (of course) tacos instead.
24
Lazy Halloween Costumes: Despicable Me Minion
Is there anything cuter than a lil Minion? You can throw on denim overalls and a yellow shirt or wear shorts and suspenders.
25
Lazy Halloween Costumes: Alien
Anything silver, sparkly, and fun will do for this costume. Style your hair into fun little buns, and find all the silver makeup you can! Everyone will be seeing stars when they look at your outfit.
26
Lazy Halloween Costumes: Bat
Be one of Halloween's most beloved symbols in no time. If you have a black dress and pointy ears, the only thing left that you'll need to be a bat is a makeshift cape. Cut a wing-like design in a blanket or piece of cloth, and take on the night!
27
Lazy Halloween Costumes: Dorothy From "The Wizard of Oz"
A blue gingham dress and little pigtails will turn you into Dorothy. Wear red heels or sneakers, and follow the yellow brick road.
28
Lazy Halloween Costumes: Pop-Art Painting
If makeup is your thing, try this easy pop-art look! Cartoon features, white dots, and bright colors will make this look easy to replicate.
29
Lazy Halloween Costumes: Vampire
One word: fangtastic. A dollop of fake blood and a black or red outfit will turn you into the sexiest vampire Halloween has even seen.
30
Lazy Halloween Costumes: Selena Quintanilla
Honor the late Selena Quintanilla with a sexy outfit inspired by the talented and beautiful singer. A sparkly bra and black jeans are what you need here. Complete your look with a dash of red lipstick and a microphone.
31
Lazy Halloween Costumes: Where's Waldo?
Where's Waldo this Halloween, you ask? A striped shirt, a beanie, and circular glasses are just about all you need to channel your inner Waldo.
32
Lazy Halloween Costumes: Rosie the Riveter
If you want to be something iconic (and easy!), Rosie the Riveter is calling your name. A red bandana and blue denim shirt will bring this costume to life.
33
Lazy Halloween Costumes: Harley Quinn
A hot costume for the last couple years, the idea of being Harley Quinn isn't going anywhere anytime soon. High pigtails (one colored blue and the other pink), distressed pinstripe shorts, and a long-sleeved shirt are all you need to become this iconic character. Wear a bold necklace, colorful gloves, and a black belt with a padlock. Now, you're ready to hit the town.
34
Lazy Halloween Costumes: Risky Business
If you don't mind going pantsless, you can easily re-create this look with just a white button-up, socks, and sunglasses.
35
Lazy Halloween Costumes: Beetlejuice
The name of the game for this movie-inspired costume is to look stone-cold dead. Pale face, green "mold," and dark eyes go perfectly with a striped top.
36
Lazy Halloween Costumes: Erik Killmonger From "Black Panther"
Being bad never looked so good! Dress up as this "Black Panther" character by wearing a jacket with fur trim, glasses, jeans, and your hair pulled up into a high ponytail.
37
Lazy Halloween Costumes: Bugs Bunny From "Space Jam"
If you have white basketball shorts and a white jersey, you're pretty much good to go! Draw the iconic Time Squad logo on your jersey to make your costume complete.
38
Lazy Halloween Costumes: The Big Bad Wolf
Sorry, Grandma. If you want to be this "Little Red Riding Hood" character, you'll need to wear a fuzzy jacket and brown ears. Draw on a little nose and whiskers and tousle your hair to make it look mischievously messy.
39
Lazy Halloween Costumes: Kylo Ren From Star Wars
Tights, a long-sleeved dress, and a warm cape will turn you into a chic version of Kylo Ren from Star Wars in no time at all. Complete your outfit with gloves and boots if the weather dips.
40
Lazy Halloween Costumes: Taylor Swift's "1989" Album Cover
Sing along to your favorite songs this Halloween when you dress up as Taylor Swift's "1989" album cover. You'll need a blue and white long-sleeved shirt and red lipstick. Carry around a white cutout to make it look like you're a Polaroid picture.
41
Lazy Halloween Costumes: Alexis and David Rose From "Schitt's Creek"
Whether you love both of the characters or just one, this costume idea is easy and relevant. Spoiled yet super stylish, dressing up as Alexis Rose will consist of wearing a head-turning hat, chunky accessories, and a cute outfit. Finish off the look with effortlessly curled locks, and you're ready to be a Schitt's Creek socialite. If you want to be David, a printed sweater, preferably with stripes, will do the trick here. Make sure none of your hair (eyebrows included) is out of place, and get ready to run the town.
42
Lazy Halloween Costumes: Teen Wolf
Scary, spooky, and totally easy, dressing up as a werewolf for Halloween is a one-and-done kind of costume. Add a varsity jacket and jeans to your long, wild hair, and you're ready to howl in the moonlight.
43
Lazy Halloween Costumes: Deer and Hunter
DIY each of these costumes in simple ways. Dress as the deer by wearing a long tan T-shirt paired with military-green jeans and an antler headband. For the hunter, simply wear something camouflage and pair it with a baseball hat that matches.
44
Lazy Halloween Costumes: Dora the Explorer
Get your explorin' on this Halloween. Get a pink shirt, orange shorts, a backpack, and sneakers. Don't forget the short brown bob.
45
Lazy Halloween Costumes: Smart Cookie
You'll get an A+ for this creative costume idea! Just wear a cap and gown and carry around a box of your favorite cookies. Done and done.
46
Lazy Halloween Costumes: Carrie Bradshaw From "Sex and the City"
And we couldn't help but wonder . . . is this the cutest costume of all? The ultimate style icon, dressing up as Carrie Bradshaw will require hot street style and voluminous curls. Any of her outfits are fair game, so get creative!
47
Lazy Halloween Costumes: Sad Clown
Feeling down? Being a sad clown will cheer you up. Put fake blood on your face from your eyes to your mouth. You can choose to do the noticeable clown-makeup triangles above and below your eyes, or you can skip it. The choice is yours.
48
Lazy Halloween Costumes: Black Panther
Re-create this iconic superhero look by wearing a panther-shaped mask (or by putting on panther ears and drawing on whiskers and a nose) and gold accessories. You can go for the most noticeable Black Panther look by wearing all black, or you can switch things up and wear a patterned skirt or shorts with sandals.
49
Lazy Halloween Costumes: Spoiled Milk and Sugar Daddy
No one likes spoiled milk, unless it looks like this. All you need is an all-white outfit that says "milk" on the front, pair it with an expensive shopping bag or two, and you'll look the part. To be a Sugar Daddy, just put a bag of sugar in a baby harness, and your work here is done.
50
Lazy Halloween Costumes: Royal-Tee
This costume is fit for a queen. Simply write the word "royal" on a white T-shirt, and you're good to go. You can complete your look with a small tiara and jewels if you really want to make it come to life.
51
Lazy Halloween Costumes: The Terminator
Easy and simple, being the Terminator is about as cool as it gets. Wear a black leather jacket with a black shirt and pants, and pair your look with dark sunglasses or draw on cool face makeup. Your work here is done.
52
Lazy Halloween Costumes: Archie From "Riverdale"
Throw on your best letterman jacket, casual tee, and jeans, and transform yourself into Archie from "Riverdale." Make sure to sport his iconic ginger hair!