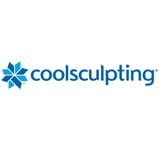 Whether it's a high-tech facial or body contouring, getting an aesthetic treatment these days — and sharing it on TikTok — is becoming more mainstream. It's not uncommon to open your FYP and see someone's journey through the stages of receiving a treatment from beginning to end.
In 2022, we're empowered to make our own choices for our personal lifestyle. And if your choice is leading you to a new treatment that you're excited about? All the power to you! If you're in need of some inspiration, here are five aesthetic procedures that are as popular as they are effective.
CoolSculpting®
Body contouring is set to become even bigger this year, with CoolSculpting® leading the way as the treatment of choice for many, thanks to its noninvasive, little-to-no-downtime procedure. CoolSculpting® is FDA-cleared for the treatment of visible fat bulges in the submental (under the chin) and submandibular (under the jawline) areas, thigh, abdomen, and flank, along with bra fat, back fat, underneath the buttocks (also known as banana roll), and upper arm. It's also FDA-cleared to affect the appearance of lax tissue with submental area treatments. It's not a treatment for weight loss, but it is effective for reducing areas of stubborn fat that may be difficult to address through diet or exercise, and you can see results in as early as one to three months after treatment, as your body naturally eliminates the treated fat cells. Keep in mind you may need a series of two or more treatment sessions per area to achieve your body-contouring goals. Be sure to talk to a CoolSculpting provider to learn if you're a candidate.
Important Safety Information about CoolSculpting®
This procedure is not for everyone. You should not be treated with CoolSculpting® if you suffer from cryoglobulinemia, cold agglutinin disease, or paroxysmal cold hemoglobinuria.
Tell your doctor if you have any medical conditions including recent surgery, pre-existing hernia, and any known sensitivities or allergies.
See additional Important Safety Information below at the end of the article.
Lip Blushing
Lip blushing blew up on TikTok in 2021, and it's not going anywhere in 2022. For the uninitiated, think of the treatment as microblading — but for your lips rather than your brows. In order to achieve the look of more voluminous lips with a bit of color, a tattoo artist adds semipermanent pigment to your lips. Ideal for those who want a your-lips-but-fuller look (minus the step of applying lip color every day), lip blushing may help enhance your natural lip color, and can also provide shape and definition to give you the illusion of natural fullness. In addition to color correcting, the treatment may help correct any asymmetry or hyperpigmentation on your lips. After the first session and a follow-up, results typically last one to one-and-a-half years.
Nanoblading
Speaking of microblading, get ready to meet its cooler younger sister, nanoblading. Similar to microblading, nanoblading is a form of semipermanent tattooing that uses a single needle to insert pigment into the skin, mimicking the look of natural brows. The more controlled application of using a finer single needle (as opposed to the multiple needles used in microblading) allows for more precise strokes to better approximate the look of eyebrow hairs. Unlike microblading, nanoblading is less invasive (the tool causes less trauma to the skin), lasts longer (up to three years, as opposed to one to two years), and is suitable for more skin types (including oily skin, which is not recommended for microblading).
Radiofrequency Therapy
Radiofrequency face treatments are on track to become a favorite in skin clinics across the country this year. If you're looking for a relatively quick and painless way to address issues like wrinkles and fine lines, sun damage, or facial laxity, radiofrequency therapy, also known as radiofrequency skin tightening, is a solution. The nonsurgical procedure uses energy waves to heat the dermis, the layer of skin below the epidermis, in order to stimulate the production of collagen, which in turn helps to tighten your skin and fight against sagging and signs of aging.
DiamondGlow® Facials
When it comes to facials, the options are seemingly endless, from the ever-popular oxygen facials to more novel ones like microcurrent facials. But one that's set to dominate the scene in 2022? DiamondGlow®. The treatment gets its moniker from the use of a diamond-tip device that exfoliates the top layers of the epidermis. Along with a light, vacuum-like suction, it deep cleans your pores, extracts dead skin, and infuses a selection of professional-grade SkinMedica® Pro-Infusion Serums onto the skin. The three-in-one treatment is a quick 30 minutes, caters to every skin type and addresses a variety of skin concerns, and can be tailored to fit your specific needs, whether you're looking to brighten, hydrate, tackle dark spots and discoloration, or clarify.
Additional Important Safety Information For CoolSculpting (continued from above)
During the procedure you may experience sensations of pulling, tugging, mild pinching, intense cold, tingling, stinging, aching, and cramping at the treatment site. These sensations lessen as the area becomes numb. Following the procedure, typical side effects include temporary redness, swelling, blanching, bruising, firmness, tingling, stinging, tenderness, cramping, aching, itching, or skin sensitivity, and sensation of fullness in the back of the throat after submental or submandibular area treatment.
Rare side effects may happen in 1 to 10 out of 10,000 CoolSculpting® treatments (between 0.01% to 0.1%). One such rare side effect is a visible enlargement in the treated area which may develop two to five months after treatment, will not resolve on its own, and may require surgical intervention for correction.
Please see full Important Safety Information for CoolSculpting® on CoolSculpting.com.
Important Safety Information For DiamondGlow®
The DiamondGlow® treatment is not for everyone. You should not have a DiamondGlow® treatment if you have compromised skin quality. Tell your provider if you are pregnant or lactating, or if you have any medical conditions, including allergies, and if you are using topical medications on the area to be treated.
Typical side effects include a scratchy, stinging sensation during the treatment and temporary tightness, redness or slight swelling after the treatment. Rare serious side effects may also occur and include severe skin irritation and allergic reactions.
SkinMedica® Pro-Infusion Serums Disclaimer
SkinMedica® Pro-Infusion Serums are intended to meet the FDA's definition of a cosmetic product, an article applied to the human body to cleanse, beautify, promote attractiveness, and alter appearances. These products are not intended to be drugs that diagnose, treat, cure, or prevent any disease or condition. These products have not been approved by the FDA and the statements have not been evaluated by the FDA.
Please talk to your provider for additional information.