Grab the Firewhisky! This Harry Potter Drinking Game Is Like a Magical Monopoly Board
As POPSUGAR editors, we independently select and write about stuff we love and think you'll like too. If you buy a product we have recommended, we may receive affiliate commission, which in turn supports our work.
Look, I (unfortunately) have never been a student at Hogwarts. But I'd bet my last chocolate frog that everyone from the chivalrous Gryffindors to the loyal Hufflepuffs snuck some firewhisky into the dorms at least once when Filch wasn't looking. For any wizards or muggles looking to have a common room party of your own, this printable Harry Potter drinking game from Etsy is the perfect way to share a laugh and a butterbeer with friends — no matter where you are.
Each game comes with a downloadable playing board, instructions, wizard-themed trivia questions, a house points tracker, character tokens, advantage tokens, and a golden snitch sorting die. The character tokens are based off some of the best characters from the series, including Luna Lovegood, Norbert the dragon, and Professor Dumbledore. Dibs on Professor McGonagall!
Just like a boozier version of Monopoly, all you have to do is roll the die to determine which space your character lands on and follow the instructions on the board, which can involve taking a shot of firewhisky or your favorite drink. Some spaces give you the power of the invisibility cloak, while other spaces call for magical duels (loser takes a shot!); some even test your wizarding knowledge with trivia questions. Whoever isn't stumbling over themselves when it comes time for the Yule Ball is the winner! Ahead, take a closer look at the game board and be sure to download and print it for yourself and your magic-loving friends to play on Zoom.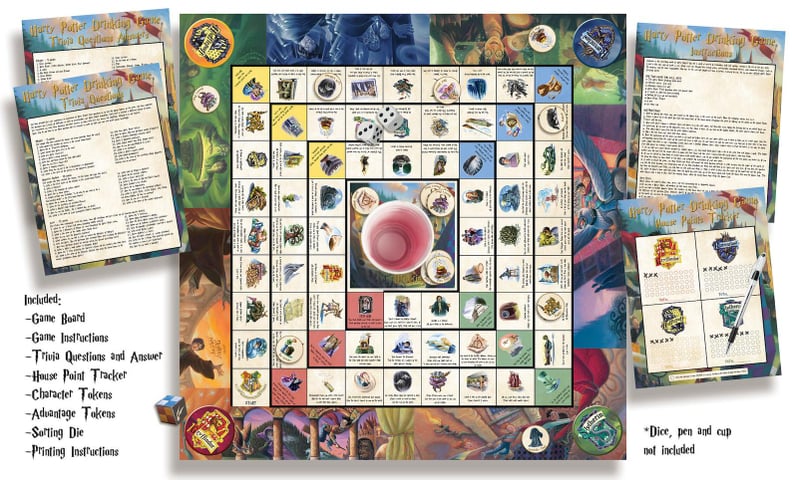 Printable Harry Potter Drinking Game