Alan Turing Biography
Alan Turing 101: The Man Behind The Imitation Game
The Imitation Game starring Sherlock actor Benedict Cumberbatch as Alan Turing, the English genius of math, cryptology, and logic, is due for release Nov. 21. The movie combines computer science and Mr. Cumberbatch — two of our favorite things — and we've finally gotten a look at the official trailer.
But before our beloved Benedict takes to the big screen once again, get to know the man he's playing: Alan Turing, a fascinating character who established many of the founding principles of computer science.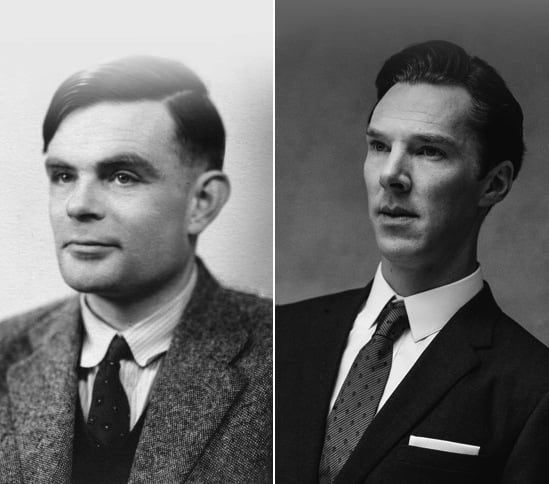 Learn about Alan's life and work with this multimedia introduction to the father of modern computing.
Early Beginnings
On June 23, 1912, Ethel Sara Stoney, daughter of the chief engineer at Madras Railways, gave birth to Alan Turing in Paddington, London. Alan showed signs of genius at a very young age. At 15 years old, he condensed The Theory of Relativity by Albert Einstein for his mother.
Computer Science Is Born
Three of Alan Turing's greatest contributions involve computer science, computational science, and the cracking of German Enigma Codes during World War II. My Favourite Scientist breaks down which of Alan's developments deeply affected these fields of science. The Turing Test, for example, indicated whether or not a machine is intelligent if a human could not distinguish if the electronic communication came from a person or a computer, laying the groundwork for artificial intelligence.
The Pilot Ace
The Science Museum in London put together an exhibit called "Codebreaker" commemorating the 100th anniversary of Alan Turing's birth. The Pilot Ace is another invention of Alan's, and it was this computer that solved the mystery behind a 1954 plane wreckage, salvaged from the ocean, in which millions of measurements from the plane needed to be computed.
Victim of Prejudice
As an openly gay man, Alan Turing was charged with gross indecency and forced to choose between "chemical castration" pills or life in prison. He chose the pills, and later became very depressed. In 1954, Turing took his own life at age 41 by lacing an apple with cyanide.
Alan Turing's Legacy
In this Introduction to Computer Science lecture, MIT professor Eric Grimson outlines the history of computing starting with Alan Turing (at around 23 minutes). Professor Grimson explains how computational machines like the ones Turing developed evolved into the "stored program computers" that were the earliest form of the computers we use today.