Apple Clips 2 Social Video Editing App Review
The Social Video App of Our Dreams Has Finally Arrived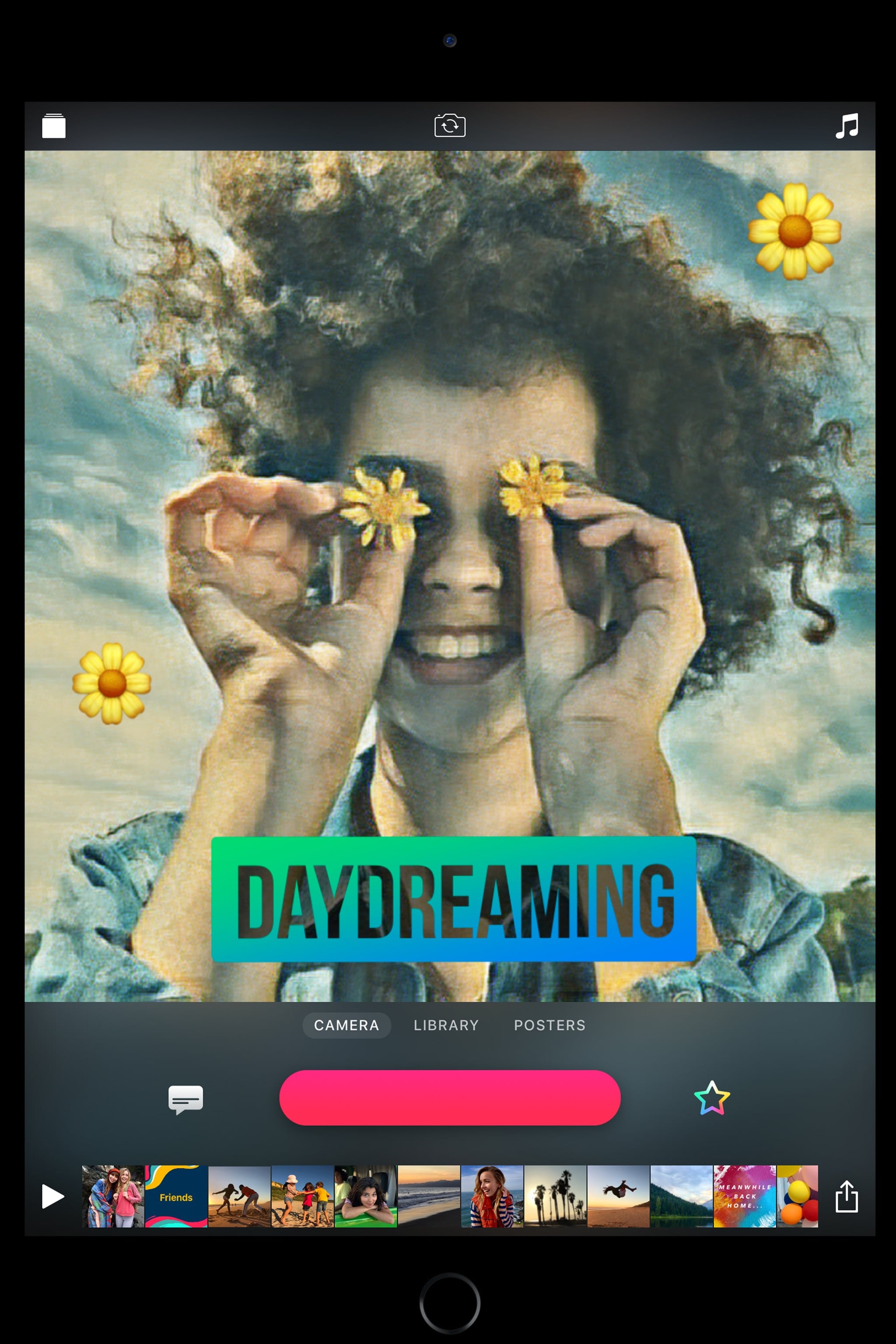 When Apple first launched Clips back in April, it was done quietly; the app was sold as an easy way to edit your videos to post on social, and though it was clearly positioned to take on juggernauts like Snapchat and Instagram, it didn't come across as anything that was revolutionary. Six months later, Clips 2.0 is open for business — and I can officially say that there is nothing quite like it available in the App Store, and I am hooked.
Clips brings all the functions of creating a video — recording, editing, reorganizing, compiling, publishing — into one user-friendly interface, making it feel like an easier version of iMovie or Final Cut. And while the value of having all these tools in one place may not have been clear in the first iteration of the app, 2.0 makes it even more obvious that this should be your go-to when you're about to shoot a video. The buttons are more clearly labeled, the app allows a full-screen viewing of the video content you're using, and it's way easier to have a friend take over the controls as you don't have to know what you're doing in order to make a masterpiece — and if their vision doesn't match yours, you can easily tinker with the footage to make it seem as though it was shot in the exact way that you wanted it. In other words, it puts the kind of high-quality editing we would expect from a professional within reach of anyone with an iPhone.
It's the features, though, that really sell the app for me. Take, for example, Live Titles. It's real-time, on-video captioning done via the technology behind Siri that is outstandingly spot-on. If for whatever reason your digital assistant can't pick up exactly what you were trying to say, you can edit it with just a few taps of your keyboard and add emphasis or punctuation where you want it. You can also change those captions to a variety of different styles, colors, and on-video placements to make it easy for anybody to see what's going on without having to turn on their sound. Or, if you're feeling really snazzy, you can just use Posters to drop in animated graphics and custom texts between scenes to say what you mean without having to speak it.
Then there's the Effects and Stickers portion of the program — tools that enable you to do things like transform yourself into a live-action oil painting or describe your day while sitting beside Minnie Mouse — which are even easier to use than ever and provide for a whole lot of ways to really set yourself apart from the other things that people are seeing on their social media feeds. It's all done in real time, too — so no need to go back and start from scratch after watching the footage playback after the fact. And there's no rendering or time-consuming "loading" screens to sit through; it's all just right there when you need it. And, bonus, you can seamlessly work on the same project on different devices with iCloud and never lose your place.
But it's iPhone X users who get the biggest update of all with Clips 2.0 — and it's one function in particular that I've found myself playing with for hours at a time. Selfie Scenes allows you to place yourself in a variety of 360-degree scenes while you're recording a selfie — that's right, this also happens in real time! — and that means you can instantly transport yourself inside the Millennium Falcon or drop into a famous painting with just one single tap. It's like the old-school Photo Booth feature where you could put yourself in a fishbowl, only you are actually part of what's going on in the scene — and it's jaw-droppingly accurate. Though there are only 10 scenes available right now, the idea is that these will be expanded upon — allowing your video diary to broadcast live from the middle of Times Square (in your bedroom) or at a French cafe (on the subway).
If you aren't sold on just how cool Clips 2.0 really is, there's one additional piece of information that might help you on your way: the app is completely free to use and can be easily downloaded in the App Store right now. So give it a spin, test the features, and see what you think; I'm fairly certain that you won't be disappointed (and, like me, you'll be waiting eagerly for the third iteration and what the team at Apple will come up with next).