Fitbit Charge Details
Why You Should Be Excited About the New Fitbit Trackers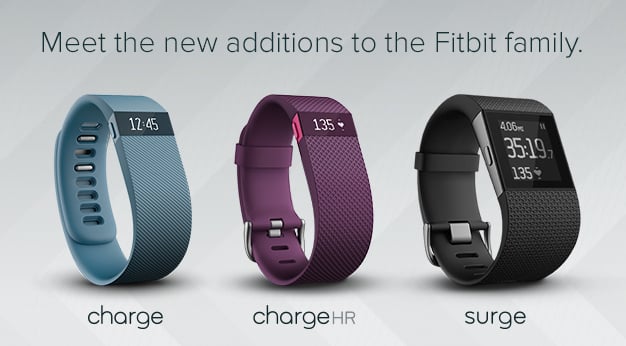 Fitbit fans, rejoice! The company known for its fitness trackers has released not just one, but three new devices. In a blog post, Fitbit says the innovative activity- and sleep-tracking products are meant "to help reach everyday, active or performance health and fitness goals." Let's see what's so special.
Fitbit Charge
Available now for $130, the Fitbit Charge is a wristband similar to the Fitbit Force but has a larger display and new features. Among its highlights are real-time fitness stats, all-day activity tracking (steps taken, distance traveled, calories burned), sleep pattern detection, and caller ID that's pushed from a smartphone to the device. Plus, the band is water resistant and offers up to seven days of battery life.
Fitbit Charge HR
As the name implies, the Fitbit Charge HR is a step up from the Charge, boasting all the same features, plus an automatic heart rate monitoring system called PurePulse that reads heart rate stats every second, 24/7. You can preorder it now for $150, but it won't be available until early 2015.
Fitbit Surge
Described as "Fitbit's most advanced tracker to date," the Fitbit Surge is a smartwatch and tracker in one. The device uses eight-sensor technology to deliver all the benefits from the Charge and Charge HR — and then some. You'll get a built-in GPS system that tracks pace, distance, elevation, route history, and more and workout summaries for multisport activities like running, cross-training, and strength workouts. On the smartwatch front, in addition to caller ID, you get text alerts and music control, plus a backlit LCD touchscreen display with customizable watch faces.
Like the Charge HR, it'll be available in early 2015, but you can preorder it now for $250.