Social Media Wedding Etiquette
The 1 Thing No One Explains About Modern Weddings
Photo by Floataway Studios via Green Wedding Shoes
The unexpectedly hardest part of weddings in the social media age? Deciding how much to encourage guests to share online. Do you offer a social media photo booth or a hashtag? Create a charging station to keep guests online all night? Or do you go old school and ask that phones remain in their silent and off positions?
Wanting to avoid social media spoilers or to simply allow the hired photographer unrestrained freedom to capture every possible shot, couples are increasingly requesting guests refrain from picture-taking, tweeting, and 'gramming during ceremonies and receptions, according to wedding planner Mindy Weiss.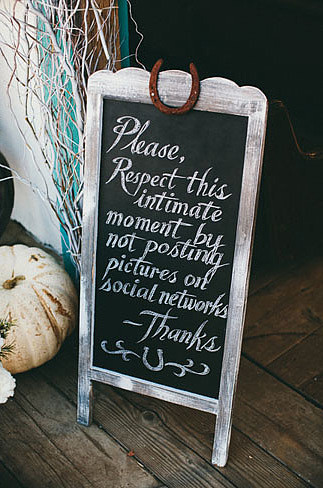 Photo by Phil Chester via Green Wedding Shoes
"There is nothing more disruptive than 100 iPhones taking pictures at once while the bride walks down the aisle," Mindy told us. "Often the bride and groom request no posting on Facebook or posting until the next day so guests stay present."
How does a couple politely keep guests from seeing their wedding through a phone's lens? The same way you encourage them to upload photos with one hashtag: make a cute sign. Take a cue from the photo above, and leave charming signage throughout the venue expressing your tech and social media wishes. According to Mindy, one bride and groom she worked with posted a hand-painted sign that read:
"Please share this special moment with us.
Kindly refrain from taking pictures during our ceremony.
Enjoy sharing our celebration afterwards."
It may be hard to get guests to not snap candids during the reception, so asking them to simply upload photos the next day is another option that ensures guests can revel in the fun but not be distracted by liking every new photo in a wedding's hashtag stream.
Have you seen unique ways couples have managed gadget and social media use during their wedding?