What Is the Ice Bucket Challenge?
6 Not-Silly Questions You've Been Asking About the #IceBucketChallenge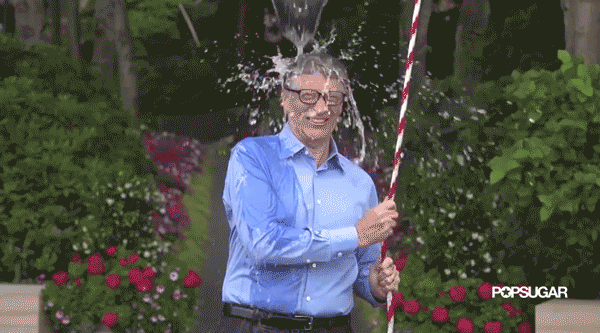 Source: Facebook user Bill Gates
You can't go on Facebook or Twitter or Vine lately without seeing some mention of the #IceBucketChallenge — are we right? If you're like us, you have plenty of questions about the viral social media trend (Who started it? What's it all about?). Before you "like" or retweet, get in the know with this breakdown of six not-so-silly questions and answers.
1. What Is It?
It all starts with a bucket of ice water, obviously. People get nominated by friends on social media to pour it on their heads and share the video as proof. If they don't go through with it within 24 hours, they're supposed to make a donation to raise money for ALS (amyotrophic lateral sclerosis) or any another cause that's called out. Each person who participates nominates more people, who challenge more friends, and so on.
2. Who Started It?
Word is that it began when Pete Frates, a former Boston College baseball player diagnosed with ALS in 2012, got nominated for the challenge by friends of friends. He posted a video encouraging others to participate, and the trend took off like whoa.
3. Who's Doing It?
Anyone and everyone. From your Facebook friends to the Boston police department to the Kennedy family to celebrities like Justin Timberlake, Elizabeth Banks, and Martha Stewart, the trend has reached people by the thousands. Patrick Stewart, like the boss he is, had the most creative spin on the challenge (watch it above).
After Mark Zuckerberg took the challenge and nominated Bill Gates, the Microsoft founder has become one of the latest public figures to dump a bucket of ice on himself. But he did it with some geek flair.
4. Is It Really Helping?
Depends on what your definition of "helping" is. An article called #IceBucketChallenge: Why You're Not Really Helping refers to is as "slacktivism," meaning it's a trend that just gets people to talk about a cause and nothing else.
Others say simply raising awareness about a misunderstood disease like ALS is a victory in itself. Although not everyone who accepts the challenge does so, participants are supposed to name the cause and give a brief explanation of what it is to educate others.
In terms of monetary influence, the ALS Association's national president said that the challenge has led to a 1,000 percent spike in donations. And the New York Times reports that as of Aug. 17, the association had received more than $13 million in donations since July, compared to $1.7 million during the same period in 2013.
5. Wait, What Is ALS?
Part of the reason some are skeptical about the #IceBucketChallenge is that many people still don't understand what ALS is, even after seeing the challenge take over their feeds.
After a week of nothing but the #IceBucketChallenge videos down my news feed, I still don't know what ALS is...

— REY (@_PolloRey_) August 10, 2014
ALS, also referred to as Lou Gehrig's Disease, is a neurodegenerative disease that targets nerve cells in the brain and spinal cord. This leads to loss of muscle movement control and problems with speech, swallowing, and breathing that can lead to death. The cause is not completely understood, and there is currently no cure or treatment to fight it.
6. How Can I Participate?
While you can certainly take part in the #IceBucketChallenge and laugh at friends who pour ice on their heads, you can also take it one step further and support the cause by volunteering or donating through the ALS association.