What's It Like to Be on Double Dare?
7 Things I Learned From Competing on Double Dare With Marc Summers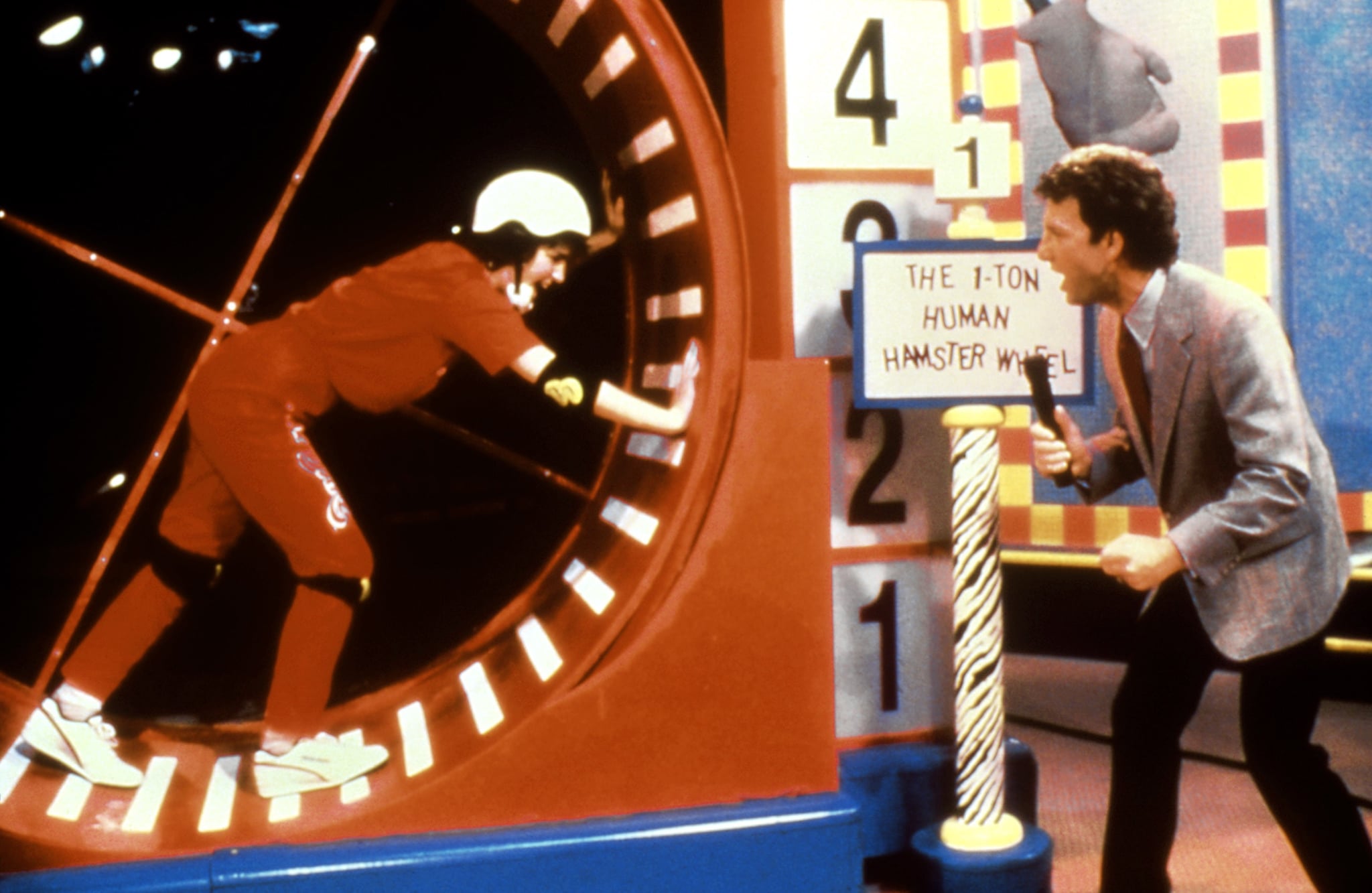 If you ask any '90s kid what their favorite thing was about the "good-old days," they'll likely bring up old-school Nickelodeon in some form or another. From Legends of the Hidden Temple to All That, the kid-focused shows from decades past have a nostalgic quality that simply can't be replicated in today's entertainment world. Perhaps the most enthralling of these programs was Double Dare, a game show played by kids and families that combined trivia and messy physical challenges — you'd be hard-pressed to find a '90s kid who never dreamt about competing on the show.
So when I got an email from one of Nickelodeon's PR reps asking if I'd like to participate in a game of Double Dare at Comic-Con, my editor whisper-screamed: "You HAVE to say yes!" And once I found out that the event would be hosted by original '90s host Marc Summers, I agreed with her. So during my second night at Comic-Con, I made my way to a San Diego nightclub (transformed into an cartoonishly orange-and-green game-show venue) in sneakers and leggings, not sure what to expect from my impending foray into the world of '90s Nick throwbacks.
Upon walking in the doors, I was greeted by the sight of All That's original cast — yeah, I'm talking Lori Beth Denberg, Danny Tamberelli, Josh Server, and Kel Mitchell — decked out in red and blue Double Dare paraphernalia and donning the show's signature padded safety equipment. Once I realized that they, too, would be competing on Double Dare, I was hit with a feeling of nostalgic excitement that could only be replicated by the news that Lisa Frank is debuting a clothing line.
While I waited for the All That cast to finish their game (and subsequent Facebook Live stream), I was assigned to my team: the Blue Team, in which I'd be competing alongside Greg Cipes, the voice actor of The Teenage Mutant Ninja Turtles's Michaelangelo and two Nickelodeon employees. After we were given Double Dare t-shirts, puffy pants, helmets, and elbow/knee pads, I looked out at the other players enthusiastically smashing their faces into plates of whipped cream and I knew that this was no joke: I was really going to live my childhood dream of competing on Double Dare.
Not to brag, but our team eventually took home the championship trophy from this '90s throwback extravaganza, and here's what I learned about the show from my experience. Spoiler alert: I got whipped cream everywhere.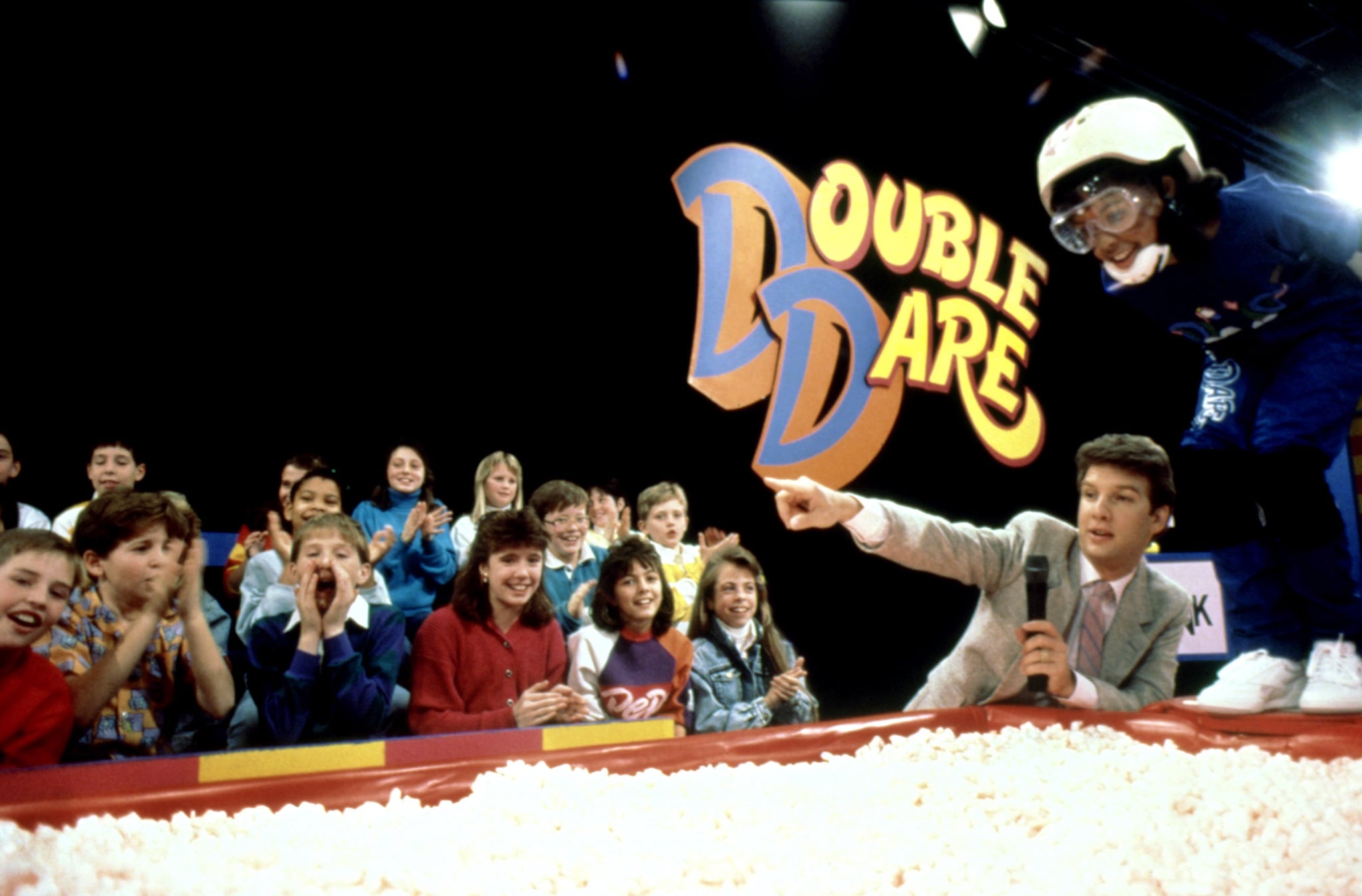 Things You Learn While Playing Double Dare:
You get really comfortable with your teammates. They're going to be touching you, whether it's sticking whipped cream pies to your butt, lifting you over an obstacle, or hugging you in congratulations. Any unease about physical contact is out the window once the game begins!
It goes by in a flash. The time between putting on the helmet/knee pads and wrapping the show feels like barely an instant — I wish I'd have known to savor the experience more, but it flew by so quickly!
You can't avoid getting messy. I tried tucking in my t-shirt, putting my hair in a bun, and all sorts of tricks to avoid getting gross; none of them worked. When you're playing a game that involves throwing eggs, slipping down a whipped cream slide, popping condiment-filled balloons with your butt, and so on, there's no way you'll emerge without needing a good shower! (Sorry, Uber driver who had to take me home.)
Contestants stick flags inside their shirts for a reason. When I used to watch Double Dare, I always wondered why the players would shove orange flags inside their t-shirts while competing . . . but now that I've played, I know that your hands get sticky and the flags are slippery, so transporting them in your shirt is the safest option to avoid any game-risking mishaps.
Answering questions correctly isn't the priority. Because the game is won during the physical challenge portion, answering the trivia questions is nonessential — in fact, my team skipped our turns on purpose so that we could move on to the obstacle course and win the game! (Blue team forever!)
The 1-Ton Human Hamster Wheel is no joke. My teammate who opted to run on the Human Hamster Wheel took a tumble and walked away with bloodied arms! The grips on the wheel are made of sandpaper, so she got some pretty gnarly scrapes after that misstep. No wonder you have to sign a waiver.
It really is that fun. You know how excited and jealous you got while watching kids win VCRs, trips to space camp, and Nickelodeon-themed skateboards on the show? Well, I can vouch for the fact that the show really is that awesome. I walked away with a goodie-stuffed backpack from Nick's new '90s throwback channel, The Splat, and I've never felt prouder to show off an accessory covered in Rugrats and Ah! Real Monsters characters.