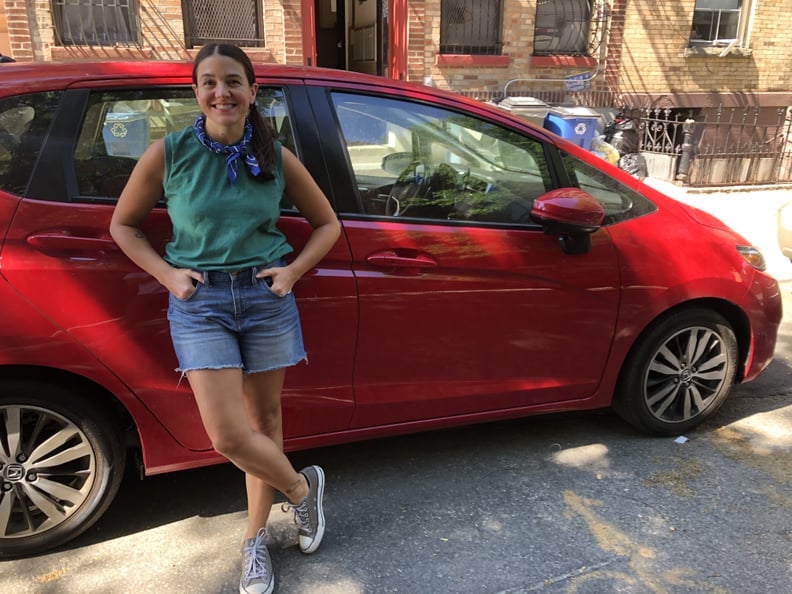 POPSUGAR Photography | Nancy Einhart
POPSUGAR Photography | Nancy Einhart
Before the coronavirus pandemic, I would have never considered buying a car online without seeing and touching it first. But 60 days into staying home, necessity outweighed hesitation, and I purchased a 2017 Honda Fit on the Carvana app. A week later, the car was delivered contact-free, and the experience exceeded my expectations.
I live in Brooklyn, NY, and while I don't use a car daily, I like to get out of the city fairly often with my dog. Before shelter-in-place went into effect, I was in the market for a new car: mine was 20 years old, it needed a new windshield and a new side mirror, and I wasn't willing to put any more money into it.
I had been researching my next car for a few months, and while I had sat in a Honda Fit, I wasn't comfortable test-driving one after COVID arrived. I was pretty sure the Fit was the car I wanted and needed, but I figured I'd wait a little longer to make a purchase.
That is until I drove two hours to visit my partner's mom. Shortly after we hit the road, two dashboard warning lights came on. After months of conversation that went something like "wait, can we really just buy a car online?" I took out my phone and started browsing Carvana from the passenger's seat.
My experience with the company was truly seamless, and I would definitely use Carvana again. Here's everything you need to know about the process.
How Does Carvana Work?
Carvana offers touchless delivery of certified preowned cars in major markets; see a list of markets where Carvana operates here. Using the Carvana app or the Carvana website, you can search the company's inventory using filters for make, model, year, price, and more. I was very impressed with the amount of inventory, even within my narrow parameters. Every listing includes a free CarFax report as well.
Once I had registered with the app, a customer service rep reached out via text to ask if I needed help and answered my many questions within minutes.
Once you have chosen the car you want to buy, the app walks you through a multistep but very easy-to-follow buying process where you choose your payment method (cash or financing), provide proof of insurance and your driver's license, and select a delivery window. You can also get a quote for a trade-in, if you have an older vehicle you want to trade.
Is Carvana Cheaper Than a Dealer?
Carvana is not necessarily cheaper than a dealer; its car prices are in line with Kelley Blue Book values. In fact, we probably ended up spending a little more than we might have at a dealer, but the higher price tag includes contactless delivery, and Carvana handles the registration process for you. Not having to go to the DMV during a global pandemic was priceless.
Is Carvana a Good Way to Buy a Car?
I found the Carvana experience utterly seamless. The car arrived on a truck on the selected delivery date, and while our drop-off was delayed by an hour or so, the driver communicated that he would be late, so no issues there. From shopping to purchase to delivery, customer service reps were remarkably attentive and helpful. The car arrived with temporary dealer plates, but Carvana registered the car for us in New York State and arranged for our new plates to be mailed to us. The car also arrived sparkling clean (note: it is no longer clean).
The best part about using Carvana is that it offers a money-back guarantee within seven days (or 400 miles) of buying the car, which is actually better than a test drive. Although Carvana says all its cars go through a 150-point inspection, I wanted to be extra careful, so we used our seven-day window to get our car inspected by a local mechanic — and found zero issues. Carvana even texted to remind me when the seven-day deadline was approaching, which was a nice touch.
Carvana may not be right for everyone, and you should obviously do your research before you decide if it's right for you. I approached the process skeptically, but in the end, my experience was entirely positive.