Hatch Restore Review
The Hatch Restore Smart Light Is the Ultimate Wake-Up Tool
As POPSUGAR editors, we independently select and write about stuff we love and think you'll like too. If you buy a product we have recommended, we may receive affiliate commission, which in turn supports our work.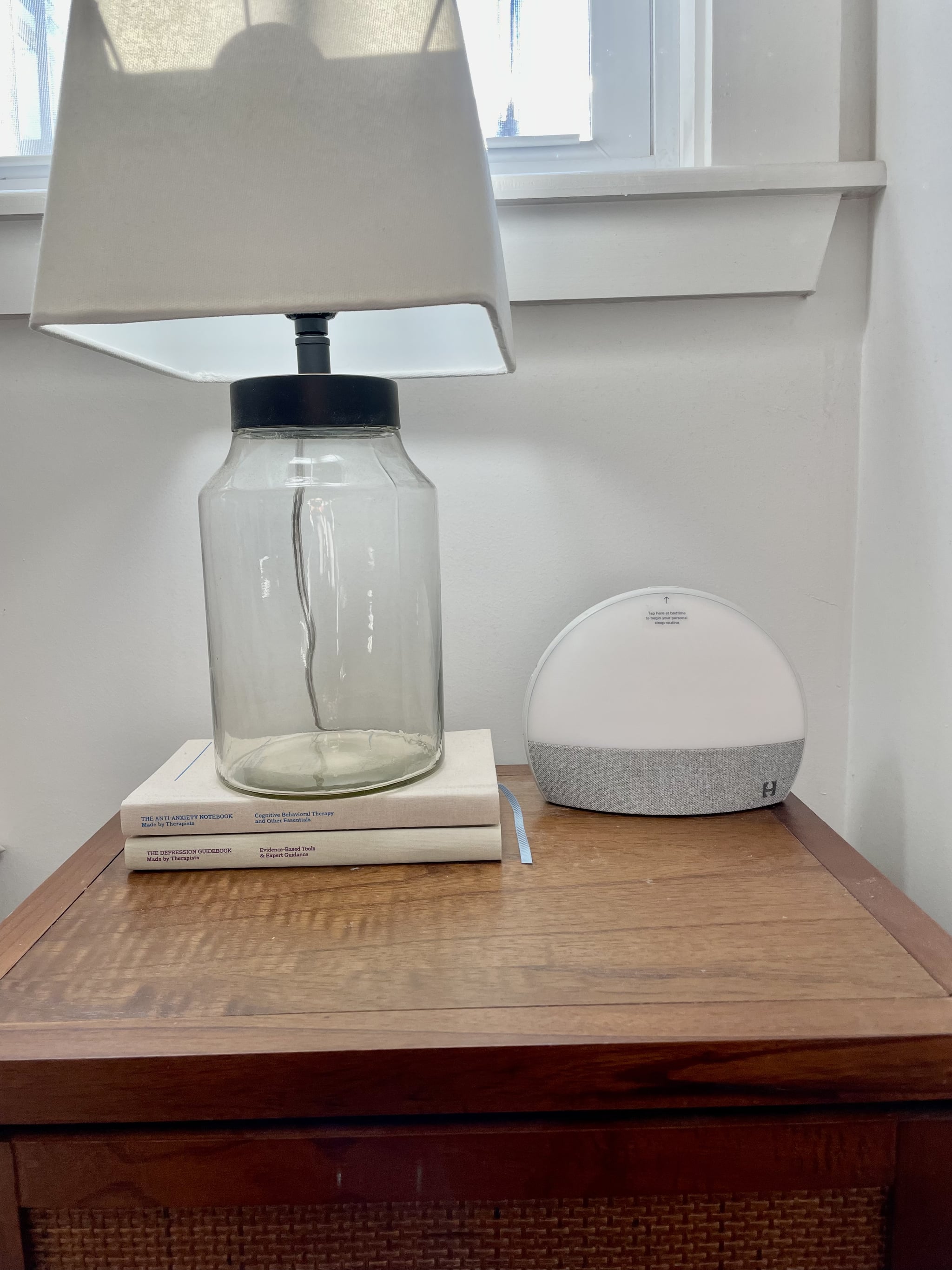 I'll start by saying this: I'm not much of a gadget girl. In fact, I typically find tech tools to take up more space than enhance my life in a meaningful way. However, the Hatch Restore ($130) was gifted to me, and with claims of improving people's sleep and morning routines, it seemed worth putting to the test. The smart device packs a sound machine, light, and sunrise alarm clock all into one small gadget. It sounds interesting in theory, but I was curious if it would hold up to its claims of better rest. I tried this device for a month, and I can confidently say I see a difference in my morning and night routines — but still, is it worth it?
What I Like About the Hatch Restore
The Hatch Restore's built-in sunrise alarm clock caught my attention right off the bat. I'm not much of a morning person, so I was hoping this alarm could change that. I quickly set it up using the Hatch Sleep app, which pairs with your device to help create a sleep routine. You can choose to purchase a Hatch Sleep Membership for $50 a year or $5 a month, or you can go with the free version (like myself) that allows you to use select sleep sounds and lights, as well as create a bedtime and morning ritual. I set my alarm to go off automatically at 7:30 a.m. Monday through Friday, and sure enough, I've woken peacefully every day at that time. Hatch's sunrise alarm (which you can alter the color of) slowly rises as the sun would, and you can choose from a list of sounds to gently wake you. I've really enjoyed this feature for kick-starting my day, as it doesn't feel as intense as a typical alarm does.
Additionally, I've enjoyed Hatch's light for falling asleep at night. The app allows you to choose your desired brightness and color, and personally, I love using it as a reading light. Every now and then, I'll use its sound machine to create a light drizzle of rain to doze off to as well, which I've also appreciated.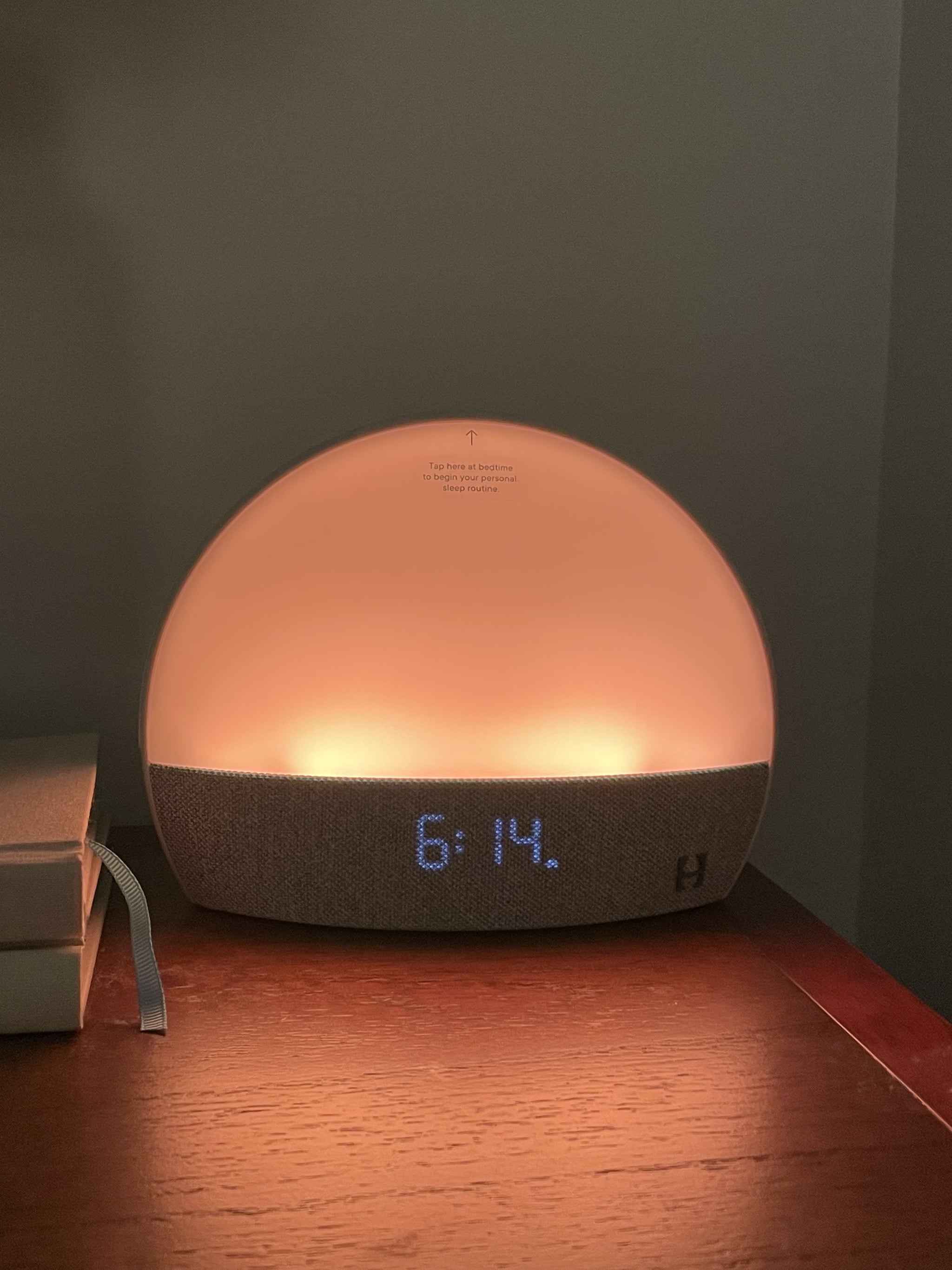 What's Worth Noting About the Hatch Restore
The Hatch Restore is not a one-time purchase if you're looking to tap into all its capabilities. The app offers channels with curated playlists of music, dreamscapes, guided rest exercises, and sleep stories. I'd suggest exploring the app to see if it interests you before purchasing the Restore. Additionally, as a non-morning person, I like snoozing my alarm, and with the Hatch Restore, you can only snooze it from the physical device itself (you can still shut it off from your app). Perhaps this is a good thing, but I wind up shutting it off from my phone each time because I never want to get up. Lastly, this gadget has to be plugged in at all times, so I suggest checking to see if you have a free outlet (I had to move mine to the opposite side of where I sleep to keep it plugged in.)
Who Is the Hatch Restore Best For?
If you're someone who already uses a sound machine to fall asleep and loves the idea of a sunrise alarm clock, this device will be a great match for you to cut down on gadgets. Additionally, it's suitable for anyone looking to improve their night and morning routines as it creates a personalized 10-step system allowing you to do so.
Is the Hatch Restore Worth the Splurge?
It depends on what you're looking for. Personally, I'm happy I was gifted the device over purchasing it out of pocket, but I'm also not using it for all its capabilities. If you want to tap into Hatch's Sleep Membership and access everything the device has to offer, this might be worth the splurge.
Additional Details
The Hatch Restore's night-light offers 22 different colors.
You must download the Hatch Sleep app to use the Restore.
The Hatch Restore comes with a free seven-day trial of the Hatch Sleep app.
Where Is the Hatch Restore Available?
The Hatch Restore is currently available at Amazon ($130), Nordstrom ($130), Target ($130), Pottery Barn ($130), and other select retailers.
Rating
Image Source: POPSUGAR Photography / Haley Lyndes