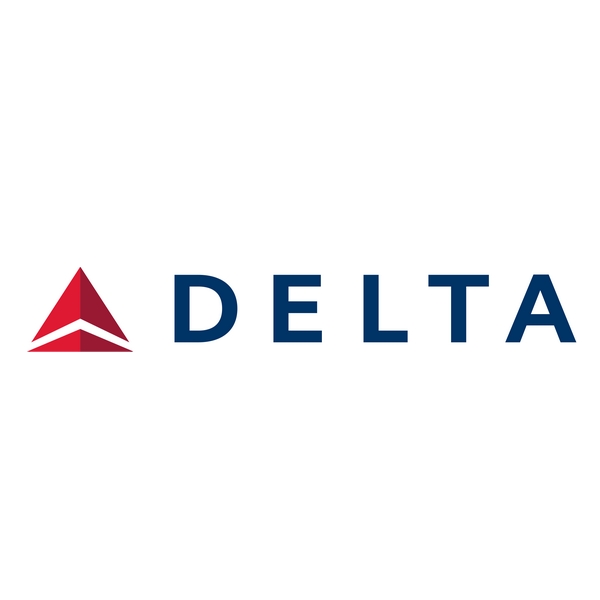 When you're fueled by passion, nothing can stop you from reaching your goals. We've partnered with Delta Air Lines to show how one amazing woman successfully juggles two very different job titles — and how you can do the same.
Imagine holding your dream job title and doing work you're proud of every day. Now imagine multiplying that by two. Though it may seem nearly impossible, this is the reality that Eliana Murillo — head of multicultural marketing at a leading tech company and CMO of her family's tequila company — lives every day.
At first glance, a thriving career in one of the world's biggest tech companies and a top title at family-owned Tequila Alquimia couldn't seem more different, but through creating cohesive goals, Eliana claims these responsibilities with ease and executes them successfully. Her overall mission? "To promote a quality product, tell authentic stories, and create opportunities for others," Eliana tells POPSUGAR. From endless traveling between California and Mexico to finding the motivation to reach new heights, read on to learn how she makes it all work.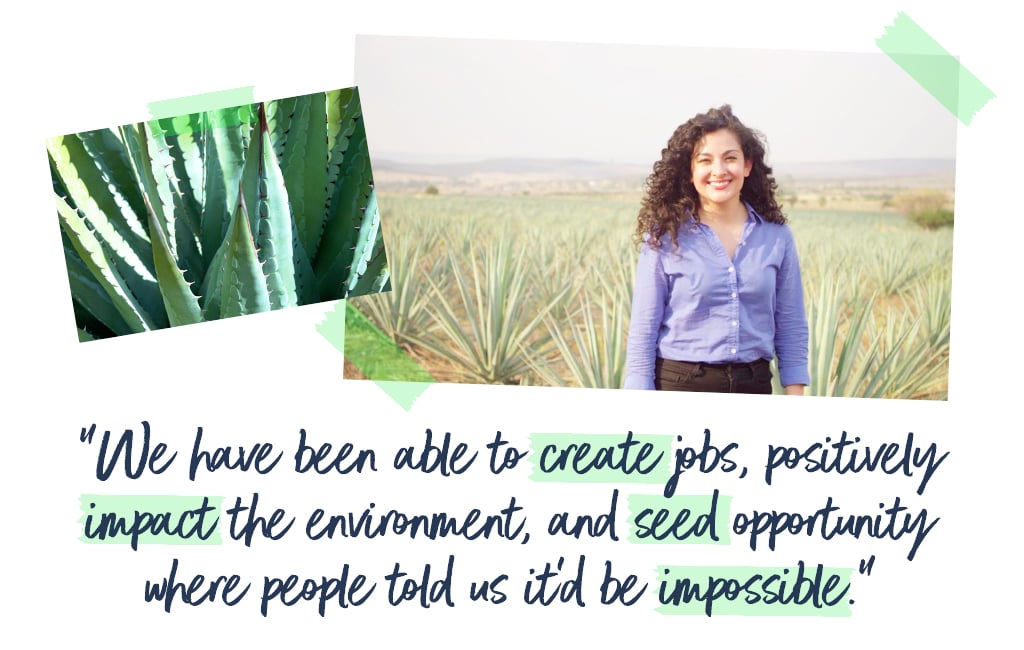 Though holding two prominent titles in her respective industries, a climb to the top is not all that Eliana is proud of. Aside from achieving personal goals, she says, "I feel incredibly proud to see the impact we're making in the community." And while her work in tech seeks to make the company's extensive tools beneficial to diverse audiences, her second job is one that is truly changing lives. "We have been able to create jobs, positively impact the environment, and seed opportunity where people told us it'd be impossible," says Eliana. "I'm most proud of continuing the legacy of helping others just like my great-grandfather did on the same land where we grow agave to produce Alquimia today."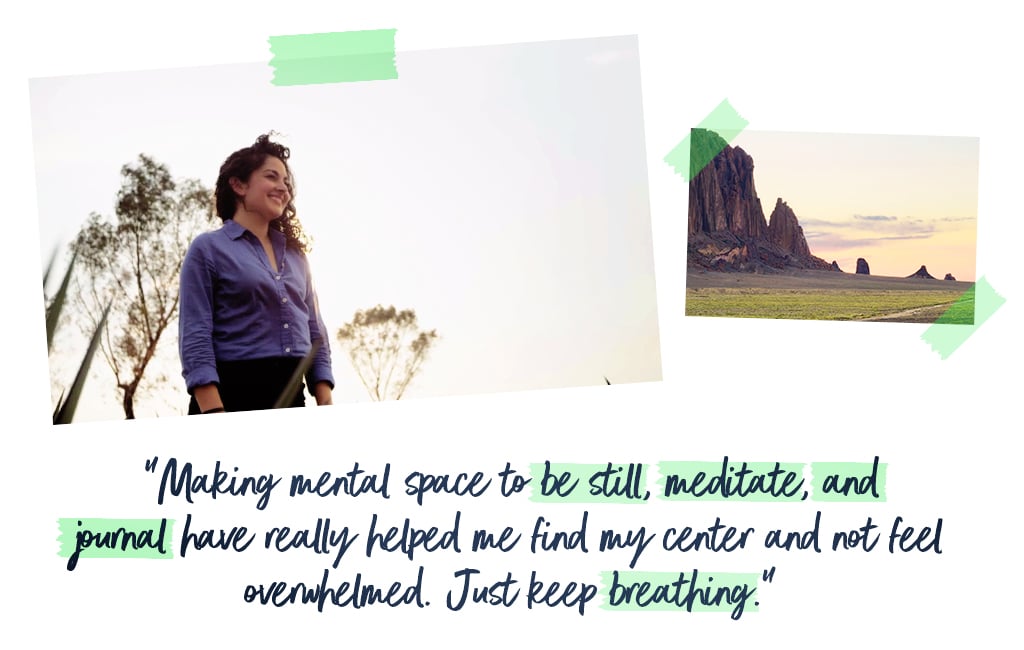 As one would likely assume, juggling these two wildly different roles can pose some serious challenges. To create balance between her dueling career titles, Eliana stays centered by following a few simple rules. And for those chasing their personal passions, she shares her top three things to keep in mind:
Surround yourself with people who motivate and inspire you to be your best self. "The people who bring positive energy into my life help me feel centered and energized."
Keep your personal and professional lives aligned — even if that means taking on a side hustle. "It's really important to stay stimulated without feeling drained or unfulfilled if one area is overprioritized," Eliana says. "I had to learn to make time for the things that make me feel happy and creative in and outside of work to stay balanced."
Don't be afraid to press the pause button and take breaks when you need them. If you're constantly on the go like Eliana — both physically and mentally — having time to reboot and clear your mind is key. "I jump between meetings, planes, and priorities all the time. Making mental space to be still, meditate, and journal has really helped me find my center and not feel overwhelmed. Just keep breathing."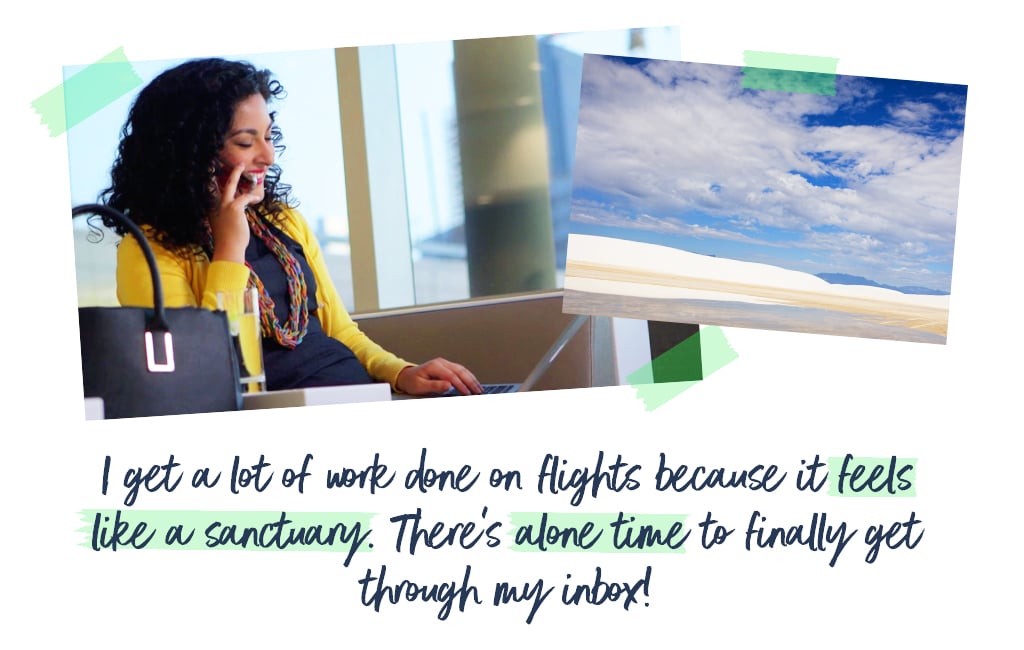 Eliana strictly emphasizes the importance of being physically present to do her jobs to the best of her ability. Because of this, serious air time separates the big decisions she's making in Silicon Valley and the modern changes she implements into her family's business in Mexico. Frequent trips have made her an expert at flying, and she knows how important it is to find an environment that helps her recharge between touch downs. "I actually get a lot of work done on flights because it feels like [a] sanctuary," she says. "[There's] alone time to finally get through my inbox!"
If you're looking for a more unique, productive, and mindful way to make the most of your time at 30,000 feet, Eliana shares her true secret to flying: "I journal a ton and try to
make vision boards in my seat, clipping magazines and pasting words and images that inspire me into my journal with glue sticks. Flight attendants always ask what I'm making."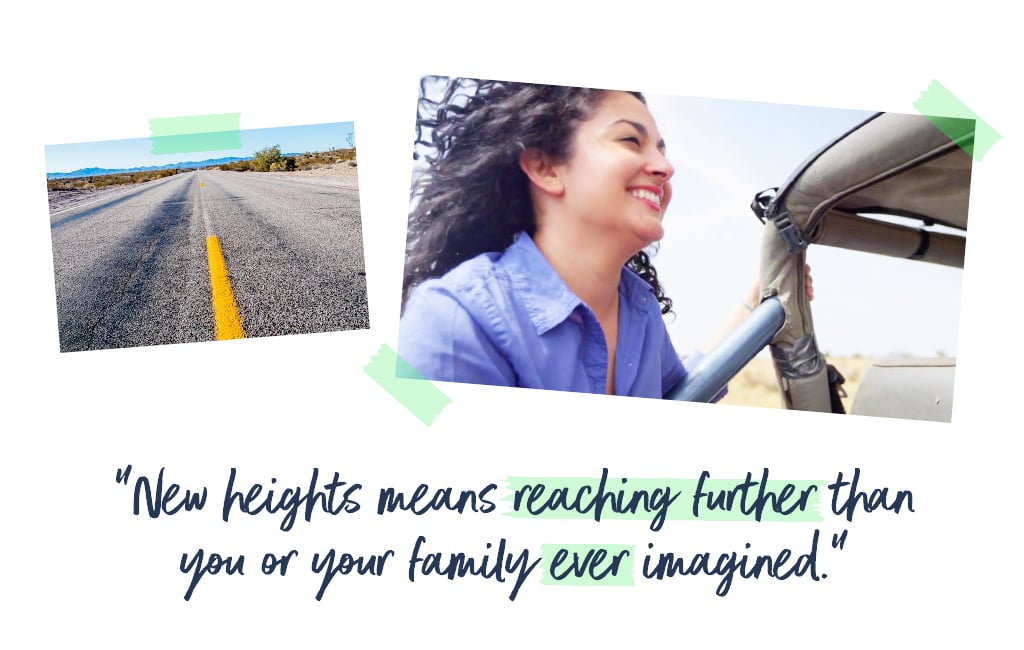 And the motivation for all of her hard work? To bring her passions, visions, and family legacy to new heights. Although she's already achieved incredible goals and built an impressive résumé along the way, Eliana thinks that "new heights" stands for so much more. "It means going beyond my own goals to have new experiences I can share with others," she says. "New heights means reaching further than you or your family ever imagined." And as she continues to pave the way for her family and our digital generation one change at a time, these are the stars she'll continue to shoot for — no matter how high they take her.

Check Out More From Eliana & Delta Below:



Click here to learn more about Eliana's journey to Guadalajara and see how she stays motivated to pursue her personal dreams while mainting her professional career.