Calories in Girl Scout Cookies
It's that time of year again. They're posted on nearly every street corner, and with more stands than there are Starbucks, these sweet temptations are unavoidable. Yes, I'm talking about Girl Scout Cookie season.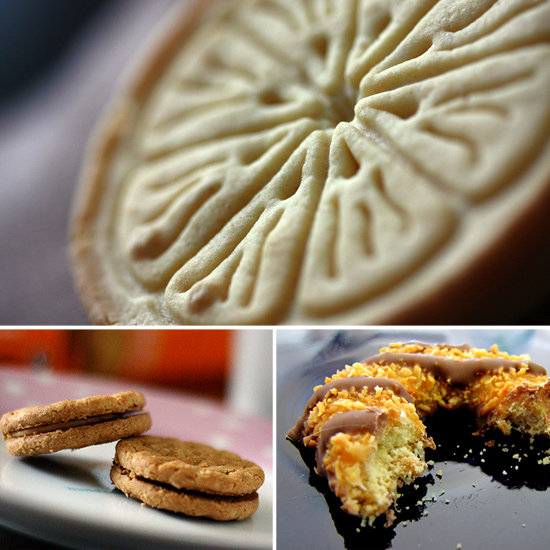 Whether you have a sweet spot for chewy Samoas or chocolatey Thin Mints call your name, be aware of the choices you make with this nutritional breakdown, and practice moderation when it comes to these once-a-year treats.
Continue reading to find out the calories in your favorite Girl Scout Cookies.
| | | | | | | | | |
| --- | --- | --- | --- | --- | --- | --- | --- | --- |
| Cookie | Serving Size | Calories | Fat (g) | Sat Fat (g) | Carbs (g) | Fiber (g) | Sugars (g) | Protein (g) |
| Do-si-dos/Peanut Butter Sandwich | 3 cookies | 160/160 | 7/6 | 2/2.5 | 22/26 | 1/less than 1 | 11/8 | 3/2 |
| Dulce de Leche | 4 cookies | 160 | 8 | 3.5 | 20 | 0 | 9 | 1 |
| Lemonades | 2 cookies | 150 | 7 | 4 | 22 | 1 | 10 | 1 |
| Samoas/Carmel deLites | 2 cookies | 150/130 | 8/6 | 6/5 | 18/19 | less than 1/1 | 11/12 | less than 1/1 |
| Savannah Smiles | 5 cookies | 140 | 5 | 1.5 | 23 | 0 | 10 | 1 |
| Mango Crèmes | 3 cookies | 180 | 8 | 4 | 25 | 1 | 11 | 1 |
| Tagalongs/Peanut Butter Patties | 2 cookies | 140/130 | 9/7 | 5/4 | 13/15 | less than 1/1 | 8/8 | 2/2 |
| Thanks-a-Lot | 2 cookies | 150 | 6 | 4.5 | 22 | 0 | 11 | 1 |
| Thank U Berry Munch | 2 cookies | 120 | 5 | 2 | 17 | 0 | 7 | 1 |
| Thin Mints | 4 cookies | 160 | 8 | 5 | 22 | less than 1 | 10 | 1 |
| Trefoils/Shortbread | 5 cookies/4 cookies | 160/120 | 7/4.5 | 2.5/2 | 22/19 | 0/less than 1 | 7/4 | 2/1 |
Source: Flickr users jasleen_kaur, Family O'Abé, and shimelle